'Plastic Lao, Shiksha Pao'- a novel initiative by Challengers group
April 11, 2021, 7:44 p.m.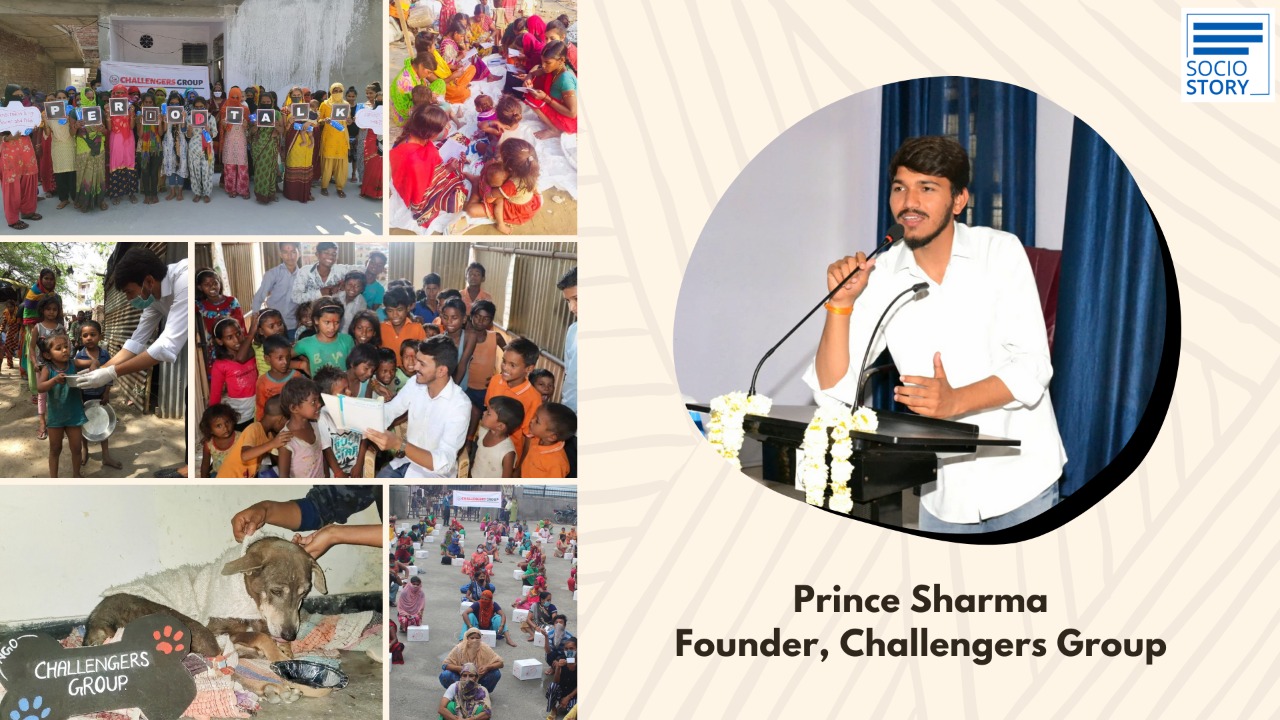 By:Reshma Jain
A good education is a foundation for a better future. Education is not merely learning facts but to train the mind to think for the better. Education as a tool enables in inculcating values in each of us for a responsible and sustainable living. To channelise education in making children responsible citizens, a social organisation called Challengers group had kickstarted an unique initiative called 'Plastic Lao, Shiksha Pao'. This would help in encouraging cleanliness and literacy among children of the marginalised communities.
On being asked the idea behind this initiative, Prince Sharma, the founder of Challengers group while interacting with Socio Story said, "Four years ago while walking through a slum area of Noida, I saw some children picking up garbage. I also noticed children indulging in tobacco-use and other types of narcotics. After speaking to a few kids, I learnt that these children were deprived of education due to lack of money and were forced to pick up garbage and sell it. That was a turning point as this scene disturbed me a lot. That day, I promised myself to educate them for their better future."
To bring changes in the lives of underprivileged children, the Challengers Group resolved to educate them through a few initiatives. The group then took a small place for such children in a slum of Noida to teach them and named it 'Challengers Ki Pathshala'.
Under this initiative, children are asked not to pay fees for education but to bring plastic waste which will serve as their fee. Since most of the children hail from marginalised communities, financial stability is a barrier. Moreover, education needs to have a purpose and to enable them to understand the significance of the environment, this initiative was taken up. The free education centre 'Challengers Ki Pathshala' based in Noida has expanded its wings in different parts of Noida (5 centres) and has reached to as many as 350 disadvantaged children. Under this campaign, children are also taught to reuse plastic and to make new things from them.
Challengers group is a social welfare organization of youth benefiting the underprivileged society and youth directly through different initiatives in the field of education, awareness, healthcare, women empowerment, environment protection, cleanliness programs, etc which can help the most vulnerable society.
The Challengers group have been consistently making efforts to spread awareness by conducting Nukkad Natak (street play), and awareness rallies. These Nukkad Nataks and rallies are performed on various social burning issues like voting rights, cleanliness, road safety, menstruation hygiene, etc in urban and rural areas.
The other activities include; women empowerment where women are encouraged to become self-reliant. The group has also been conducting workshops on self-defence and gender issues in rural and urban areas. Menstruation hygiene programs and sanitary pads distribution to the women of rural areas is also part of the initiative.
Under the humanitarian aid programme of the Challengers Group, a lot of services including distribution of ration, masks, etc were rendered to the frontline workers, the migrants and the needy people. The voiceless creature initiative was taken up to provide aid to all voiceless creatures. The volunteers have been providing food, water, and bedding to dogs, cows, birds and other animals every week. For the wintery nights, hand-stitched warm sweaters and bedding were made for the animals.
Prince Sharma, 23 years, said, "We always keep the children busy with various activities like painting, drawing, singing, and dancing so that they can give up their bad habits of smoking and consuming narcotics. Children who once ran away from education are so eager about it today that we too are stunned to see them. Initially, we had a lot of difficulty in making the children of the slum and their parents aware of the need of education."
Sharma further added, "We believe that there are several issues that the Indian education system is undergoing and the major one is poor rural education. The number of schools in rural areas is relatively low and many areas lack the facility of transportation, due to which children living far in the villages are not able to reach schools. We believe that the involvement of NGOs in rural education can play a crucial role. By promoting education, by setting up education centres, and by providing transportation and quality education, we can go a long way in empowering these children."
"Our goal is to reach every child who is unable to attend school. We wish to establish Challengers Ki Pathshala at every place where there is no means of education," concluded Sharma who was awarded for road safety projects and also received the Dainik Jagran award for working tirelessly for the nation.
Important : If you are making an impact in the world, Please send us your story at : manoj@sociostory.in and we will try to cover you.