"Positivity, patience, Perseverance is what I learnt while coaching wheelchair basketball players"- Basketball coach Louis George
Feb. 15, 2021, 5:48 p.m.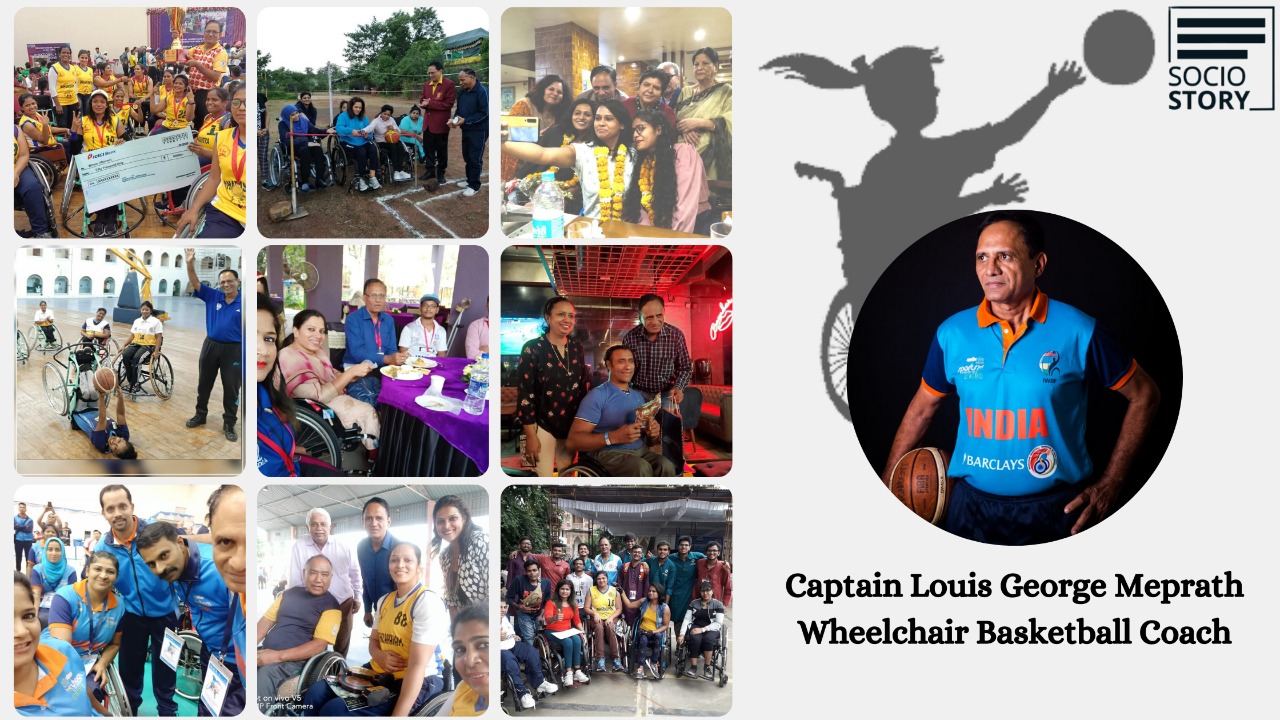 By:Reshma Jain
Rick Hansen, a Canadian athlete, once said, "The wheelchair should not be a symbol of disability. A wheelchair is a vehicle to liberation and freedom; a chariot for independence." These two lines have an in-depth meaning and reflects a strong message on defeating the notion of disability. Never did I realise that people with disability and the ones on wheelchairs are courageous and ambitious, until I came across the stories of a few wheelchair-bound sport enthusiasts. From swimming, mountaineering to cricket and basketball, paraplegic players from the country have proved that the difference between the impossible and the possible lies in a persons' determination and disability does not deter in realising one's potential.
After having a thorough understanding of the challenges conquered by these sport enthusiasts, my thoughts drifted to people behind the scene- the relentless efforts made by coaches who teach and train them. Socio Story brings to you one such coach whose efforts paved a way to bring laurels to the country.
A retired Indian Navy officer, Captain Louis George Meprath was a basketball coach for over 20 years. It was five years ago when his friend Abraham Poulose introduced him to Wheelchair Basketball. Meprath had enrolled himself as a member of Wheelchair Basketball Association, Maharashtra. "I loved the challenges posed in forming / coaching such a team. Thus, I joined the Association in 2017. The purpose was to develop Wheelchair Basketball at the grassroots level and also to give talented players an opportunity to represent India at the International stage," shared 65-year-old Meprath.
Meprath, currently based in Pune is Basketball – FIBA (The International Basketball Federation) Level 3 Coach. He was the head coach of Indian Women's Wheelchair Basketball Team for the Asia Oceania Championships held at Pattaya, Thailand in Nov-Dec 2019.
Sharing his views on training people on wheelchairs, Meprath, said, "The basic aim is to make sure that the physically disabled people (with spinal cord injury, Polio, amputees etc.) lead a confident and independent life. By playing a sport, the players get a sense of discipline, team spirit and a good idea about communication skills. This improves their life skills. Once they become confident, there are no hurdles which are insurmountable."
Meprath who was the head coach for the Maharashtra Women's Wheelchair Basketball Team is happy for the fact that the women have become more confident in life. "From a group of beginners in 2017, they have worked hard to become the National Champions in 2018 and 2019. They now are independent and travel on their own (without any help) and manage their affairs independently," he shared.
Stating his view on what needs to be done to encourage people with disabilities, Meprath said, "Things are improving gradually as disabled people are battling disability stigmas. People with disabilities are presumed to be helpless, unable to care for themselves or unable to make their own decisions. However, the ones who found ability in disability have conquered challenges and have proved themselves."
"But accessibility for people bound to wheelchairs is still a major issue. Accessible roads, footpaths, trains, buses etc. are still a long way off in spite of various Government orders on the subject. The next important factor is lack of funds. To reach the grassroots level, we require good coaches. We require good Sports wheelchairs," said Meprath.
"In 2017, the Maharashtra team was formed in April and we took part in the National Championships at Hyderabad a few months later. We were placed fourth and after the Nationals, the women decided to practice hard. As a result, we reached the finals at the National Championships at Erode in Sep 2018. We were pitted against the strongest team - Tamil Nadu, in their own home state. We were losing by about 6 points till the end of the last quarter (10-16). But our team played their hearts out and beat Tamil Nadu (22-18). It was indeed a memorable experience for all of us," expressed a happy coach.
"By coaching these wheelchair basketball players, my life has been impacted. I have learnt patience, positivity and many other good qualities from these players. The most important lesson learnt is that one must not give up in the face of adversity," concluded Meprath.
Important : If you are making an impact in the world, Please send us your story at : manoj@sociostory.in and we will try to cover you.