Prabhaav Foundation- A journey to empower society by creating a happy eco-system
Nov. 21, 2020, 5:22 p.m.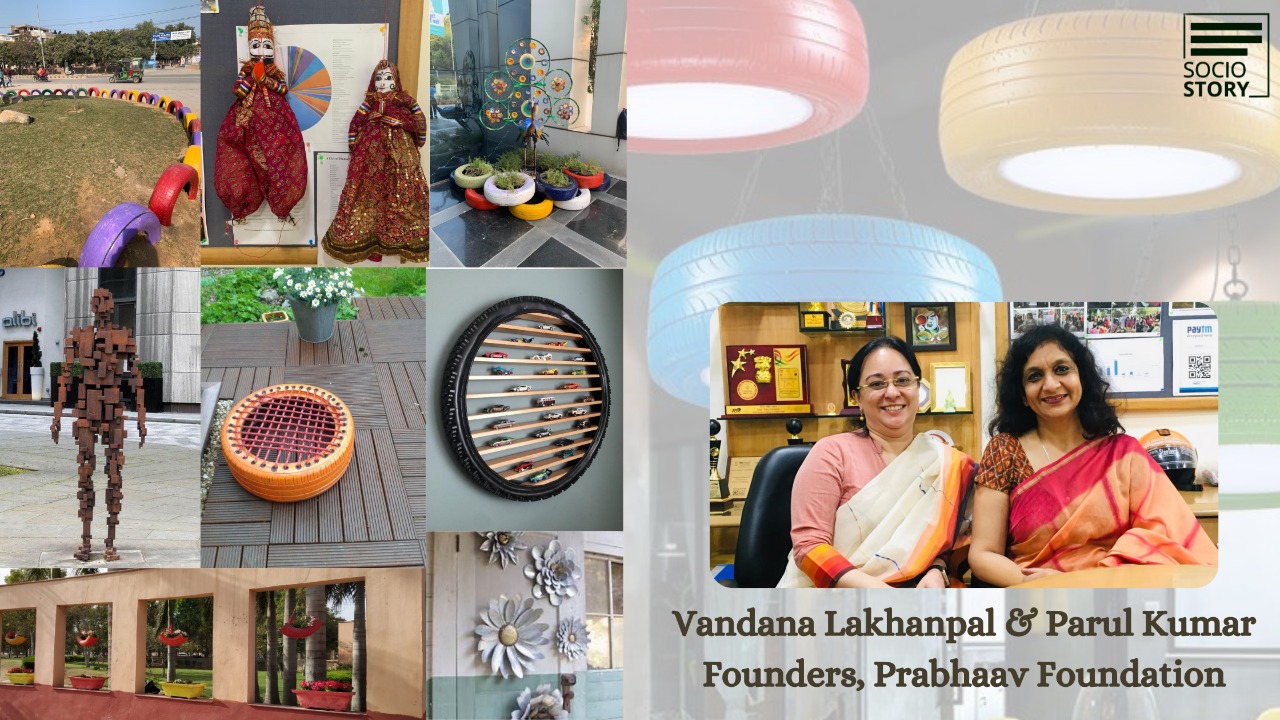 By:Reshma Jain
When Parul Kumar was training a few teachers, who were involved in teaching a large number of underprivileged children, she realized the true potential that lied in these children and found that they were really talented. But a right opportunity and platform was required to be given to these children. Although a large number of these kids came from broken or abused homes, when given a chance they were ready to progress and make a mark on society. These kids and their stories inspired Parul to initiate an organisation which could talk about social problems and bring an impact - thus the name PRABHAAV.
Founded by Delhi-based duo Vandana Lakhanpal and Parul Kumar, Prabhaav is a journey which began with a couple of like-minded friends, from diverse educational backgrounds, to be instrumental in making a difference and having a positive impact on the society. "Since November 2011, there has been no looking back and as we started, we stumbled, we paused, we learnt, we failed, we struggled, we succeeded, but NEVER GAVE UP!", said Parul.
Parul who is a social entrepreneur, said, "Our main aim is to give importance to the 'me' in each of us. We were and continue to be driven by the desire to enhance individual abilities. As we worked, we found four major areas that interested us: Road safety, health, environment and culture."
Road Safety:
Prabhaav foundation has mostly done their intervention at the grassroot level by preparing the future drivers. Prabhaav collaborated with PVR Next to conduct behaviour assessment tests and train students across 200 Delhi schools. This Psychometric test measured the attitudes relevant to road safety, helping the assessor make a reliable decision on the driver's attitudes and the required intervention.
ICICI Lombard's "Ride to Safety" is an initiative to spread awareness among children and adults about the fatal consequences of not using helmets. The distribution of helmets aimed at encouraging the use of helmets among the drivers and pillion riders. So far, Prabhaav has touched 31,000 lives and is still continuing.
Environment:
Under the UN Sustainable Development Goal 15, Prabhaav Foundation has initiated a number of innovative projects. Under a JSL CSR initiative, they are restoring, maintaining and developing an urban park in Hisar, Haryana. Along with traditional methods like plantation, water harvesting, composting, landscaping, few new innovative ideas are being used at the park. Street art and art installations are some highlights along with the introduction of green walls, topiary animals and an open Gym.
Taking another challenge faced by our country is the burning of stubble. Prabhaav's project involves utilizing this resource by procuring it from the farmers at a good price. They then convert this stubble along with a few natural ingredients like cow dung into fully loaded planters.
"Our role as earth saviours becomes even bigger when we talk of taking forward the goal of a 'Zero waste India'. We felt the need to address the issue of the irresponsible methods of discarding tyres. We found out that there was no other solution to dispose of discarded tyres. As conscious citizens, we were interested to find a solution for this. We decided to reuse old tyres to make furniture and other useful products like planters. Furniture made from recycled tyres are eye-catching, cost-effective and eco-friendly," stated Parul.
She further added, "We have taken up multiple projects and we have collaborated with various organisations to provide waste management solutions. In partnership we are continuously trying to achieve Zero tolerance to any kind of waste - food, dry flowers, leaves and construction debris. The process includes extensive public awareness along with treatment plants for converting the waste to useful by-products."
Culture:
Art is an important way to document our collective present so that the future generations may have a greater understanding of our ways of thinking and values. Prabhaav curates' events for promoting and preserving our age-old Indian culture.
They use the visual medium in the murals done in Hisar, Haryana and in Raghuraj Pur, Odsiha. Murals are paintings executed directly on a wall or ceiling using the physical architecture of the surface as a part of the artwork. Created using colourful enamel paints, the murals have become community centrepieces that bring people together to celebrate the rich heritage and history of the district. Working for sustainability, they have supported the Indian artists at grassroot level.
Health:
Under the UN Sustainable Development Goal 3 which ensures healthy lives and promotes well-being at all ages, Prabhaav empowers communities and patients with appropriate information, and skills so that they can make high-quality, informed decisions on prevention, diagnosis, treatment, care and support.
"Our focus areas are sanitation, eye care, menstrual hygiene, vector-borne diseases. During Covid-19, Prabhaav Foundation conducted widespread awareness campaigns in line with Niti Aayog and Aayush Ministry in large numbers of communities in Delhi-NCR and Haryana," stated Parul.
Stating the most memorable moment, Parul added, "The WOW moment for Prabhaav foundation was when we could lend a supporting hand to about 3 lakh daily wagers and 35,000 frontline Covid workers by providing the necessary items including food grains and protective kits."
One of the most interesting projects of Prabhaav is 'SAFAR' where old tyres are converted into planters and are used as hangings on the trees in the park. This year, they also started to convert old tyres to utility items like stools, tables, chairs etc and plan to have market linkages
"We plan to work extensively in the fields chosen by our foundation, with more focus on the environment. Forming a complete value chain for the farmers is our dream," concluded Parul.
Important : If you are making an impact in the world, Please send us your story at : manoj@sociostory.in and we will try to cover you.