Providing shelter to Dogs, Abhijit Dowarah from Assam has been using his innovation to create the 'Baator Ghor'
Feb. 3, 2021, 5:31 p.m.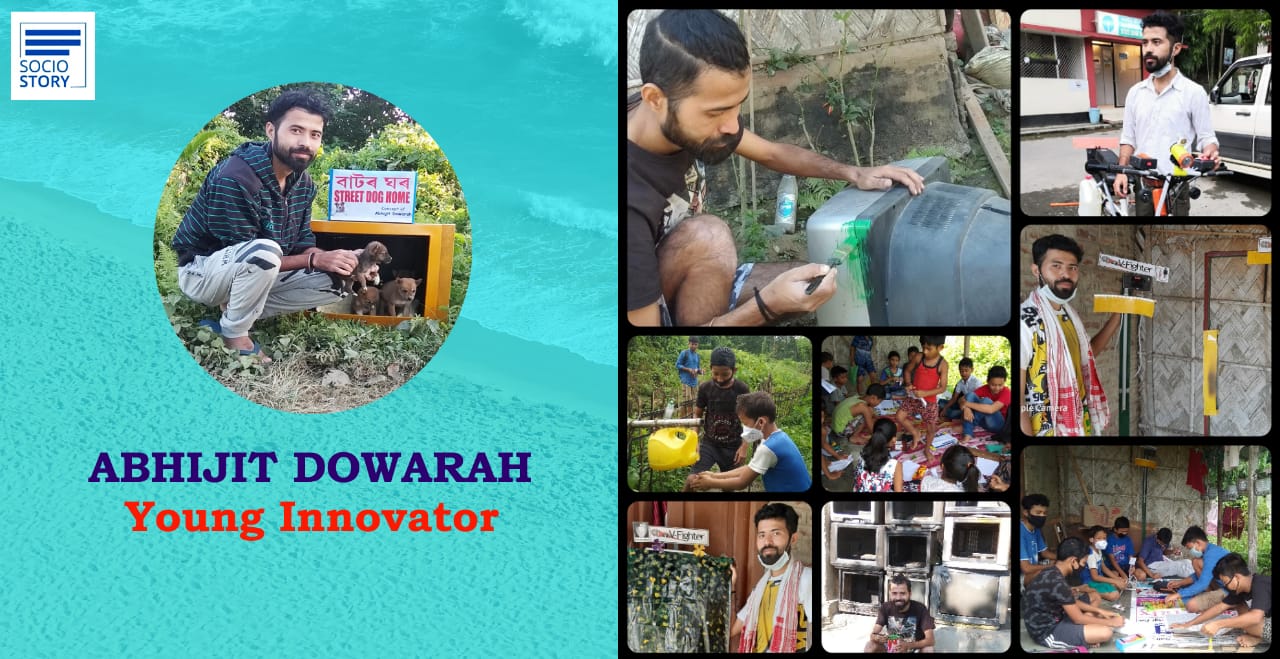 By:Reshma Jain
The world would be a nicer place if everyone had the ability to love as unconditionally as a DOG. Unfortunately, these qualities are not found in every human being. But in the ones where it is found, they reciprocate and ensure that their 'furry friends' are cared, nurtured and loved as much as they do. Yes, while a few of them adopt dogs and make them their family, a few others ensure that they are treated properly and are provided with food, water and shelter.
Socio Story brings to you an interesting story of a young innovator from Sivasagar, Assam, who has been catering to the needs of these affectionate, smart, obedient, four-legged furry friends by making makeshift kennels.
On being asked what made him find his penchant in innovations, Dowarah who comes from an economically poor background said that as a child, he was very curious to learn new things. When he was in class 3, a home radio required some repair. He did not have enough money to get it repaired from a mechanic so he tried to experiment. He opened it with a spoon, fixed the radio and to his surprise, it started working. Since then, he was fascinated by innovation and he added that every project he undertakes should be a solution to the problem.
When Dowarah noticed the suffering of street dogs when it rains or when they are hit by moving vehicles, it hit him hard. The plight of these innocent animals disturbed him day and night and he thought to himself: 'Why not provide shelters or tiny houses for these dogs?' This 32-year-old believed that 'Dogs do speak, but only to those who know to listen.' So, without giving a second thought, Dowarah came up with a few possible ideas which would serve as a solution.
As a few days passed by, Dowarah happened to see the discarded television sets. Instead of making something new, why not reuse something that has been discarded and could harm the environment, thought Dowarah. "I noticed that the old televisions ultimately turn into a waste product after a family switches over to LCD/LED TV. So, I went out in search of more discarded old televisions. The idea was to convert these televisions into a shelter for my furry friends."
"After collecting a few televisions, I removed the unwanted electrical parts from it and handed over those parts to the owner of the television. The remaining frame was converted and designed into suitable homes for the street dogs to stay. These tiny homes were titled as 'Baator Ghor' (Street home)," shared Dowarah, an Arts graduate who developed a liking for dogs after his brother gifted him a puppy a few years ago.
As he used his creativity, Dowarah understood that if he places those frames (tiny homes) in the street just like that, then people will misunderstand them as waste material. So, he came up with the idea of painting these boxes with two colours; Yellow to make it visible from a long distance and Green to give it a tint of nature.
After a few days, Dowarah wondered as to how would the dogs know that these homes were made for them? "I experimented with the idea of placing, over the frame, some pieces of the cloth over which my dogs slept. Since dogs have a strong sense of smell, the pieces of cloth would attract and draw them towards these frames. I observed for a few days and the experiment turned out to be successful. The number of dogs that returned to the shelter increased and my joy knew no bounds," expressed Dowarah.
For the dogs to drink water, this brilliant innovator made a small container in such a way that it prevents tree leaves from falling in it. The container also facilitates collection of rainwater. When it comes to food, there are a lot of like minded people who come forward and provide the dogs. A passionate and compassionate Dowarah wishes to keep his movement going and urges people to join his mission by uploading a picture of their own street home for dogs with the hashtag 'Baator Ghor' (#BaatorGhor).
By turning scrap into utility items, Dowarah's other innovations include a type of torch for the safety of women and a 'gadget' for hand sanitisation. Dowarah who has around 50+ innovations to his creation list has also developed a Cellular Stitching Board (CSB). In this innovation, one can connect all gadgets and other electronic devices to the CSB and can switch it on or off by giving a missed call. "This innovation has been submitted to the National Innovation Foundation, IIT Guwahati. Once approved, this creation would be incubated in IIT Guwahati," shared Dowarah who is also working on a shelter home for birds.
"Children who are interested in innovation, I have been teaching them at free of cost for four years now. I have a few more interesting innovations in my bucket list which will soon be executed, " concluded the young innovator.
Important : If you are making an impact in the world, Please send us your story at : manoj@sociostory.in and we will try to cover you.