Providing strength to people through writing, Arjun Gupta is on a mission to impact lives by spreading awareness on mental well-being
Dec. 31, 2020, 4:50 p.m.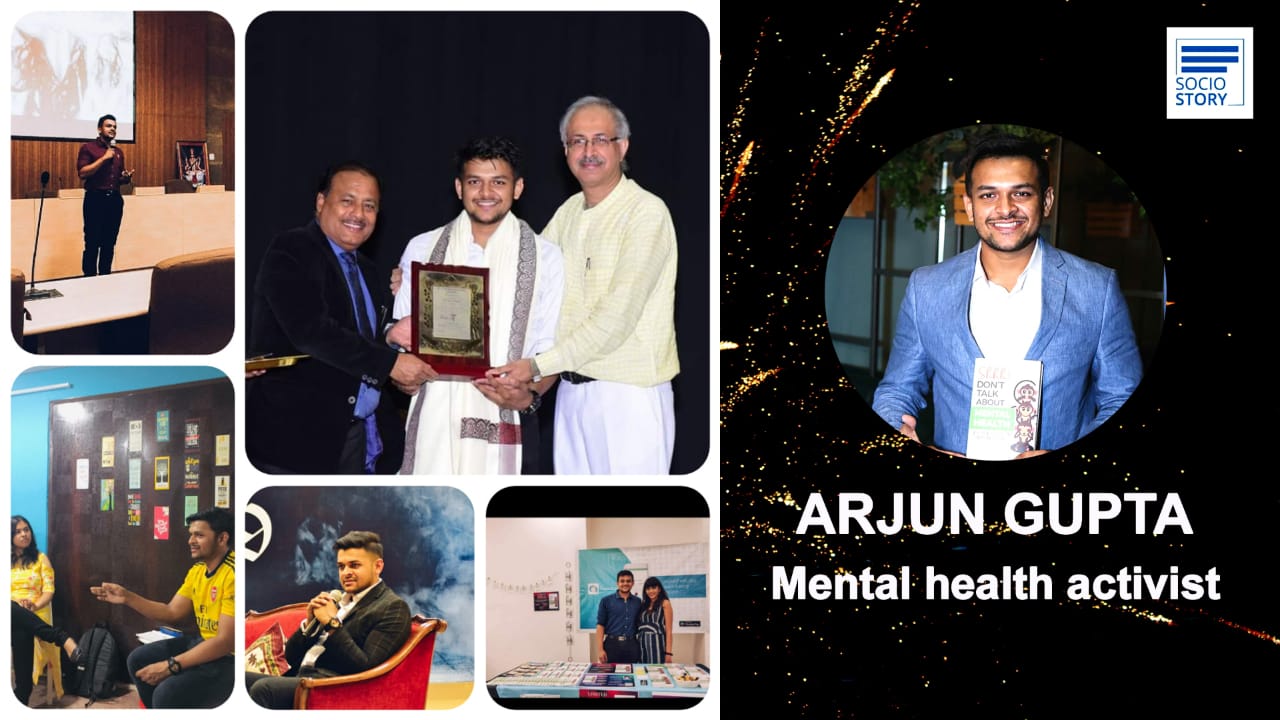 By: Reshma Jain
The year 2020 which caused an upheaval in all our lives, has finally come to an end. A survey report stated that the positive takeaways from this year include; strengthening one's immunity, balancing physical and mental health, having a good support system, among the others. The pandemic triggered mental health conditions and 'Mental health' is a topic that is being discussed almost everywhere after the death of Indian actor Sushant Singh Rajput.
Although the pandemic threw normal life out of gear, it is now time for taking new resolutions that are realistic and would help us in improving our lives as well people around us. Positive and impactful changes through simple resolutions can go a long way in improving our mental well-being. Socio Story brings to you the journey of Arjun Gupta, a mental health activist hailing from Hisar in Haryana.
Arjun Gupta's journey with the issue of mental health started in 2015 when he started slipping into clinical depression. He didn't know what it was then and didn't think that it could be something that could happen to him. After all, everything was fine in his life and he was achieving all his goals.
"It took me almost 18 months, numerous psychiatrists, a mix of various medicines, electro-convulsive therapy, self-harm, suicide attempts and much more before I finally accepted that what was happening to me was the result of an illness rather than something I deserved, or was being punished with," shared Gupta who is currently pursuing Masters in Psychology from Ambedkar University.
"Despite coming from a very well-educated family, having all resources possible for treatment and help, we were still clueless when it came to the topic of mental health and illnesses. Since then, I started working on mental health for personal as well as social reasons. Talking about this allowed me to express and educate myself along with others," added Gupta who is now 23-years-old.
So, what did Gupta do? To vent his emotions and unload the emotional burden, he took it to writing and started a blog. He later started writing books to spread awareness among a larger audience.
Gupta's blog www.knightofsteel.wordpress.com which was started in February 2017 contains over 400 blog posts about mental health, the experience of living with mental illness and his story of finding a way through that. While the blog started as a venting channel, it soon developed into an educational platform where people could access the basics of mental health and interesting stories into the topic in easy-to-understand language. The blog has since had over 22,000 unique visitors and a total of 61,000 views.
His two books, 'A-Z of Mental Health' and 'Shhh! Don't Talk About Mental Health' talks about the basics of mental health, mental illness and how these illnesses express themselves according to the social context.
Gupta further said, "A big vacuum that I felt when trying to find my way through my depressive episode was books telling about the history and mechanics of mental illnesses. In my opinion, this lack of literature contributed to my inability to accept the help I needed in time. To ensure that no one after me had to go through the same mountains looking for the same answers, I decided to write this book with answers to all the questions I had asked myself at that time. This included questions like, 'Are mental illnesses real?', 'Are they a modern invention?', 'Is depression just another word for sadness', among numerous others in a story format.
Since the release of his second book, "Shhh! Don't Talk About Mental Health", which did amazingly well on the Amazon charts, he has been visiting schools and colleges as a proponent for mental health awareness and the importance of intervention at the right time.
"I have tried my best to ensure that people understand how mental and physical illnesses are not always the same. Along with it, it is important to have a roadmap for the future as well. Another aspect of my book is the human touch in them. I have inculcated stories of real people who have gone through mental illnesses and how devastating it has been to lead a normal life. It is important that people get to see the human side of things while also learning about the scientific basis of these illnesses," shared the young writer and blogger.
Speaking on why he chose to focus on Men's health, Gupta said that men's mental health is something that we need to pay more attention to. But why?
Gupta says that simply look at the number of suicides that occur in India or in any other part of world and compare them by gender. There is hardly any country where you would see more deaths among women than men by suicide. Despite this, we rarely pay attention to the psycho-social dynamics that lead to this phenomenon almost globally.
"It shook me to the core when I realized that there were so many, almost one lakh other men who ended their lives by suicide. So, I conduct research and interviews on this topic to have a better understanding and I also share it with the people who follow to ensure that this goes out to the general public. It is high time we did something about it," expressed Gupta.
In his message to the youngsters, Gupta, founding member of Sampoorna Manostithi, an NGO based in Delhi, stated, "Be free and be responsible. Freedom and responsibility go hand in hand. Our happiness, our dreams and our passions are all within reaching distance. We just have to be brave enough to reach out and grab them."
A few tips for balancing mental health include:
Be kind to yourself and others
Ensure you sleep well; so make it a priority
Make a list of self-care activities and include them in your busy schedule
Limit your screen time
Be aware of mental health conditions and the counselling platforms for mental well-being.
Important : If you are making an impact in the world, Please send us your story at : manoj@sociostory.in and we will try to cover you.