RBDS is working towards a greater impact in the Health care Industry
April 3, 2021, 5:51 p.m.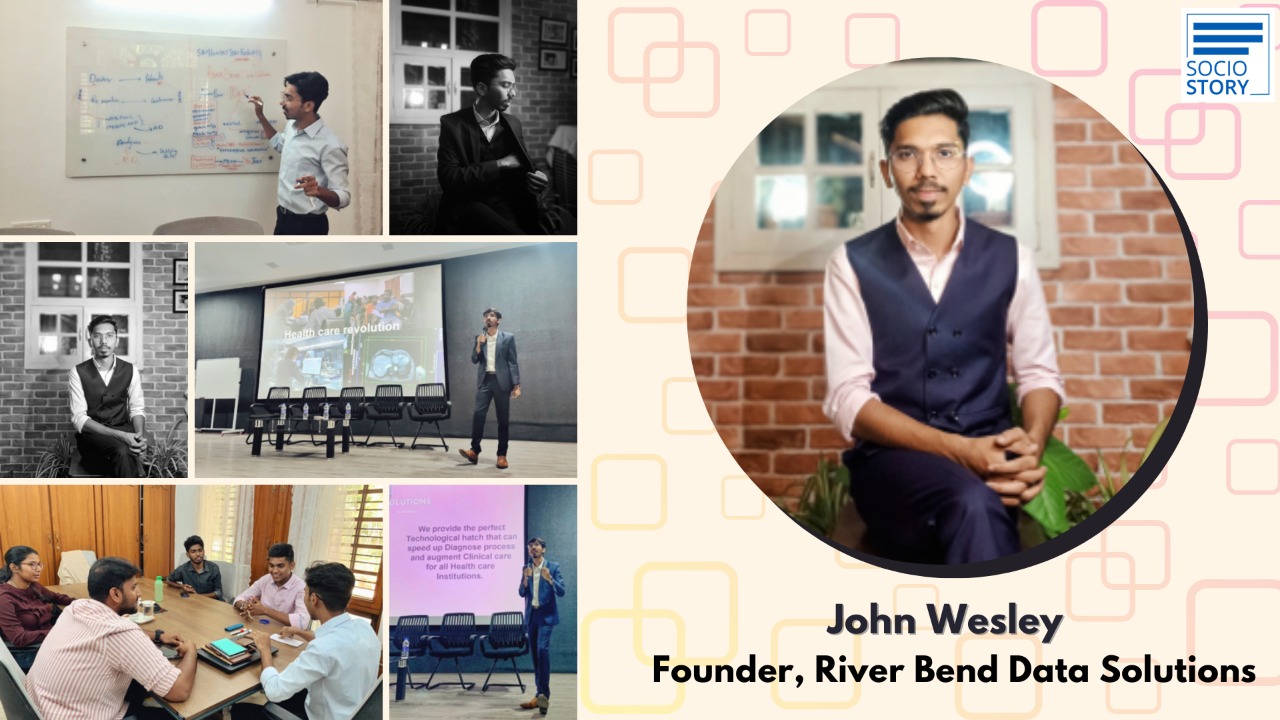 By:Reshma Jain
Healthcare has been advancing through the recent decades; from using handwritten prescriptions to now digital electronic health records, the new generation team is trying to accelerate and take this digital transformation revolution to the next stage in the healthcare industry.
Manasseh John Wesley personally encountered a lot of difference and gap between the mainstream corporate medical institution's operation and the functioning of low line clinics. He observed that most of the low line clinics and hospitals lack basic technological infrastructure and necessities.
This was the moment which rooted the seed of doing something to aid the current needs of health care and this grew and took shape into River Bend Data Solutions (RBDS). RBDS was formed with the aim to provide a new normal of digital healthcare solutions to help clinics and low line medical institutions to have standard technological infrastructure and advanced tools which are driven by the best technologies such as Artificial Intelligence (AI) to help doctors as well as other clinicians operate and diagnose faster and more efficiently.
Stating that the organisation believes in 'Aiding transformation for better health', Wesley said, "Founded last year, the purpose of the organisation is to adapt modern technologies and learn latest digital trends to create a better, faster and smarter framework in the health-tech industry where general clinics to modern day hospitals can have a standard and efficient technological stack to operate and diagnose patients faster and efficient than ever. Also, not just confining our purpose to help in clinic management and patient diagnosis – we also want to contribute the best tools and services to the medical research fraternity in increasing their research line on disease classification to drug discovery."
The organisation is working towards deploying three integral deliverables which are the most important lifelines in diagnosis and clinic management.
HIMS – Hospital Information Management Systems: To help hospitals and clinics have a standard and affordable information management systems with technological backing for research and development on medical science/ health data.
AI Diagnose Tools: They are closely working and collaborating with foreign Universities to understand and implement AI driven tools for diagnosis, disease prediction and patient case assistance.
Clinical Management Systems: An affordable service pack which converts a general clinic into a super speciality hospital 'digitally' through a single click.
"We have strongly impacted the lower communities by providing modern day medical services to people below the poverty line and making them feel secure about their health and helping clinics collect health data from ground level regions. We have also impacted medical practitioners by providing AI driven tools that have helped them in their early stages of medical practises and have been proven to be a great doctor assistant tool," said 21-year-old Wesley who has a specialisation in Electronics and Communication.
Recalling one of the initial projects, Wesley said that the first project was to work alongside PHC's (primary health care centres) where they collected different parameters of health cases, by testing their technology for the first time – doing analytics on health care data. The team had observed different parameters for a better understanding of Jaundice.
By investigating deeper with the help of technology, they were able to vertically analyse the regional – geographical pointers to understand the severity and spread of Jaundice. This helped the Medical dept. to navigate quickly and provide medication and awareness to people and help treat them before it's too late.
In India, 33% of the population above 30 years suffer from one or more lifestyle diseases, 6.0 million people die in a year due to NCDs and 35 million people are affected with chronic diseases. There are approximately 69,000 hospitals in India and Artificial intelligence is changing the way we think and understand the basics of our life such as our Mind, Body and Soul. There are a lot of countries which have already adapted these technologies and are advancing on the growth of the Medical Curve.
So, monitoring an individual's lifestyle and closely understanding the daily routine of every person can give a bigger picture to understand and forecast one's health and their future complications that one may end up with. Understanding lifestyle routine can only happen through using the recent technologies through digital mobile devices we use in our day-to-day life. By correlating and collecting all the data points that we can gather for every individual throughout a day. We can create a personalised profile for every individual and give a clinical study on what the future holds and what measures to be taken to be healthy in the days forward. This exponentially increases chances of measure and a best preventative measure towards health by which we can reduce deaths and maintain a good health index as a nation.
We want to create a bridge between Hospitals and Patients – a greater bridge between People and their health. Where we want to shape and transform how health care is practiced. Our vision as an organisation is to bring a new health care revolution which brings great technologies and adaptable solutions. This can help to accelerate doctors' work flow in a way where we can increase the phase and efficiency of diagnosis and create a standard body of technological framework to operate and optimize clinic management," concluded Wesley who won an award from George Mason University.
Important : If you are making an impact in the world, Please send us your story at : manoj@sociostory.in and we will try to cover you.