"Reach for the Stars", states Cdr Pooja Kumar, the first lady Officer-Mother skydiver
Sept. 12, 2021, 3:18 p.m.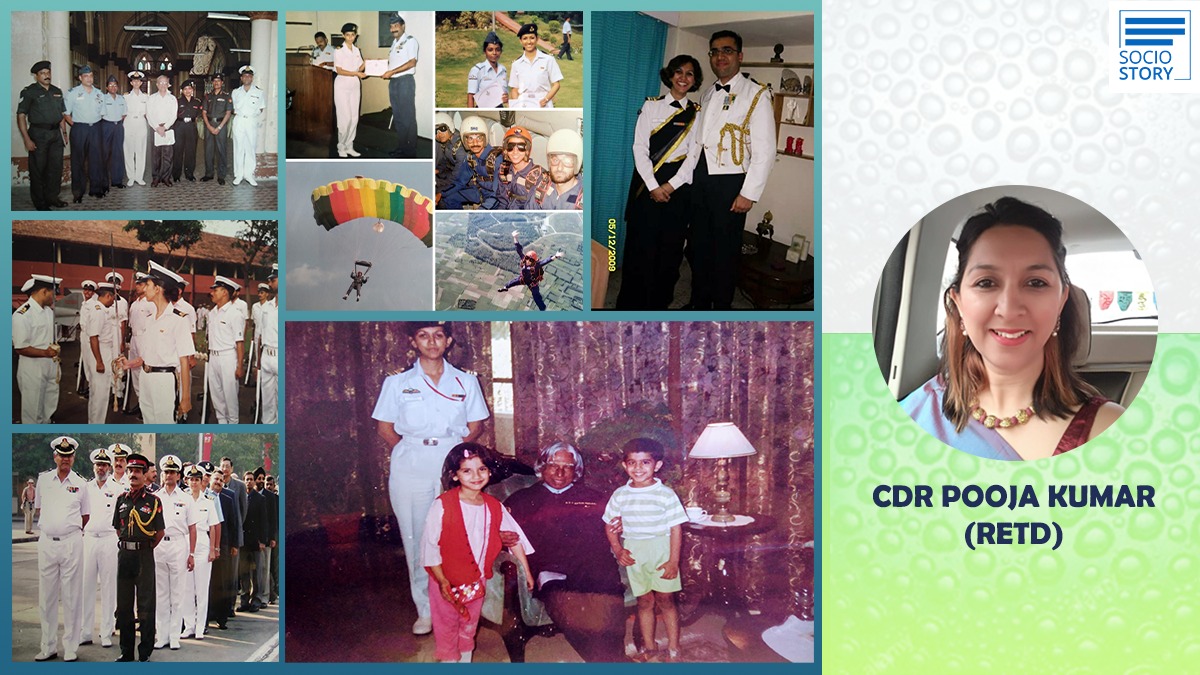 By:Reshma Jain
When the decision to allow women into the National Defence Academy (NDA) was announced by the Centre recently, joy knew no bounds. Although it would take some time to frame guidelines to pave the way for women to take NDA courses, the decision to induct women into NDA and give Permanent Commission (PC) is a historic move. Women opined that they are happy to see Reformation, in true sense. It feels proud to mention that women have been doing very well in every field and rest assured, we will also see women in flying colours in the services of the Armed Forces. Socio Story brings to you the story of a valiant woman named Cdr Pooja Kumar, a retired naval officer.
Commander Pooja Kumar (Retd) has many firsts to her name in the Navy. She was the first Lady Officer-Mother Sky Diver. Pooja's daughter was barely 8 months old when she completed her skydiving course with the Indian Air Force at Hindon. She did 5 static-line and 15 free-falls. Cdr Pooja was the first lady officer to be part of the Naval contingent on foreign shores. The delegation, composed of senior naval officers from the College of Naval Warfare, went to Thailand and Vietnam. Cdr Pooja was also the first Lady security officer to the then President H.E Dr APJ Abdul Kalam, who was reviewing the President's fleet review.
Her father was her biggest inspiration. In her growing up years, Cdr Pooja would watch her father don his olive-green smart uniform and walk with an aura of pride. She would sometimes wear his beret and imitate him in front of the mirror. She would often say that she would like to join the armed forces just like her father. But during those times, girls were not allowed in the forces. Cdr Pooja continued with her studies and extra-curricular activities. She went on to go for nationals in Shooting (pistol) and joined the Naval NCC.
"While I was in my 2nd year college, one day my father came home and told me that the 1st batch of women had been inducted in the forces and it was now open for girls. My joy knew no bounds. Finally, I could achieve what I truly aspired to be," reminisced Cdr Pooja who is currently located in Delhi.
"Joining the Armed Forces was my dream, so no challenge was big enough. However, I took it in my chin, the dual role of a Mother (once I had kids) and an Officer," stated 46-year-old Cdr Pooja whose husband is serving as the Captain in the Indian Navy.
Stating that the Permanent Commission of SSC women officers is a long awaited and welcome step to ensure parity of opportunities amongst the officers, Cdr Pooja shared that being from the initial batches, they were akin to the trend-setters. Now the path is well laid and opportunities are in abundance. We have all women sailing teams circum-navigating the globe, scaling mountain peaks amongst many more. The acceptance levels are more now, compared to what it was when we served the Armed Forces, she shared. The recent decision to induct women into NDA comes as great news.
Cdr Pooja's most memorable experience was when she was the security officer to H.E Dr APJ Abdul Kalam. On the second day of the review, once the President was back in his suite, she asked him if she could get her daughter to meet him. "He very graciously said yes, without giving it a second thought. As my house was close by, I quickly went and got my daughter and her friend to meet the president. Dr Kalam spoke to the kids, who were barely 4 years old. He asked them what they want to be once they grow up, to which my daughter said I want to be like my Mumma. The President even agreed for a picture with the kids and me. A once in life-time experience to see a person of that stature so humble and down-to-earth," said Cdr Pooja, an MBA graduate.
Sharing another memorable incident, Cdr Pooja, said, "My ex-commanding officer Commodore ASPI Marker had retired. One day whilst being posted in INS Vajrabahu, I received a call from him that he had taken permission for me to deliver a motivational lecture in a Parsi College. This was the first time I was going to interact with college students as an officer. On the day of the visit, I wore my smart uniform and accompanied my CO to the college in South Mumbai."
"I had prepared a speech for the students which I gave. But it was the interaction after the speech which was truly memorable for me. As time went by, it was overwhelming to know how many lives I had touched in that one speech," added Cdr Pooja who concluded that her message to the budding women officers is 'Reach for the Stars'.
Important : If you are making an impact in the world, Please send us your story at : manoj@sociostory.in and we will try to cover you.