Rendering beautiful and lively performances, you are bound to be enthralled by Padma Shri Geeta Chandran's dance
March 7, 2022, 9:32 p.m.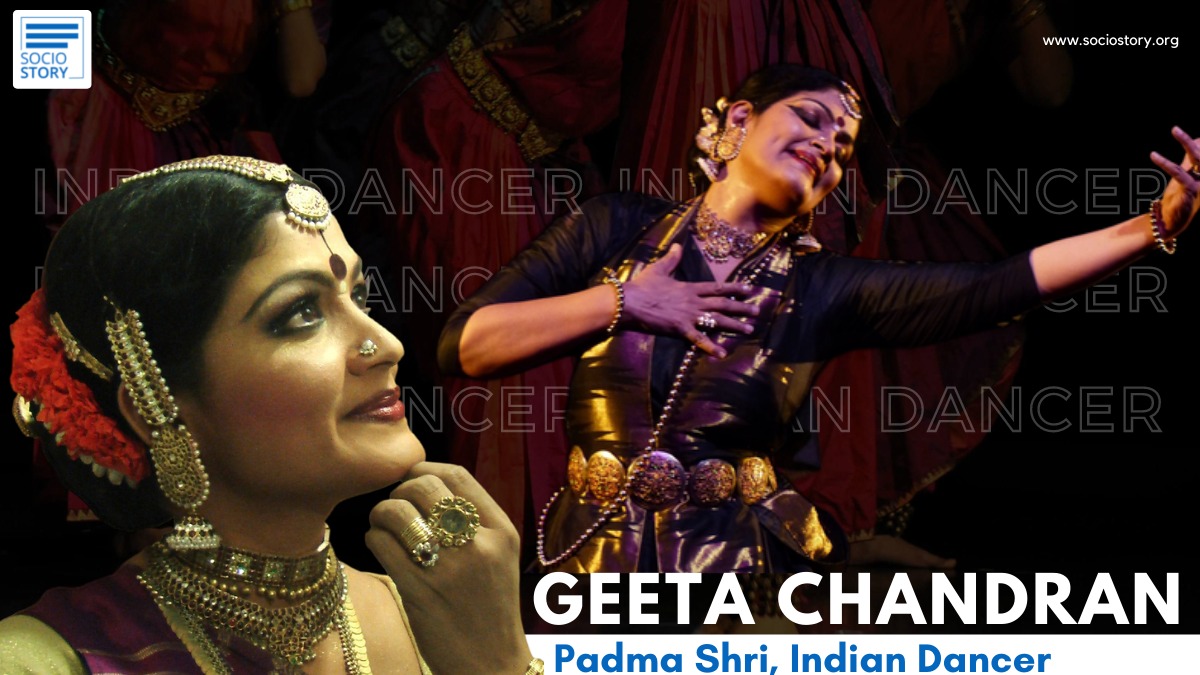 By:Reshma Jain
Dance is art in motion, an expression and an emotion. Be it her startling and sparkling eyes, fluid and balletic gestures, rhythmic and intricate actions, supple and graceful moves, Geeta Chandran is a name to reckon with. A woman of substance, Padma Shri Geeta Chandran who is a renowned classical dancer and Founder-President of Natya Vriksha shares her journey with Socio Story ahead of Women's Day.
Reminiscing about her childhood days, Geeta shared that she was privileged to enjoy a happy, safe and joyous childhood. Her upbringing was the sole professional interest for her mother who invested time and energy in making Geeta successful in scholastic endeavours, sports, classical dance (started training at the age of 5) and classical music (started training from the age of 7).
Hailing from a traditional and conservative South Indian Tam-Bhram/Palghat Iyer family, Geeta was exposed to the arts since childhood. Her mother played the veena and her father was a Carnatic music buff and all her childhood, she was exposed to fabulous classical music being constantly played at home.
At the age of five, she was taken to be enrolled for Bharatanatyam under Swarna Saraswathi, who hailed from the devadasi Parampara of traditional dancers. Geeta was under her tutelage for over a decade during which she inculcated in her a fine understanding of the nuances of the dance, both rhythm and abhinaya. A fabulous dancer, singer and veena player, Swarna was Geeta's dream icon. Anything less would have been a disappointment; she says with a beautiful smile.
Being exposed to classical dance from that young an age made dance her mode of expression. It became both her friend and her catharsis. "If I was happy, I would dance, and if I was troubled, sad, or angry, I would dance too. So, dance became ingrained in my persona and became my métier of expressing myself. And that has stayed through the decades since my first solo arangetram in 1974. Since I was fortunate to get opportunities to perform in various sabhas and events, slowly I became known in Delhi as a classical dancer. But taking dance as a profession happened much later, that is after the completion of my PG when I entered the world of work. But, I found the world not fully catering to my creative urges, until one blessed day, I decided to throw in the towel and became a full-time Bharatanatyam sadhak."
Geeta started teaching when she was very young. In fact, it was her Guru, K.N. Dakshinamurthi who egged her to begin teaching, and thus Natya Vriksha came into being in 1991. Since then, teaching has been one of the finest pleasures for her, both as continuing the traditional Guru-Shishya Parampara, where students learnt from the teacher by example, and also because the pedagogy of teaching/learning in modern times gave her an opportunity to create her new pedagogy.
When it comes to spreading social messages through dance, Geeta has constantly striven to create new spaces for the classical dancer of today and has attempted to push the frontiers of the classical art and to reach out to new, especially young audiences. She firmly believes that dance must be linked to life and that artists must use their unique position in society to make a difference to life and living. Her various performance choreographies have reflected her different social and ecological concerns. 'HER VOICE' and 'IMAGINING PEACE' articulated her conviction that war and violence prove futile. 'KAIKEYI' and 'RAVANA' threw the spotlight on the complex issues of social stigma. 'MYTHOLOGIES RETOLD' addressed the social curse of female feticide.
Promoting the Swachh Bharat Campaign in 2018, Geeta launched a 'TOILET-USE EDUCATION CAMPAIGN' with the slogan "You have the right to a clean toilet, but the person after you, has an equal right to a clean toilet." Having travelled all across India and experiencing first-hand the issue of terrible toilets everywhere, her campaign was to raise awareness on toilet-use etiquette.
"Whatever issues artists raise must be aesthetic and artistic. It must evoke introspection, not militant activism. That is the polar difference between social activism and artistic activism. The other fact is that I am an artist; at different moments in time, I am engaged by different issues. In my latest work 'SIMHIKA: DAUGHTER OF THE FOREST', I have broached the angst and dispossession faced by forest tribes, and especially their women who are becoming victims of violence. Also, in the context of violence against women, I am intrigued by women also being perpetrators of violence against other women. So different textures emerge in my thinking, and my art reflects that," said Geeta adding that performing at the India@50 Dance Festival was a transformative moment; she being one of the youngest artists to be invited to a forum in which all her legendary role models performed too.
Speaking further on the challenges faced, Geeta opined that the artistic path is not easy; one has to live with oneself for the artistic decisions one makes. Plus, always, the arts have been neglected for funding and patronage. "Artists – especially dancers – are taken for granted. Getting funding for your work and to get paid honourably is the biggest challenge that all dancers in India face," she shared.
"The message is of diligence; there are no shortcuts in classical dance", she strongly reflects. One has to stay the course even when there is no acknowledgement of one's art, no recognition, no performances. It's important to find inner resilience, to find inner resources within oneself and to have conviction that dance is everything and gives one everything meaningful. Classical dance is built on the larger edifice of our Indian-ness; indeed, Geeta Chandran holds the testimony to it.