Saurav Chordia flies high with his creativity in designing patches for IAF's Rafale squadron
July 31, 2020, 2:21 p.m.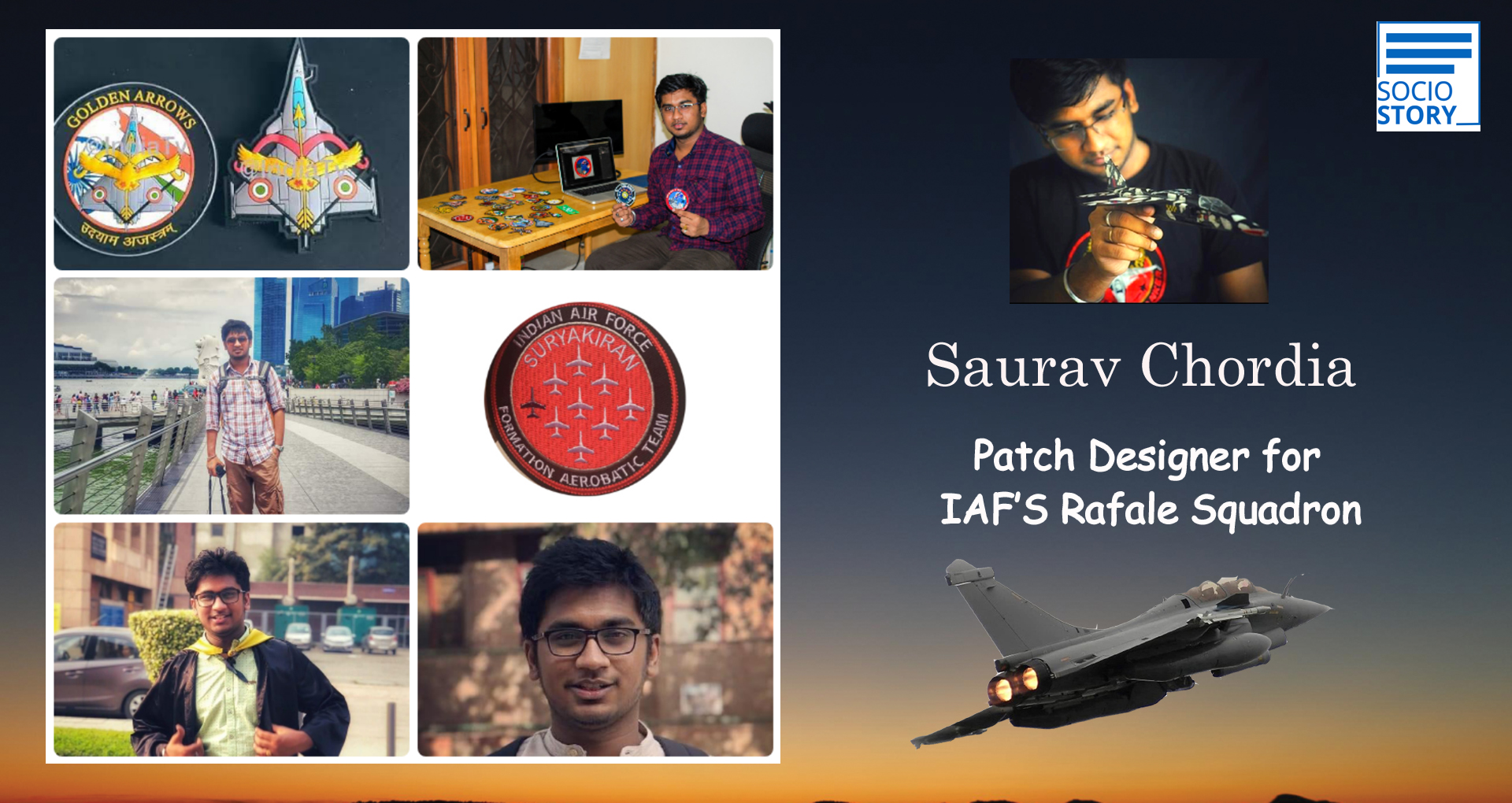 By:Reshma Jain
Saurav Chordia from Assam was on cloud nine on the day the first batch of Rafale fighter jets roared over the India airspace and landed in Ambala, Haryana. But why? Because it was a matter of pride not only for the country but also for Saurav who projected professional pride.
Saurav Chordia who is only 22-years-old designed the arm patches that adorned the G-suits worn by the Pilots of Squadron 17, known as 'Golden Arrows' who flew the Rafale fighter jets. Saurav embedded their logo on the patch which is Golden Arrows along with their symbol of the Himalayan Eagle and the Rafale jet with a touch of Indian colours, carrying the motto "Udayam Ajasram (Arise Ever). It took around a week's time, after alterations, to design the two patches (A circular one and a second one shaped like the aircraft) for the Golden arrow squadron.
"Before working on any patch, I always try to maintain the old sanity as each unit has its own history of valour. I ensured that all the elements for the 'Golden Arrows' patch signify something related to the squadron which has a glorious history and legacy. Patches, although look small, tell a story of valour and reflect glory. Patches are an informal way of projecting professional pride," stated the young boy who did his graduation in Political Science and currently working as a 3D Designer in a Gaming firm based out of Delhi.
As a child, when Saurav watched Tom Cruise in the movie Top Gun, wearing patches and flying, he was inspired. Hailing from Chirang district of Assam, Saurav always harboured a dream of joining the airforce. But due to his weak eyesight, he could not fulfil his dream. So, he took up designing aircraft models and patches and soon his work got noticed. Officials got in touch with him and there has been no looking back since then. "I wanted to be a pilot, but destiny had other plans for me. So, I worked on an alternative idea and kept my passion alive. And now, my work gives me a sense of pride and satisfaction too," stated Saurav who loves everything that flies and creates a buzz.
He had refused to take any payments for patches and had designed them for free. But, the Indian Air Force offered a small stipend to the young boy as a gesture to make him feel a part of the family and to also encourage such amazing talents.
Saurav started to make patches at the age of 18, and some of his works include patches for Squadron 45 pilots who were the first ones to fly the Tejas Light Combat and also for the Surya Kiran Aerobatic squadron. Saurav who likes learning new things says that until now he has designed more than 300 patches for different units.
This young artist has not limited himself to only making patches. He has been designing logos for many martyrs, social organisations and charitable trusts for which he has never charged. As a matter of tribute, I had designed a logo for a martyr who was killed in a terror attack. "The logo that I designed for Meghna Girish's son made me emotional. Meghna Girish is the mother of Major Akshay Girish, who was among seven soldiers killed in a terror attack on an Army camp in Nagrota, Jammu and Kashmir, in November 2016."
Saurav is also a patch collector and has a whopping 5,000 patches of around 80 countries' Air Force. "My inspirations are Dr APJ Abdul Kalam and Marshal of the Airforce Arjan Singh. My future plans are to cover foreign air shows and also wish to at least fly in a first fighter aircraft once," signed off the creative designer.