Saving lives with Gift of blood
June 14, 2020, 1:15 p.m.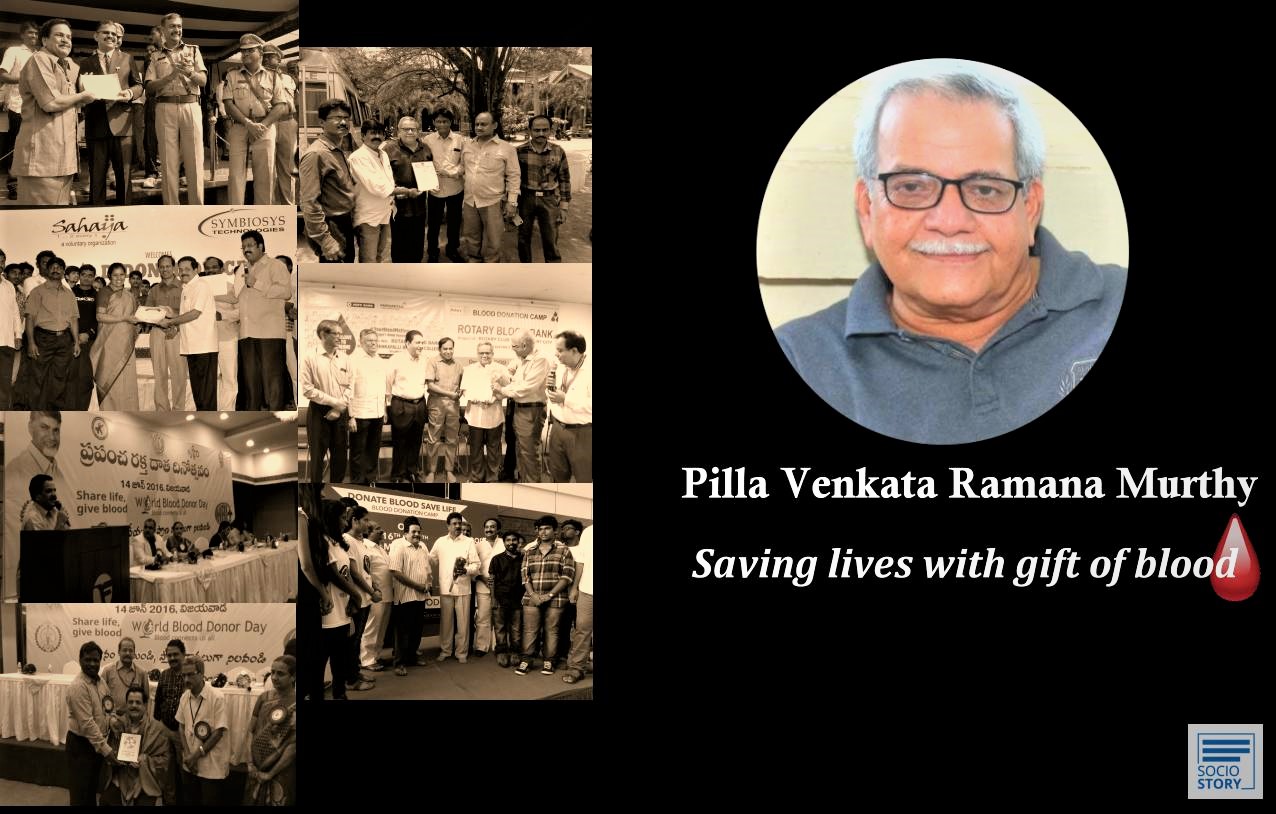 By:Reshma Jain
Only 20 minutes of your time and 250 cc of your blood, may make the difference between life and death. Meet Pilla Venkata Ramana Murthy (64) who holds a record of donating blood for a whopping 97 times. Before getting into the story, all the blood donors in the country need to be appreciated for their kind-heartedness and saving lives.
This year, World Blood Donor Day will once again be celebrated around the world on June 14. The event serves to thank voluntary, unpaid blood donors for their life-saving gift of blood and also to raise awareness of the need for regular blood donations to ensure that all individuals and communities have access to affordable and timely supplies of safe and quality-assured blood and blood products.
When Ramana Murthy was 21 years, he had attended a NCC Para jumping training camp in Agra and was influenced by his camp commander. His tenure in NCC evoked in him a deep sense of social service which led him to take a vow to donate blood as long as he can. Starting at the age of 21, he has been donating blood consistently every quarter, which as a result, makes him hold a record of donating blood for 97 times up to the age of 64. His goal is to reach a milestone of being a 100-time blood donor.
Ramana Murthy who is also a dedicated teacher, social worker and a multi-dimensional artist, says, "Donating blood is a very good gesture that a human could do to save lives. Taking a good diet like leafy vegetables, carotenoid rich vegetables, fruits etc would be helpful. The younger generation who have crossed 18 years can start donating blood every quarter, if they take care of their lifestyle."
Adding that he was on cloud nine when one of the blood bank authorities informed him that a young child survived with his platelet donation, Ramana Murthy, said, "I realised that blood donation can help in giving a new lease of life. Hence I keep encouraging people to be healthy, to stay fit so that they can also make a difference. Whenever I attend a blood donation camp, I see a lot of enthusiasm from the co-participants who are mostly youngsters brimming with innumerable questions regarding blood donation."
He further says, "After doing my part, I generally like to go around greeting the young donors and appreciate their gesture of goodwill. I've met quite a few youngsters in numerous camps who were first timers and saw their initial fears of blood donation transform first into understanding and later, a sense of achievement. I feel that with each donation, the lives of people who are suffering are alleviated and sometimes saved as well."
Ramana Murthy has been recognised as a major donor of blood by the Govt of Andhra Pradesh, NSS wing of Andhra University, and many social organisations like Rotary, Lions club, etc.
Being an aficionado of drama and related art, he had also written, directed, and acted in various plays and stage dramas portraying the social issues which made him bag a 'Nandi Award' from AP state for his performance as best character (actor) in 2007.
Ramana Murthy had authored and edited the Sanskrit textbook for the Board of Intermediate Education and also lent a hand in the making of the Sanskrit textbook for Undergraduate and Postgraduate studies affiliated to Andhra University. His active contribution to the field of teaching led him to be a recipient of Andhra Pradesh State's Best Teacher Award (2nd position) in the year 2004 and was awarded by the former Chief Minister Late Y.S.Rajasekhar Reddy.
Important : If you are making an impact in the world, Please send us your story at : manoj@sociostory.in and we will try to cover you.