"School Radio"- An online radio platform to promote the voices of children and youth
Sept. 3, 2020, 10:51 a.m.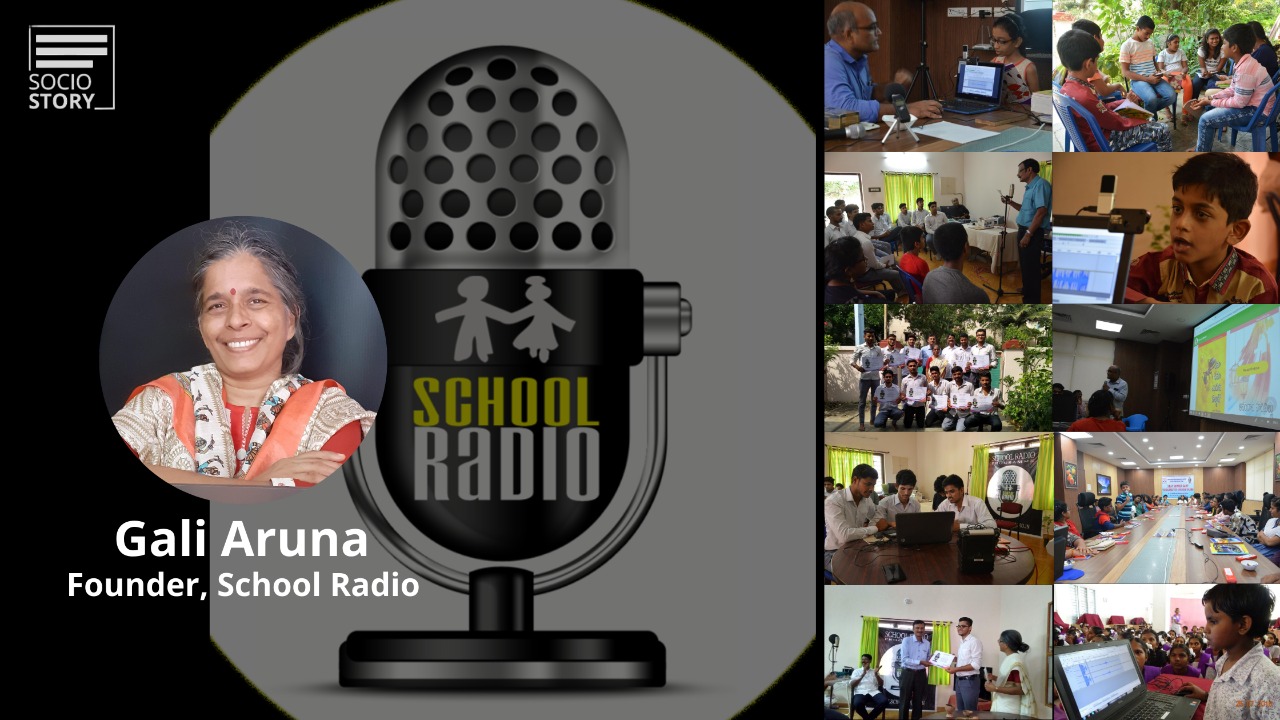 By:Reshma Jain
At a time when most of the youngsters are hooked to their smartphones and are active on social media, there are a few from the economically weaker sections who lack a platform to voice their views. In an effort to provide an opportunity to these children to develop their communication skills, a School Radio programme was initiated to reach out to them.
It was on February 13, 2015, on the occasion of World radio day that School radio was launched. School radio, an initiative of Digital School: a registered partnership firm working as a social enterprise to promote the voices of children and youth, is an online radio platform for schools, colleges, universities and the communities.
The founders Udaya Kumar Gali and Aruna Gali who have more than 25 years of experience in the development sector are on a mission to develop the 21st century skills like communication, collaboration, critical thinking and problem solving and creativity among children and youth. The STREAM methodology adopted by School Radio incorporates additional layers to STEM and STEAM by adding 'Reading, Recording' into the equation. According to the duo, reading, writing, editing promotes critical thinking and creativity.
School radio offers customized packages and modules to cater the needs of the educational institutions to choose from the wide range of packages available. This is tailored to cater the needs of young children to broadcast their voices.
"At a young age, School radio exposes them towards doing research on their chosen topic to create a radio programme. In the process of content creation, they practically learn how to imbibe creativity, design thinking, new ideas and critical thinking. They understand different perspectives, conflict management and finding solutions. By working in teams, they learn the process of team building, negotiation skills, collaboration and co-operation and co-ordination. They learn doing research around the issue identified by going into the root causes. Children and youth learn to express themselves more confidently, creatively and innovatively by producing their own radio programmes," stated Aruna Gali adding that School radio mentors students in the process of producing content while students learn to create content.
School Radio promotes inclusive and sustainable development and is working directly with visually challenged, differently-abled children and youth by creating customized modules to mentor their diversified stakeholders.
Aruna further said, "School radio workshops were held in 17 districts spread across Andhra Pradesh, Telangana, Uttar Pradesh and Maharashtra. Till present date, 3,880 students and 270 teachers have participated in School radio workshops."
School radio has also started working virtually: engaging children, youth, and their parents to create content. Since March 2020, School radio has been webcasting 'The Stories of Change Makers' and completed 150 stories, talks and special programmes. During COVID-19, School radio could reach thirteen states of India, China, USA, Canada, Bangladesh and Oman to share their stories.
School Radio promotes Sustainable Development Goals (SDGs) and Education for Sustainable Development at local level. "Local voices and actions bring transformation in the societies we are living in and impact at global level. Children and youth create content on Environment, Education, Consumer Rights, and Child Rights and Human Rights and Gender, Sustainable Development, Sustainable Consumption and Sanitation, Water and Waste Management etc. Children and youth learn to audit water, energy and waste consumed and generated at home and educational institutions respectively. They learn calculation of carbon footprints too," said Aruna, adding that School radio invites and motivates the young generation to be part of this transformational journey of achieving sustainable development goals by 2030.
School Radio published fifteen books in Telugu, English and Sanskrit languages. And also developed multimedia e-books-which contain the content created by children and youth. Ten books have been published as resource material to use to create radio programmes. School radio has set up a recording facility with students of social and tribal residential schools of Andhra Pradesh in National Women's Parliament, held at Andhra Pradesh in the year 2017.
School Radio in partnership with Earth Day Network, has webcasted the special programme on World Earth Day, 2020. On the event of World Environment Day, School Radio in collaboration with UN World Environment Day 2020: broadcasted the special programme created by children and parents across India and abroad.
Important : If you are making an impact in the world, Please send us your story at : manoj@sociostory.in and we will try to cover you.