Seeing people suffering at close quarters, a group of AOL volunteers went beyond their call of duty
Oct. 7, 2020, 4:27 p.m.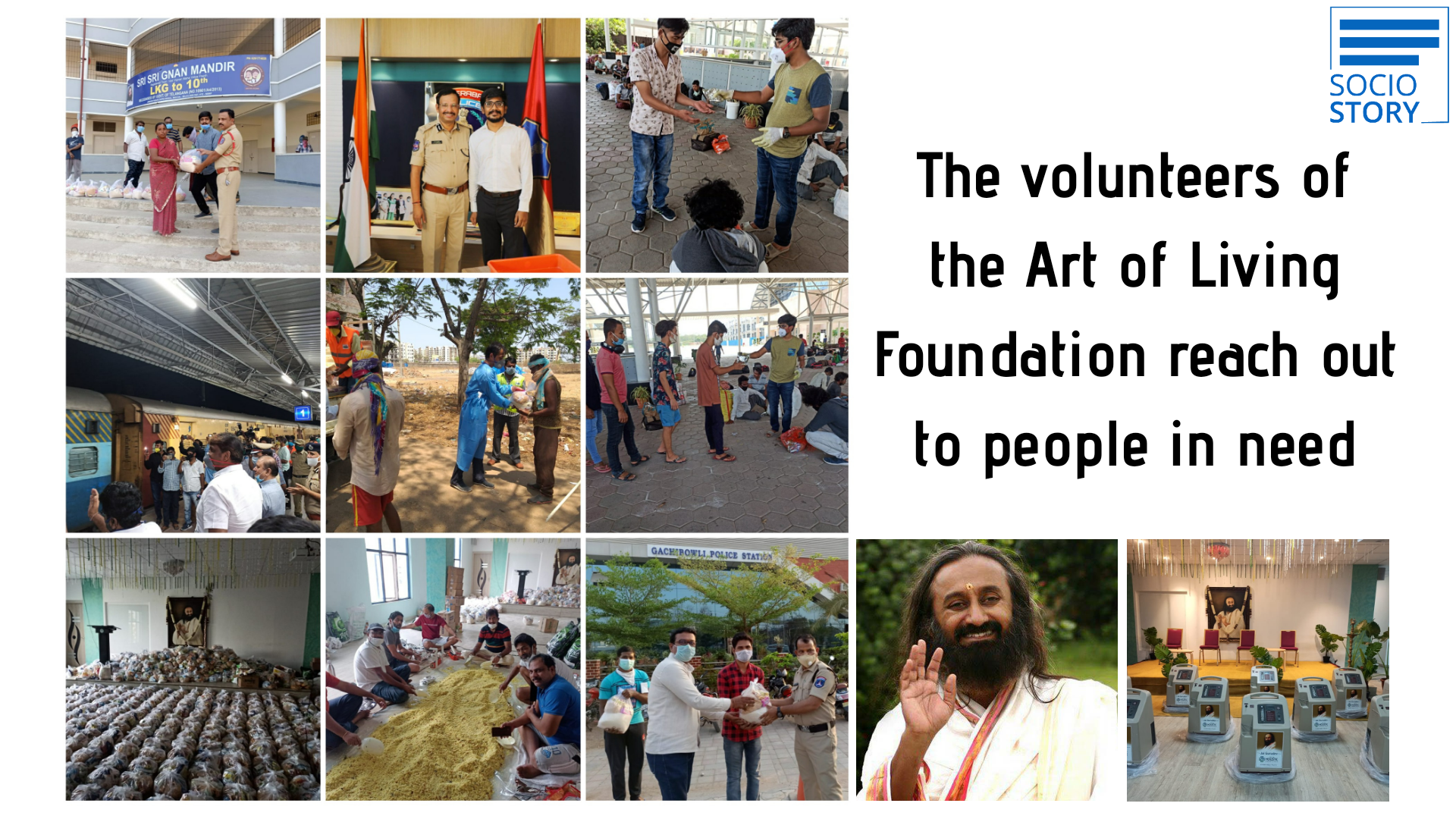 By:Reshma Jain
"It had seemed like a very noble thought during the pandemic: to feed daily wage earners, those who need it the most. Yet, when the moment came, there was nervousness, there were doubts, there was fear. I felt more like a fugitive than a volunteer. I wouldn't have minded risking myself. But what of my daughter? What of the 1,100 neighbours in Sarovar (where I reside), all religiously following the lockdown and hoping to stay safe? Was I being irresponsible, putting all of them in danger recklessly?", pondered Kanishka Shrivastava, a Principal Group Engineering Manager at Microsoft who is also an Art of Living teacher based in Hyderabad.
Before Kanishka could take a decision, there was a voice which confidently said, 'Papa, we're proud of what you are doing'. "My wife, my daughter, always the ones to adjust, the ones to sacrifice. They were smiling, wishing me luck, giving me strength. Without a second thought, I took the plunge," expressed Shrivastava while sharing his experiences during the Covid-19 pandemic.
While the nation grappled with the invisible enemy and most of us remained locked at homes, there were a few of them who went beyond their call of duty. One such example that Socio Story brings to you is the services rendered by a group of volunteers from the Art of Living Foundation (AOLF).
Volunteers from different walks of life joined hands to reach out to as many people in need during the pandemic. As per information from the team, around 450 tonnes of grocery were distributed to the migrants and the marginalised section of the society in and around Hyderabad. When workers started travelling on foot, hitching rides in trucks, more than 12,000 meals were prepared and distributed through food and water counters at multiple check posts in Shamshabad, Medchal, Panthangi and Ghatkesar. More than 4,000-6,000 meals were prepared and distributed in these areas from the day the lockdown was announced, and in conjunction with the International Association for Human Values (IAHV), over 7.5 crore meals have been distributed across India, and more than 25 lakh families have been supported.
Samaritans like Kanishka went the extra mile to serve their fellow beings. Apart from the services rendered to thousands of poor and marginalised people, the group of volunteers with the involvement of GHMC and the Police department, reached out to the displaced daily wage workers in the interiors of Kothagudem, Bhadrachalam, Mulugu, Ghatkesar, Yellamma Thanda, and Devarakonda, providing them food and rations.
Apart from the food distribution, the Sri Sri Holistic Hospital has significantly contributed in providing several free oxygen concentrators. Since many of the Covid patients who need hospitalisation also need oxygen supplementation, the AOL volunteers ensured that patients have access to oxygen concentrators.
"As many as 100 oxygen concentrators have been procured for the people in need. It is being given free of cost to the needy patients through the helpline number 8886666108 without any rent, maintenance charge or deposit. After a week or two weeks of use, once the requirement of oxygen decreases, the machines are bought back to the hospital, serviced and given to the next patient," stated Dr. Tushara Aluri, an ophthalmologist at the hospital and an AOL volunteer.
Sharing his perception, Shrivastava added,"This project was one of the most uplifting experiences of my life. Seeing people suffering at close quarters was heart-wrenching, but at the same time, the generosity of the general public and the support of the government kept us going."
"I was disturbed on seeing the plight of the migrants walking thousands of miles to reach home. While I witnessed a few people who were walking barefoot, even expecting mothers, I was moved when I spoke to the migrants walking all the way to Rajasthan without food and water. I realised that the need of the hour is to help them, hence I took leave from work for three months to serve people in need," stated Vishal Arya who works as a project manager in an IT company in Hyderabad.
Dr Sheel Parekh, another AOL volunteer, says that the Art of Living has been helping in other ways too in these troubled times. "The increase in stress levels of all classes of people, children included, is very visible. Apart from the free meditation sessions conducted by Sri Sri himself, many of our volunteers are offering online courses to relieve stress and anxiety. Several thousand people have benefitted from these courses in the last six months, including over 5,000 Covid warriors for whom we had conducted free sessions," she said. Of course, there is still much to do: everyone needs to actively participate to make a concerted effort to help themselves and others, to pull us through these tough times.
Operating in 156 countries, The Art of Living Foundation (AOLF) is a non-profit, educational and humanitarian organization founded in 1981 by the world-renowned humanitarian and spiritual teacher Sri Sri Ravi Shankar. All of AOLF's programs are guided by Sri Sri's philosophy: "Unless we have a stress-free mind and a violence-free society, we cannot achieve world peace."
Important : If you are making an impact in the world, Please send us your story at : manoj@sociostory.in and we will try to cover you.