Selfless Giving is the Art of Living
June 15, 2020, 1:23 p.m.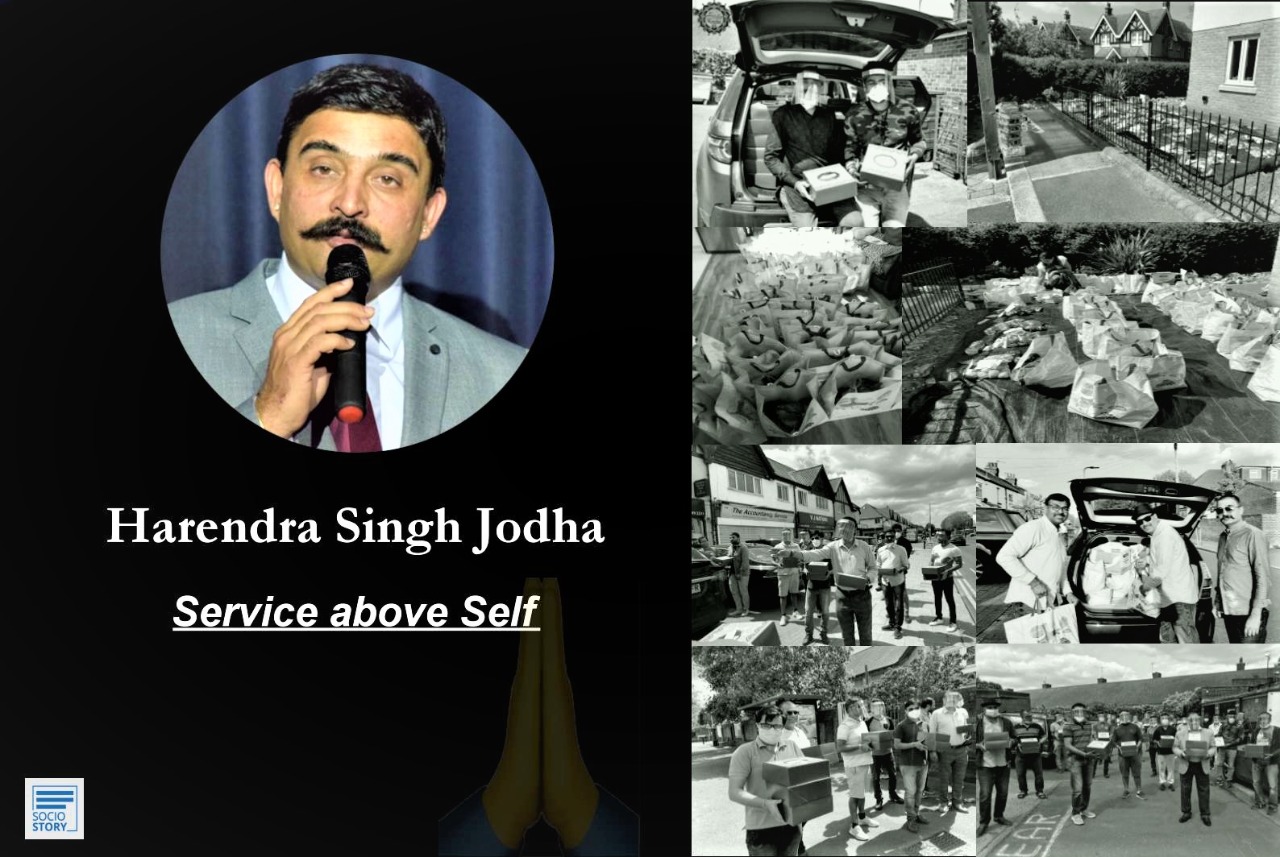 By: Reshma Jain
'An effort made for the happiness of others lifts us above ourselves', goes a saying and Harendra Singh Jodha proves it. And when this effort is made by selfless action, the mission 'Nishkam Seva' of Harendra Singh is accomplished.
Harendra Singh Jodha who hails from Merta city in Rajasthan is now settled in London. The word 'Jodha' in his name prompted me to get into his roots and it was interesting to learn that Harendra Singh Jodha belongs to a Rajput family and is a descendent of Rao Jodha who established the city of Jodhpur. Interesting, isn't it?
Well, the story that follows will make it more interesting.
'Selfless giving is the Art of Living', - this is a lesson which I learnt during Covid-19, says Harendra Singh who is associated with Rajasthan Association UK (RAUK) and other organisations like the Akshaya Patra UK.
So it was on day one of the lockdown in London when Singh received a call late night informing him that more than 35 students were stranded near the high commission of India in Aldwych, London. When Singh met them, he observed that neither did they have food to eat nor a shelter to stay. So, the mission to help the stranded, homeless, needy and senior citizens took off from day one of lockdown.
Singh, along with his team decided to take the responsibility of feeding at least three or four people at a time. People started appreciating their services during the time of distress and the High Commission of India, in a tweet mentioned about the service by Singh. From that day onwards, calls from needy people started pouring in and the team joined the force with RAUK, the Akshayapatra UK and Maheshwari Mahasabha UK and they started to received requisitions from a few organisations.
So, the team was successful in providing freshly prepared meals to students, old age homes, NHS hospitals and other frontline workers. Grocery for the needy families and students were also packed and distributed. Adding to the services, the team worked day and night to provide free accommodation to the students and stranded passengers. The volunteers also led a campaign called 'Here to hear' through RAUK for listening problems of distressed individuals, counselling them and finding solutions.
Speaking to Socio Story, Harendra Singh, 41 years, said, "During the lockdown, people saw our service and the messages that we had sent asking for volunteers to join in. Fortunately, many of the like-minded people were ready to come out and serve at a time when everyone was scared to move out of their home. This built a strong force to deliver, to cook and to pack the materials and food items."
He also added, "Since we believe that action is louder than words, a small team with handful of people became a huge team of more than 100 people. We have people from across the country and from abroad who donate food online – particularly durable foods like biscuits and snacks and send them to us to distribute. So now, the destitute are not just fed for a day but also have something to eat for the next two or three days."
Singh further says that through Akshaya Patra, they have managed to serve more than a million fresh meals during the Covid-19 crisis in London. They have served more than 1,200 bags of huge grocery bags, supplied more than 2,600 fresh meals to NHS workers and students, helped more than 250 people with accommodations and 200 plus people with repatriation.
"Recently, we did Mirchibada fest in London and delivered 300 plus boxes of mirchibadas and sweets to doorsteps of those who have helped the community during the crisis. We also managed to do the Chole Bhature day and supplied the packs to 250 families who were involved in repatriation programme for stranded people and passengers. This was done in various parts of UK to encourage people for the services they have rendered," said Harendra Singh adding that they also organised 50 live webinars with thousands of participants. The speakers were from different walks of life like motivational speaker Shiv Khera, Rajasthan CM Ashok Gehlot, Lakshyaraj Singh Mewar, and other local poets, folk singers and performers.
On being asked about the future plans, Singh said that they will focus more on Nishakam Seva and cater to people who do not have proper food or are lonely. They are also planning to open a permanent food bank in London.
"A thoughtful gesture is all that's needed to put a smile on someone's face and remind them that you're there for them at a time where they might be down. Don't wait for good things to happen, make them happen," signs off Jodha.
Important : If you are making an impact in the world, Please send us your story at : manoj@sociostory.in and we will try to cover you.