Selfless service to mankind is what defines Nisha Bhagat
May 12, 2021, 1:11 p.m.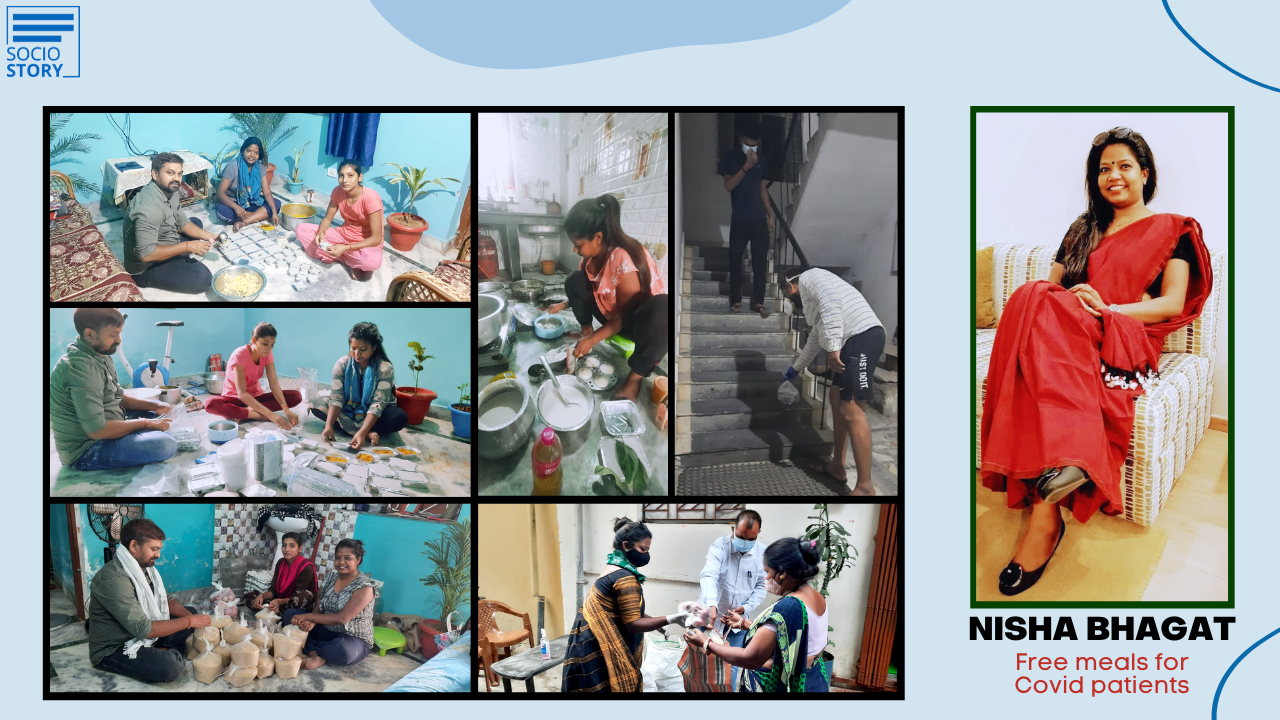 By:Reshma Jain
"Hello, can I get a plate of Khichdi delivered at my home?" asked a customer over a call. To which the answer was, "Sorry sir, our restaurant does not have Khichdi in it's menu. You could select something else from the other available dishes."
In a breaking voice, the customer said, "I have been suffering from Covid from the past few days and there is nothing else that I would like to eat. There is no one to cook food for me. Please see if you could send me a plate of Khichdi. I shall be ever grateful to you," and he hung up the call. Meanwhile, the person on the other side felt sad and worried. This moment of sadness steered this individual to embark on a mission. The mission to provide and deliver free healthy meals to people suffering from Covid.
The lady behind this mission is 33-year-old Nisha Bhagat from Ranchi. Although she has been serving the people from last year by providing ration to the villagers, she wanted to reach out to the people in need at a time when the country is reeling under a crisis. "After that call for Khichdi, I realized that there would be many people who would be looking for food. I have heard of a lot of instances where the entire family was battling Covid and cooking food had become difficult. Some people living alone had no one to cook. So, I pondered over and thought, why not do something for people who are suffering and have no resources?" recalled Bhagat.
Bhagat after discussing to her husband Chandra Shekhar about her willingness to serve people food, took to social media to inform that she is willing to provide free meals to people suffering from Covid. And no wonder, calls and messages poured in and her family members extended their support in the preparation of food at home. Gradually, she started to get a lot of requests and that is when Bhagat decided to make meal plans and serve them accordingly.
Bhagat, with her own expenditure, started with the preparation of 8 meals per day to 25 per day and presently prepares 45 meals a day. Her work begins as early as 5 am and ends around 11 pm. Having served and delivered more than 3,500 meals in a span of 25 days, Bhagat said that people are now coming forward to support her cause.
"My meal plans have been customized keeping the need for people suffering from Covid. I try to include protein-rich diet in the lunch menu and also light food like Khichdi for dinner. I include idly, vegetable poha, upma, etc for breakfast," said Bhagat who initially accepted deliveries for 3 kms radius but now reaches out to people in 5-6 kms radius.
On being asked about the safety precautions while venturing out, this young Samaritan said, "Initially I was a bit hesitant in moving out to deliver meals. My husband used to deliver it but slowly as requests poured in, I also had to move out for the same. Hence, I took a bold step forward by wearing double masks, hand gloves, face shield and covered myself completely. I started to deliver at nearby locations and it had become my routine."
Bhagat said that her friends were not supportive on this decision of hers as they thought it is a risk to one's life. To which, Bhagat replied that since the Almighty has given her good health, she needs to utilize it to save lives of other people during this unprecedented time.
"The amount of satisfaction I got after doing this cannot be compared to anything. People started to send wishes and were very grateful for this service. I felt that life is worth living every single day. People also started saying that they have recovered and this made me very happy. There has been no stopping and I will continue this mission and reach out to as many people as I can," added Bhagat by saying kind words by people enables her to stay determined.
"We will also be extending support to the daily wagers and people who have lost livelihood. Since there are some kind hearts supporting our mission, we would be distribution ration and other essentials to the needy families," added Bhagat by concluding that they are also motivating people who panic or have lost their loved ones and giving them a ray of hope.