Serving people selflessly, VYOM has been able to make a difference in the lives of underprivileged
Sept. 22, 2022, 6:45 p.m.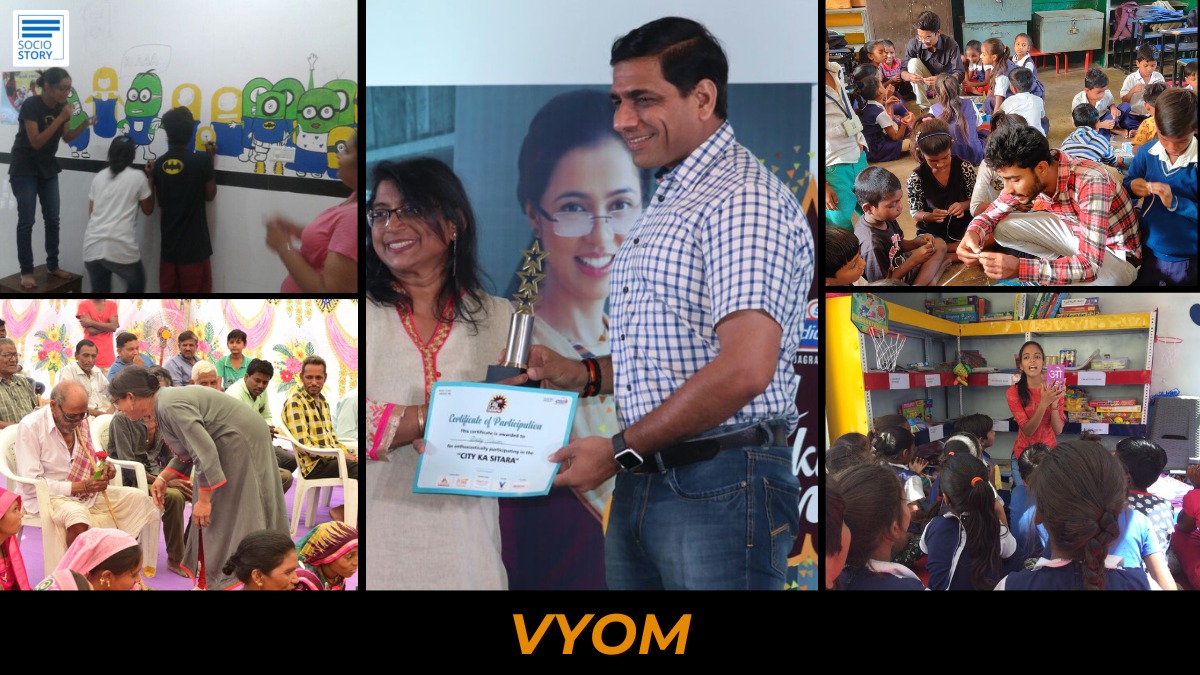 By: Reshma Jain
When a few passionate people decided to be the torchbearers for positive change, Voluntary Youth Organisation for Motivation (VYOM) was born. From health, sanitation, education, women empowerment, environment conservation to catering to the needs of underprivileged and disabled people, VYOM has been in the forefront in executing projects at scale.
Dolcy Simon, the Founder Managing Trustee of VYOM found a way to inspire Youth while she was forced to stay at home due to a medical emergency. Many college students visited her at home and she had noticed that many teenagers were emotionally disturbed. She believed that their involvement as volunteers and inputs in various initiatives from a young age would develop empathy, instil a sense of purpose, and help them find pathways to a meaningful existence. This effort would also divert their minds from difficulties and help them to not enter into negative habits. Dolcy therefore encouraged youth to utilise their time in a constructive manner to develop solutions for diverse problems.
Gordon B. Hinckley once said, "The happiest people I know are those who lose themselves in the service of others." Finding a passion would transform communities and inspiring youngsters would be instrumental to working in various development work such as mental health/ accessibility/ doing good for the city/ contributing to rural and urban causes. "VYOM through its unique social initiatives wants to educate and inspire people throughout cities with open minds," said Dolcy by adding that a lot of volunteers joined hands to make a difference.
Dolcy, who pursued her PG in social work, believed that she could grasp first-hand knowledge of the needs, vulnerability and suffering of society's most voiceless people. Dolcy always liked accepting challenges and she had worked in locations which she never visited hence had the courage to start from scratch. Her first assignment was in a small town called Vaijapur in Aurangabad. She contributed to changing the lives of orphan/destitute children and young adolescents. Apart from education, she supported them emotionally, moulding them into confident, positive and independent individuals and played an important role in their lives. She kick-started a project for women facing abuse by tackling the problem differently. She focused on educating men and changing their mind-set rather than just tackling women issues. VYOM's work in covid relief service was appreciated by the city of Vadodara as they worked in government hospitals, traffic police and also distributed ration for the entire period.
Dolcy started climbing the stairs of her career by working in International organizations such as Catholic Relief Service for the state of Gujarat overseeing rural and tribal work in the field of mother-child health care and watershed management. She then worked with Habitat for Humanity India where she was assigned work during the India built Project in India. She led United Way of Baroda for 7 years as the Executive Director. It is a major funding organization and acts as an umbrella Ngo for more than 100 Not-for-profit organizations.
Her biggest challenge was organising an annual fund-raising event (the largest Garba in the internationally for 7 consecutive years under her leadership the team achieved various records). The funds raised were then utilized donated to support various causes also many city base initiatives for the first time were taken up.
"The impact that VYOM has created on the beneficiaries and volunteers is massive. They have been working in 11 villages, cover 111 municipal schools, work with differently-abled individuals, women and marginalized people in various communities. With strong ideologies, passion and compassion, and working style people reach out to us and get involved for greater good of the underprivileged shared Dolcy based in Vadodara. She further added, "VYOM has been dedicated to sustainable transformation at the grassroots, it empowers volunteers and leaders to promote active tolerance and become responsible citizens in communities. VYOM carefully facilitates, advocates, dialogues, empowers the needy at the grass root level and provides an entry point to engage children, youth, and adults by integrating education and sustained behavioural change."
One of the most interesting initiatives by VYOM has been 'Aarambh'- A unique fashion show for the physically disabled, mentally challenged, hearing-impaired and visually-impaired individuals. The event which was organised in Ahmedabad and Vadodara was an eye opener as it celebrated the spirit of the people facing different disabilities/challenges. The event focused on accessibility and fashion and attracted people from all walks of life. "The objective of this fashion show was to promote awareness on disability issues, the fundamental rights of persons with disabilities and to bring the differently-abled community under a platform for a common purpose; to share challenges, hopes, aspirations and encourage them to live their dreams . "We wanted to give differently able an opportunity to Equality and Inclusion," shared Dolcy adding that VYOM is thankful to its corporate partners L&T Energy Hydrocarbon, L&T- Chiyoda Limited, Collabera, GEA and ONGC Vadodara.
Another initiative is the Toy Room in Government hospitals. Their toy rooms have recycled toys and new toys for underprivileged kids in the hospitals. These toys are obtained from toy donation drives in schools, societies and corporates the volunteers match each toy with the age, gender and intellectual capacity of a child before presenting them with their hospital playmate. This toy room in hospitals also recycles smiles and fast recovery. Dolcy said, "We started the toy room in 2005 after we saw the plight and misery of disadvantaged children in hospitals. The toy room helps to develop the bond between the mother and child stronger through play time and brings paediatric patient closer to their desired objects of fun and learning. VYOM also works with slums, anganwadis, rural schools and Municipal schools. Each toy room is executed on a particular theme such as jungle book, noddy etc and the volunteers get involved in painting the walls with social and awareness messages They also take social sessions with mothers and kids."
To ensure that people with disabilities are independent and self-reliant, a stitching unit had been set up. The enrolment into their special unit brought out their talent through vocational training and consequently integrated them into society. "We will continue to put together a workforce with skills that are aligned with our goals. We will keep finding highly motivated, inspiring volunteers and utilize skill time and talent to work across and function even better. We want to open a hospice service where people with terminating illness and senior citizens can die with dignity. We would also continue working for the rights of the child for a child- friendly Vadodara," concluded Dolcy.