Shabeena Parveen- A teacher who has been instrumental in changing the lives of many students
Oct. 25, 2020, 12:55 p.m.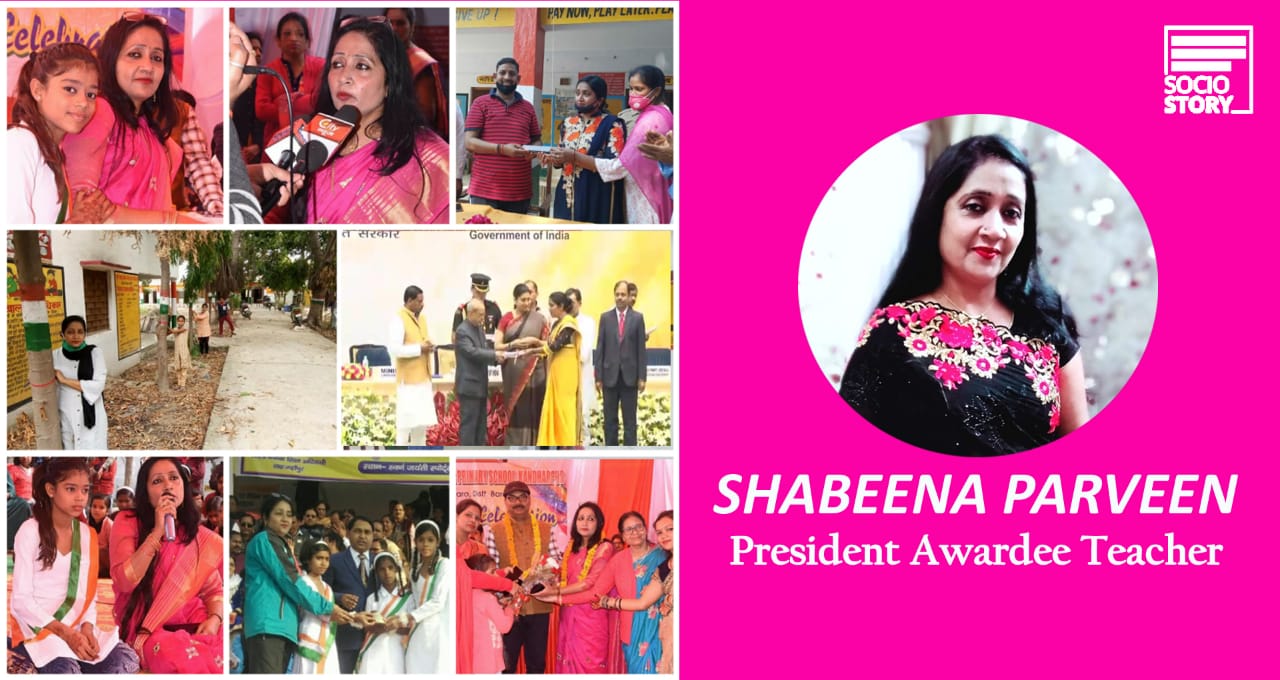 By:Reshma Jain
Teachers encourage minds to think, hands to create and hearts to love. But Shabeena Parveen, a teacher by profession and passion, went an extra mile to convince and uplift the girls from the lower economic background through education. Parveen is the first woman from Bareilly district to receive the President Award in 2015 for her excellent teaching services and encouraging students to excel in both academics and extracurricular activities.
Parveen hails from a community where education of girls is only a dream and never a reality. Unfortunately, even in the 21st century, most of the families in the interior parts of India have not realised the importance of education, opines Parveen. In a conversation with Socio Story, Parveen unveils her own story and the hurdles she faced in getting herself educated as well as the students in her district.
Although Parveen's mother hailed from a remote village, her thoughts were different. She often used to say, "Education is not a choice but a necessity for every individual, irrespective of gender" shares Parveen. However, Parveen's father was against girl's education, thanks to the discrimination prevailing in society. His view was, "What is the need for a girl to study? All she needs to do is look after her family and cook. Do you require education for this?", adds Parveen.
Despite the regular conflicts, Parveen's mother supported her and she was able to study till the seventh grade. On returning from school, Parveen used to teach her mother whatever she had learnt for the day and in return, Parveen used to receive 25 paise in the form of tuition fee. Life took a turn with the sudden demise of her mother which added to the misery of the family. Parveen's father wanted her to discontinue her schooling and forced her to remain at home. But Parveen left no stone unturned and mustered courage to continue her school education. When Parveen was in class eight, she started taking free classes for students from class III-VI. The seeds for love of teaching were sown here when Parveen was as young as a 15-year-old.
It takes a big heart to teach little minds and Parveen was blessed with this quality. Children in large numbers started to attend Parveen's classes and admired her. Within a year, Parveen, beside her education, started a coaching centre and managed her expenses. After passing out from tenth in flying colours, Parveen wanted to pursue her higher education. Hence, she joined a private school as a nursery teacher where the first salary she earned was Rs 125.
"When I was in 10th standard, there was a girl who was specially abled. She loved studying and was a brilliant student. Her family forced her to leave school (reasons being many) and this incident moved me. I found no other way of ending centuries long misery of women or poor people except educating them," shares Parveen, adding that to teach is to touch a life forever.
"I felt the need to spread awareness and counsel the parents of the village to encourage their children to study. More than that, I personally connect with each student to understand their issues. Due to the poor financial condition of the families, the parents do not want to spend on their children's education. Many times, when students do not attend school for a long time, I personally go to their houses to know the reasons. Without giving a second thought, I decided to change the lives of these children by giving them a platform," added Parveen.
After having completed training for two years for a government teaching job, Parveen joined as an in-charge of a government school in Bareilly. After a span of six months, she was promoted to an upper primary assistant teacher of a government school. Besides teaching, she used to counsel a lot of parents and persuaded them to send their children to school. "I used to tell the parents that there will be a few difficulties, both financially and otherwise, but education will help in changing the lives of children forever. I used to give them examples of poor children who lived their dreams and made a mark in the country," said Parveen who is 45-years-old now.
In 2015, Parveen was promoted as a Principal of a government school in the same district. When Parveen joined, the strength of the school (class 6-8) was 37. Within a year, the strength of students increased to 157. That was a moment when this young and dynamic teacher realised the interest of the children who wanted to work hard and become successful.
In 2019, Parveen appeared for a government examination to apply for the first English medium school in Bareilly (an initiative by the government). She was selected and was posted as a Principal in Model English School Kandharpur, Bareilly. The best part is that there has been a gradual increase in the number of students who wish to study in English medium schools. Indeed, such is the impact that has been created by this one-woman army.
The lockdown has disrupted the education of students to a very large extent. But this did not deter Parveen as she came up with an idea to keep it going. Since many students do not have access to smartphones in the villages, Parveen came up with a project called 'Muhim Abhiyan - Har Bacha teacher, Har Ghar Vidyalay'. "This initiative was launched to ensure that the pandemic does not become a reason to end classes. I trained a few students to take classes for their juniors in their respective localities. At present, there are 30 senior girls who are taking classes for 95 junior girls in the district," shared Parveen.
Parveen's service does not end with teaching alone. To ensure that the people of her district have adequate clothing during the winters, she collects clothes (including bedsheets, socks, etc) from her near and dear ones and keeps it in her school. When required, she distributes them to the needy. A true Samaritan, isn't it?
On being asked on how the students excelled, Parveen said, "I always focused on all-round development of students. As a result, the children secured places at state level tournaments. Some children I taught have been placed in good companies while some are pursuing their MBBS. A few of them have also started their own business and are doing well. This makes me happy and gives me satisfaction that I am living a life of purpose."
Stating that the school has a library, a science lab and free dresses, midday meal, books are provided by the government, Parveen concluded, "My dream is to educate and empower my village so that it becomes an example for the other villages in the country."
Important : If you are making an impact in the world, Please send us your story at : manoj@sociostory.in and we will try to cover you.