She tied the knot, but the 'Green' way- Mounica's dream green wedding
May 13, 2022, noon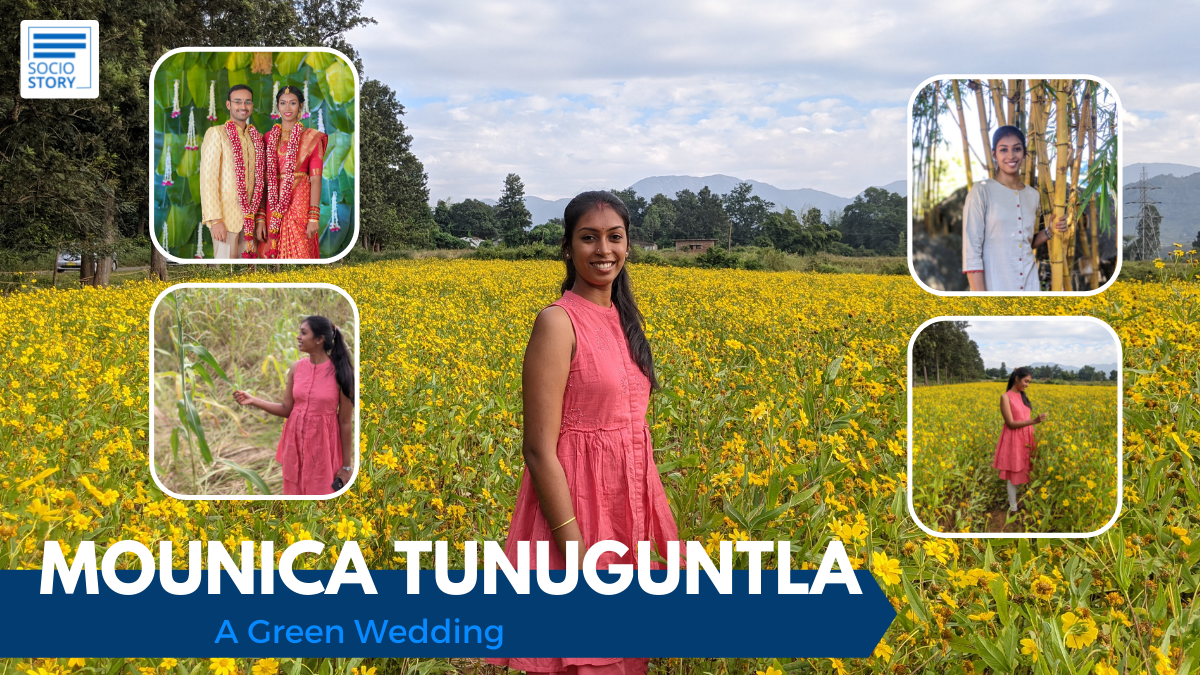 By: Reshma Jain
Weddings now have become a spectacle and an extravaganza of events. And when we speak about the 'Indian Big Fat Weddings', there are various opinions and views. However, like the two sides of a coin, another side to weddings is 'Conscious Choices towards Minimalism' or the 'Eco-friendly way'. Socio Story brings one such example to the fore by highlighting Mounica Tanuguntla's Dream Green Wedding.
Mounica explains, "As wedding is a new beginning and a lifetime event in my journey, I made a conscious effort to make it sustainable and eco-friendly. Weddings now are more like a race where everyone wants it to be the loudest and the best. I feel that this phenomenon has its own set of side effects like usage of plastic, waste of resources and a lot of food wastage. So, I wanted to set an example that weddings can also be done in an eco-friendly way."
Reminiscing about the day of her wedding, Mounica said, "On my wedding day, food was prepared with a lot of attention to details. We procured the ingredients locally from the village farmers. The menu was designed by a team of experts keeping in view the availability of local ingredients and food that suits the winters was prepared. The decor was designed in a way to minimize wastage. A lot of greens, everything handmade by artisans was used for the beautiful decors. The venue being a Temple, added a much stronger classic vibe to the whole ceremony."
"At the end of the day, we were glad that we could utilize the efforts of local artisans like potters, carpet weavers, basket makers, brass utensils makers etc in our ceremony in the form of return gifts, decor and many other places," added Mounica, a MBA graduate who hails from Vizianagaram.
Mounica, who continued to share her views, strongly believes that a healthy lifestyle is possible only if the food is taken right. She was intrigued by the idea of how one can have a healthy lifestyle by better food choices with her experiments at home. After her MBA, Mounica sought out to do something on her own. This thought paved the way for on-field research about how different people are taking up farming as an option in our country where we see traditional farmers in a dire state.
During her research, she met people from different backgrounds who were into seeds, soil, and different varieties of crops. After her experiments, she started an organic store in her hometown called 'Purvaangadi' with all the products procured from surrounding villages and towns. 'Purvaangadi' is the first step towards her bigger dream of imbibing healthier lifestyles in the current day scenario. 'Purvaangadi' is made of 2 words; 'purva' meaning old and 'angadi' meaning a store. This is set out on a mission where the olden days' methods or products which are rich in actual nutritional value (natural and chemical free) are used for every product that is sold.
After setting up Vizianagaram's first organic store in the year 2016, she received a great response as it was a one stop store for a range of healthy products. "This was the beginning of a million healthy miles forward. My very home is a lab for all the ideas that lead to a healthier and a sustainable living. At home, I also had taken up a small initiative to reduce the usage of single use plastic which was then well accepted in our circles. Currently, I'm testing out some cakes and probiotics from my kitchen," shared Mounica.
While concluding the talk, she said, "As a generation we need to be responsible and conscious of our choices. My future plan is to build a community that believes in a healthier lifestyle which will also serve as a great platform for everyone who understands and thrives on healthier options. One's secret for a happier being is in the healthy being."