Skills-on-demand centre to benefit mothers of disabled children
July 4, 2022, 12:07 p.m.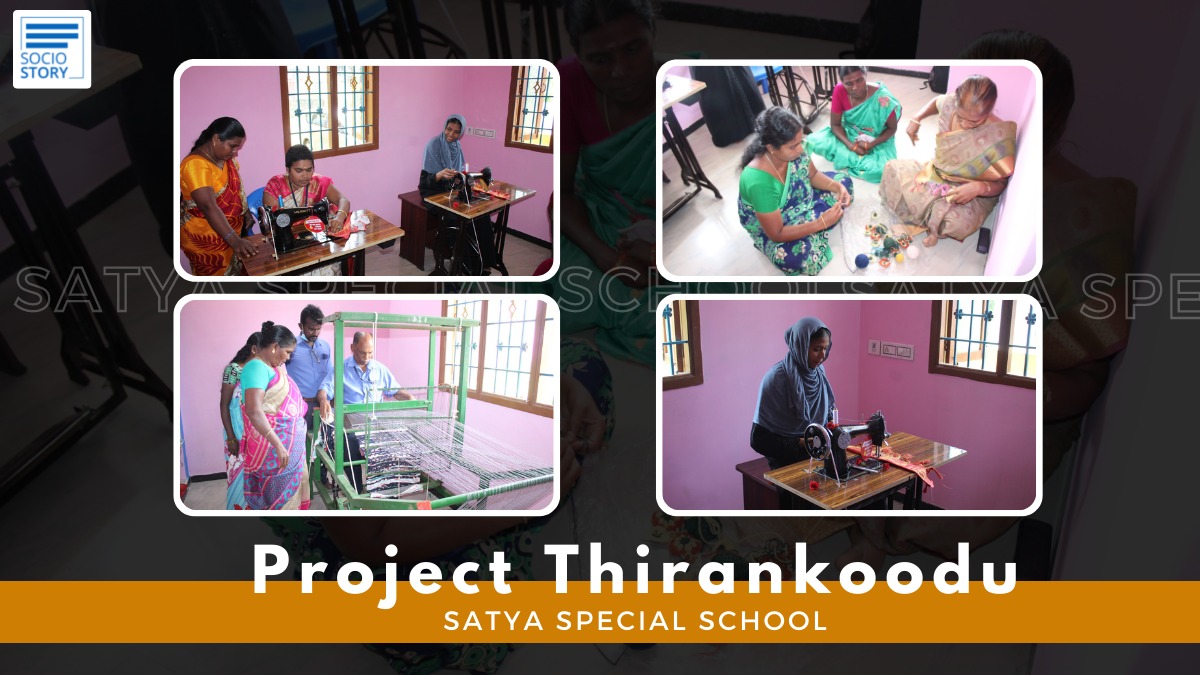 By: Reshma Jain
It is a known fact that children with special needs require more attention and efforts from their parents and caretakers. However, every individual has their own skills and if put to use in the right channel, the productivity increases. Keeping this in view, Satya special school recently inaugurated a livelihoods program for the mothers of children with disabilities.
They usually need flexibility, and many of them do not have enough space in their homes to continue their work. Considering this situation and inspired by the concept of co-working spaces in urban areas, Satya Special School inaugurated 'Thirankoodu' (nest of skills in Tamil), where women could come and work on a project for a set time. Project Thirankoodu is a unique initiative that provides flexible livelihood options for mothers of children with special needs.
At the centre, women can either continue or begin their independent entrepreneurial journeys, or work for hire on a flexible basis to fulfil orders procured by Satya Special School. The centre houses tailoring machines and a mat weaving machine, and also has a computer, printer and an internet connection to help the women communicate and/or complete orders where required. Satya will also run a basic computer literacy course at the centre.
In the first phase of the project, 20 women with disabilities and mothers of children with special needs have been identified to use Thirankoodu. The centre has the capacity to help 50 women. The project is supported by Akkarai Foundation, USA, and Mr. Paul Sundar Singh, the founder of Akkarai Foundation.
Speaking on the occasion, Ms. Chitra Shah, Director, Satya Special School, said, "The centre will fulfil the needs of the mothers, who are looking for flexible timings. It will help them move closer to financial independence, while caring for their child."
Mr. Paul Sundar Singh, inaugurating the centre, said Akkarai Foundation is proud to support the project. "Innovative, out-of-the-box thinking is the need of the hour. This project works on the ecosystem surrounding the child with special needs, to enable them to live productive lives. We are happy to be associated with the project and look forward to more." While Satya Special School will run the centre for two years, the eventual goal is to hand over the project to the women, so they can run it on a cost basis.
Based in Puducherry, India, Satya Special School works to empower people with special needs and lead the way towards inclusion in education, employment, and society at large by specialized intervention, rehabilitation, capacity building and public policy advocacy. Satya Special School started in 2003 as a rehabilitation centre offering free services to 20 children with special needs, and now serves 1196 children directly. The school provides services through 10 centres—including three village centres—and Mobile Therapy across 44 villages, and over 100 staff.
Satya special school has received numerous accolades for its work, including the Model of Excellence Award for Early Childhood Care by the University of Oregon, US; the 2018 World Cerebral Palsy Day Award, and was featured as a model NGO in the Dasra- Bank of America report on disability.