Spearheading lake conservation, youngsters like Rachanaa are now taking responsible actions
April 6, 2022, 5:03 p.m.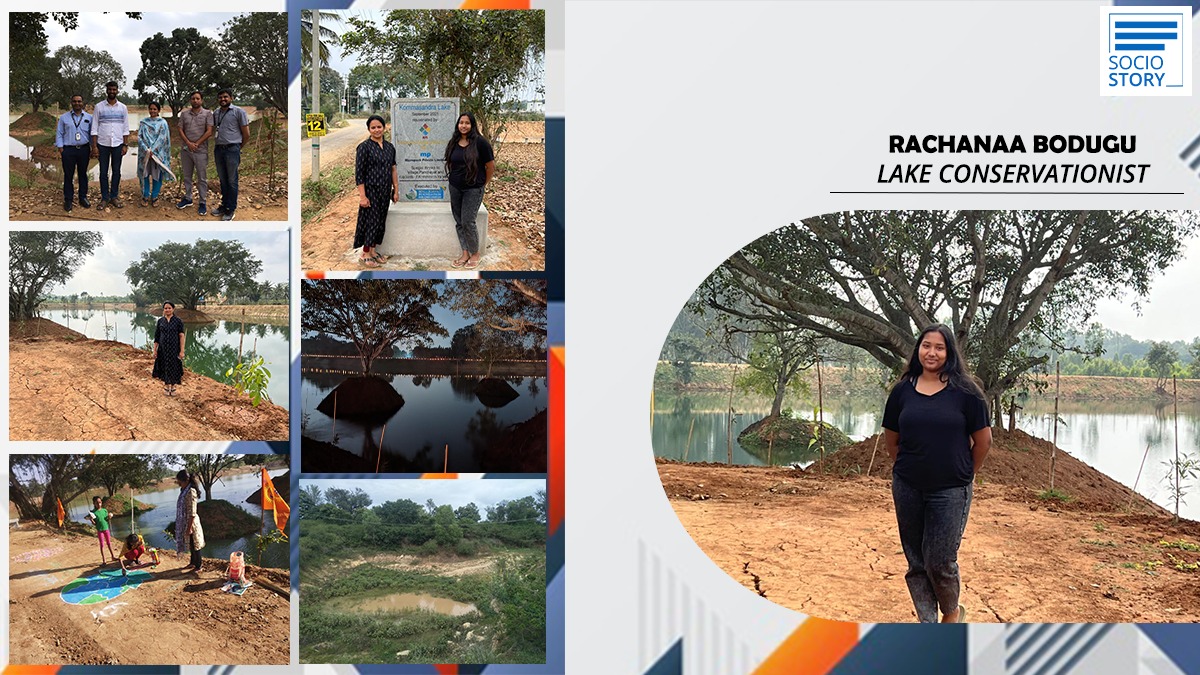 By: Reshma Jain
When 16-year-old Rachanaa Bodugu was asked to complete a project for her school over the summer holidays to build her college portfolio, little did she know that she would go a long way in bringing an impact. On approaching her mother to discuss some interesting ideas, a vague idea to do something with lakes flashed her mother's mind. Rachanaa was under the impression that it would have been something related to a clean-up or a small research program.
Without a second thought, Rachanaa and her mother visited the Bingipura lake for the first time and they happened to meet Anand Malligavad known as the 'Lake Man of India'. Rachanaa was quite amazed to know that the lake she visited was rejuvenated by Anand himself. Upon meeting Anand, he shared his journey and the hurdles he had to overcome to get where he had to.
"When the meeting concluded, I informed Anand sir that I want to rejuvenate a lake. Initially he was alarmed, but he later mentioned that a few years ago, four kids younger than me had rejuvenated a lake themselves, that was about 10 acres. This inspired me to pursue my goal more seriously. My parents were very supportive of the idea as well, and with the encouragement from Anand sir, I just began putting things into action," shared Rachanaa, a 11th grade student studying in Indus International School, Bengaluru.
She further added, "Soon I started having short classes/sessions with sir over zoom where he explained to me the technicalities of what goes into rejuvenating a lake, and imperative definitions and terms, such as what a lake is, their functions, what is meant by degradation, the different methods of lake restoration – preventive/ameliorative, the materials, types of soils, eutrophication, desilting, sewage systems, the different layers in creating the bunds, etc. Later in our meetings, we had discussed other major details such as encroachers, and finding the right lake to rejuvenate as we have to consider various factors such as the stream flow (inlets/outlets), whether the soil was useful, the flora and fauna, etc."
It was finally decided that Kommasandra lake, which is around 12 acres, would be rejuvenated. To be able to afford to rejuvenate the lake, the funding required was around 40 lakhs, which she secured through CSR funding from two companies.
When they visited the lake, they found it filled with silt and weeds which needed to be taken care of to go further. But before starting with any work, it was imperative to host a Bhumi pooja and invite all the villagers for the ceremony. They visited around 450 houses, convinced everyone of the work which will be executed.
After securing the funding, permissions, and Bhumi pooja, the process of rejuvenating the lake began. "We started by weeding the area, digging up the area, strengthening the bunds, and creating lagoons for sewage treatment, as well as de-silting. However, during the end of the process, there were a few problems regarding encroachment where people were fighting over space, although we had official permissions," she stated.
The lake rejuvenation was completed in a month which was followed by a plantation drive where people collectively joined to plant special plants that will help sustain the lake and allow the ecosystem to thrive. Rachanaa shared that some of the benefits of rejuvenating this lake are; it is now a habitat for birds, and animals, nearby borewells are going to be refilled, a place for walkers/joggers, purifies the air around them, more availability of freshwater, agriculture, and many more. "This whole experience was very overwhelming and has given me a great learning experience. I wish to execute many more projects like this in the future and help sustain the earth," concluded the young girl.