Special Olympics- An event which brings together children with disabilities
Aug. 17, 2022, 7:01 p.m.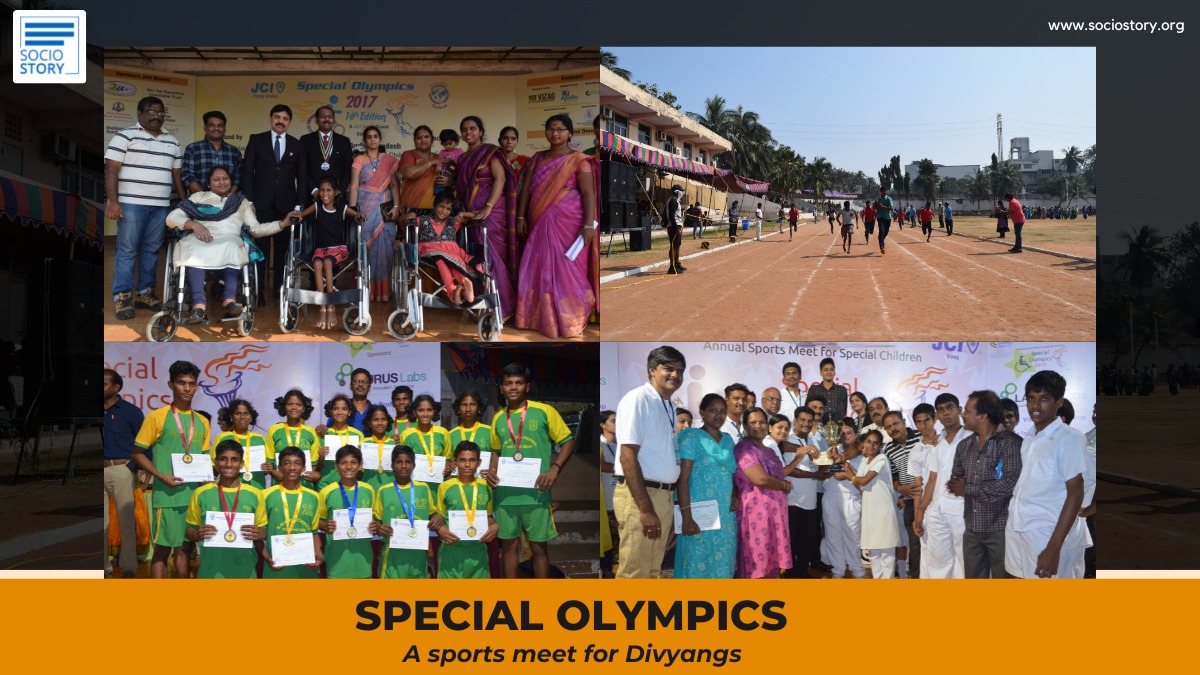 By: Reshma Jain
"They are not disabled by the disabilities they have; they are abled by the abilities they have," and this is proved by the special children who are enthusiastic and excited to participate in 'Special Olympics' organised by Junior Chamber International (JCI) Vizag every year. The smiling faces, spirit of competition, discovering one's potential, showcasing talent, new friends, appreciation and rewards; Sports brings all these together and is certainly an experience not to be missed. Sports teach us life lessons and witnessing any 'Divyang' play sports, perhaps teaches us the meaning and purpose of life.
The 18th edition of Special Olympics- annual sports meet for special children is all set to be organised on August 21 at the Port Trust Diamond Jubilee Stadium. The event will witness children with hearing and visual impairments, physical and mental disability, from the districts of Visakhapatnam, Vizianagaram and Srikakulam. Registration for all the participants is free and JCI volunteers will assist all the participants and their escorts.
Time and again, we have seen both men and women from India making a mark in the field of sports across the globe. We have also seen parasports gaining a lot of importance in India and the world. The need of the hour is to encourage interested children irrespective of their disabilities to take up sports and extend support to encourage them.
The 17th edition saw more than 600 specially-abled students from 30 schools/ organisations who took part in various events like shot put, discus throw, javelin, running, relay race and soft ball which were categorised into below 12 years, 12-20 years and above 21 years for both boys and girls.
When S Neha clinched a gold medal in shot put and stood in the fourth position in 100 meters running event in the last edition of Special Olympics, little did she know that she made her parents and friends proud. 12-year-old mentally retarded Neha, for the first time, participated in such a sports event and was in all joy while she was being congratulated by people on stage. Her happiness knew no bounds and such memories flash the moment you think about the Special Olympics.
Neha's coach, Polipireddy Srinu, an international paralympic volleyball champion, said, "Although it is difficult to train students with mental disorders or any disability, sports is something that keeps them engaged and makes them feel a part of the world. Events like the Special Olympics provide them a platform to showcase their talent and to feel recognised, not letting their disabilities deter their dreams.
The event this year will be inaugurated by Chief Guest Anup Kumar Satpathy, Divisional Railway Manager, Waltair Division. The Guest of Honour for the inaugural event is Krishnakanth, MD of Ora Motors. The Chief Guest for the valedictory function is Dr G Lakshmisha, GVMC Commissioner and the Guest of Honour is N Usha, Dhyan Chand awardee and an international boxer.
Prakash Kochar, Founder of Special Olympics, said, "Although there has been a considerable rise in the number of participants in the event from the past 18 years, there is still a need to foster the talent of these special students. Awareness on the importance of sports needs to be created among the trainers and teachers of these special children and they need to be motivated to take part in such activities."
He also added, "The rolling shield in the name of my younger brother Prem Kochar who lost his life in an accident is also given every year to the school which has done well in all the categories of events."
Winners in all categories will be given medals and all the participants will be given certificates. People with disabilities, who have done well in the field of sports will be felicitated on the occasion. President of JCI Vizag Jc S Venkatesh and Secretary Jc V Chaitanya said that the event will also witness a band salute by the students of Kendra Vidyalaya and a cultural fest by the special students. "All children are special, but SOME children are MORE special."