"Sports teach life lessons", believes international champ Anshul Kothari
March 20, 2022, 1:57 p.m.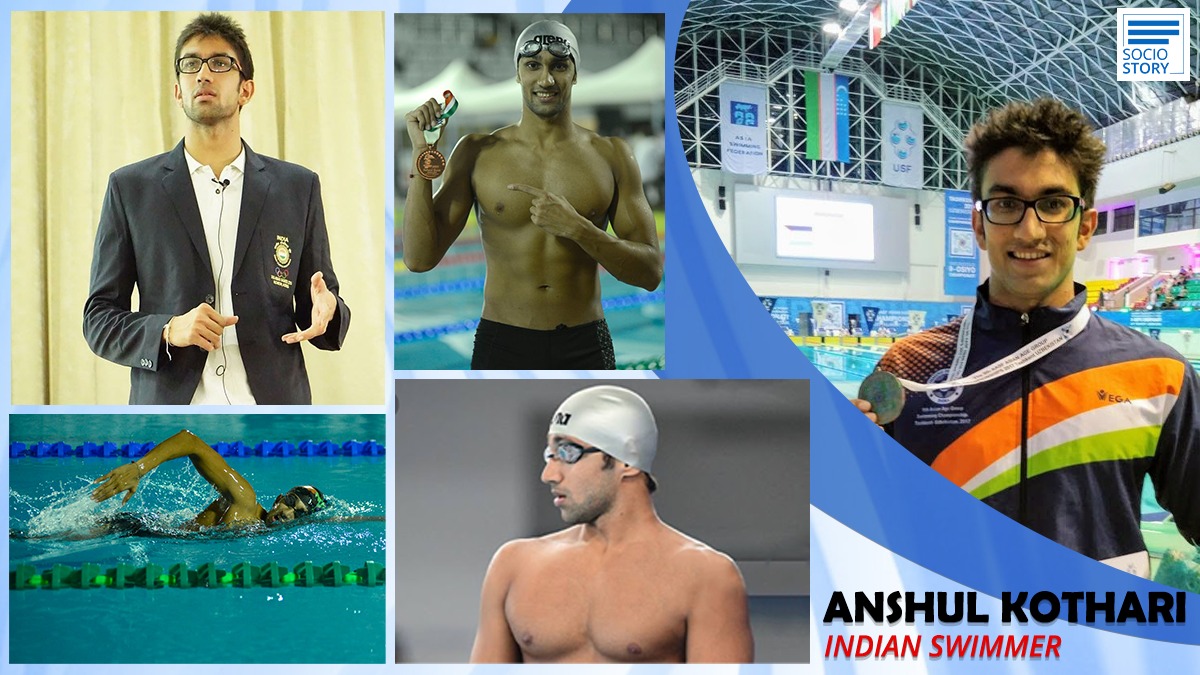 By: Reshma Jain
When Anshul Kothari started swimming just for fun along with playing other sports like cricket, little did he know that he would become an international champion. Having represented India on the global map, Kothari has brought laurels to the country and has made the country proud. Socio Story brings to light the story of this accomplished swimmer who has 21 international medals and over 100+ national medals to his kitty.
At the age of 4, Kothari was diagnosed with a severe flat feet condition. "It was chronic and doctors warned my parents that I would not be able to walk straight without a surgery. But my parents chose the non-surgical route and with the help of physiotherapy over a period of 8 years, the problem was solved," reminisced Anshul. However, this young champ did not let his medical conditions deter his passion. Along with medical treatments, he continued to study and was active in swimming.
When Kothari turned 17, there was a point in life where he was not doing well in swimming at the junior level and the academic pressure was too high (grade 12). Yes, it was a turning point in his life as he had to decide whether pursuing swimming competitively would yield him good results. However, he gave up admission in BITS- Pilani and took a decision to stay back in his home city Surat and pursue swimming along with engineering from National Institute of Technology (NIT- Surat).
Kothari chased his passion and practised regularly. During the second year of his engineering itself, he got selected in the Indian team for Commonwealth Games to be held in India as well as for the Asian Games. This actually vindicated his decision to still pursue swimming along with engineering from a top college. It was a tough 4-year period to manage both competitive swimming and Computer Engineering. However, Kothari was determined to not give up and with efficient planning and time management, he could do both.
Anshul represented India for the first time at the Commonwealth Games in 2010. He emerged as a finalist at the Asian Games 2014 and 2018. "My experience at Asian Games has been amazing and it was a great feeling to be part of the multiple relay teams which broke national records and made finals at Asian Games," shared Kothari who also pursued his MBA from ISB, Hyderabad.
Speaking on the need of sports in every individual's life, Kothari said, "Sport is more than winning medals for me. There are a lot of lessons for life which sport teaches us and those lessons can be applied in other fields in life. Sport develops character in a person and develops qualities like discipline, perseverance, commitment, grit, resilience, humility, and teamwork. Sport teaches on how to handle failures and bounce back and this is one lesson which helps every individual in any field."
Adding that the achievements of Michael Phelps inspire him a lot to continue swimming, Kothari said, "Sport is one field where one can achieve success with talent and hard work. Sport supports meritocracy more than any other field. Sport is an option for children in rural areas to showcase their talent and win medals and get a job in the government sector or join the defence forces. Hence, they can play sports and achieve success and have a better life."
There are a lot of Olympians and international players who hail from smaller towns and villages. In fact, children in rural areas have a lot of talent and that potential has to be unlocked which can also help India win medals at global level. "Certain initiatives like talent hunt competitions can be organized and top 3 people from each age group in every sport can be selected. Then, these short-listed players can be provided with good training and nutrition which can help them win medals at national level. Some governments already have these initiatives and definitely it has given good results. The need of the hour is to increase the number of opportunities available to children from rural areas," said 31-year-old Kothari who is based in Gujarat and is a three-time medallist at the South Asian games.
"I plan to give back something to sport by providing better access to sports facilities, training, and nutrition to children in rural areas and help them win medals for India," concluded the young international champion who is now preparing for Asian Games 2022.