Spreading Light Amid Darkness!
May 21, 2020, 3:16 p.m.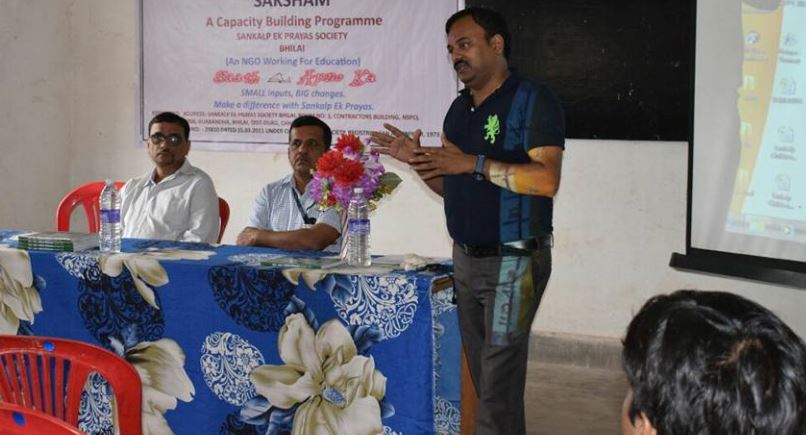 Parimal Sinha, founding member of Sankalp- Ek Prayas, was committed to work for the education of underprivileged children. To fulfil his dream, he roped in likeminded, enthusiastic employees of NSPCL in 2008. They all shared the common belief that education is a critical requisite for social and economic change in society. This truly service-oriented group of professionals wished to bring about a lasting social and economic change in society through education in the lives of thousands of the less fortunate children in Chattisgarh.
During the early days, they spent enough time in Morid, Somni, Ganiyari and Purena villages to find those children who were struggling with their studies on account of economic reasons. The journey of Sankalp started with a centre at Village Morid when five girl children of Class II regularly reached an almost abandoned room from 4pm-6pm, six days a week. They have now reached a stage where they touch 5,000 children each day. The team did extensive research about the history, processes and working modalities of many education- centred NGOs and tried to build similar systems, protocols and procedures.
Presently positioned in the state of Chattisgarh, the NGO was registered in 2011.It now plans to expand its footprints in many new geographies. It has direct collaboration with renowned organisations like Smile Foundation, Goonj and other local associations. The support centres of Sankalp cover the entire syllabus of classes I to X through an effective system which includes chapter wise tests, subject wise tests, comprehensive measurement of progress, and reward mechanism. Statistics show that the presence of Sankalp Support Centres in the villages has changed the education eco-system in these rural areas.
The problem of insufficient teachers in rural government schools is sorted by identifying educated women/ girls in the neighbouring villages, training them extensively and appointing them as full time teachers on honorarium basis. This initiative of Sankalp has been widely appreciated by the Government Education Department, and the district education department has requested them to extend the initiative in more rural government schools. This scheme is called 'Saksham' because it provides women empowerment by livelihood development.
The next step was 'Project Udaan' to provide free e- learning solutions to the needy children in rural government schools. Dedicated volunteers researched from open sources such as you tube, google, and free sources from the internet and prepared e-learning modules for various subjects in the vernacular languages for the children in classes I to 10. Thus, Sankalp provides low cost, high impact e-learning interventions in government schools.
Sankalp is also contributing towards improving the lives of underprivileged children in various other ways. They provide school kits, organise children-centric workshops and engage them in sports, exposure visits, celebrations, workshops, computer education programmes and community works.
Talking about the initiative Parimal Sinha says, "Sankalp Ek Prayas is a platform to empower needy rural children to pursue their dreams and further contribute in nation building."
Only noble souls can start such truly exemplary initiatives. Salute to Parimal and Team Sankalp!

Important : If you are making an impact in the world, Please send us your story at : manoj@sociostory.in and we will try to cover you.