Standing tall and ruling the hearts of people, meet the ever-smiling crowned beauty Priyadarshini
March 5, 2022, 10:22 a.m.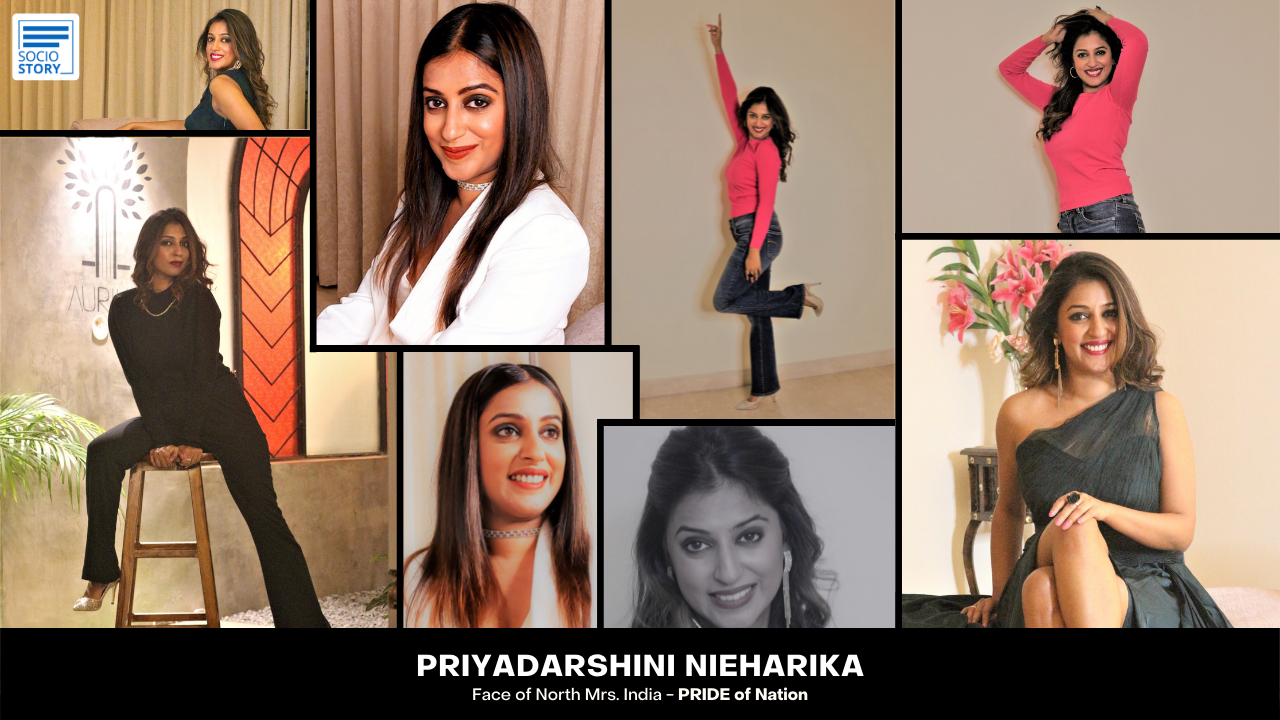 By:Reshma Jain
Standing tall with the title of 'Best Smile', beauty queen Priyadarshini Nieharika was recently crowned 'Face of North Mrs India-Pride of Nation'. Every woman's success is an inspiration to another and Socio Story believes that women are strongest when they cheer each other on. In our special series on 'Powerhouse of Stories' for the International women's day 2022, we bring to you some amazing tales of wonder women from different walks of life.
Beauty begins the moment you decide to be yourself and Priyadarshini sets a perfect example. Hailing from the 'Land of steel'- Jamshedpur, Priyadarshini was born in a family who takes great pride in their daughter's achievements. Since childhood, she was always encouraged to go beyond the obvious. While her father was a businessman and her mother an educationist, Priyadarshini's parents always emphasized on the importance of knowledge which can act as a key to open many doors.
Speaking to Socio Story, Priyadarshini expressed that she had always had an eye for fashion and was a keen observer of pageantry. Since childhood, fashion seemed very fascinating to her and that's what gave an inkling to grab on opportunities that came her way and thrive on it.
The crowned beauty who won the hearts of people was nurtured in the finest manner by her family, she shares. "I've had a pretty eventful childhood where I was always treated like a princess since I have been the only girl child in my maternal side of the family. My nickname is 'Rani' and I truly ruled my family's hearts," said the beauty queen.
Life took a turn when Priyadarshini lost her father when she was only 11 years old. "The hardships thereafter taught me lessons for a lifetime, made me resilient and value relationships/bonds even more. My brother has been my strength and my greatest source of inspiration has been my mother. A never to die attitude, my mother has stood tall in the worst of times and braved every situation with the might and grace that every woman should wear," shared Priyadarshini who feels there is so much to learn and explore through creativity.
Speaking further on the impact she wishes to create, the beauty queen said, "There are two things that my heart feels very strongly for. One is the education of girls which will not only enable them to become independent but also create more opportunities to gain a social standing and contribute to the family and be a co-partner. Second, it is never too late to dream, you just need to have the right amount of conviction and determination to achieve what you deserve. As women after getting married, wear multiple hats, it doesn't take away the right to dream or desire. We can shuttle between all and ace all of it in due course of time."
Recalling one of the incidents, Priyadarshini said, "My mentor once asked me if I have a dream. But I was clueless as I never found a passion or urge to achieve something other than the obvious. So, I understood that it's very important to do these rounds of self-introspection off and on. It not only gives us an insight into our own self but a deeper reflection on our journey. It is important to take calculated risks, and have the appetite and hunger to achieve more. Never let that hunger die."
As Priyadarshini embarks on her new journey, she expressed that her titles are surely going to give her an opportunity to get closer to her dreams. The world of fashion has lots to explore and she aims to make a mark with a difference.