Sustainable lifestyle choices are important for co-existence, opines Shailender, a natural living expert
June 13, 2022, 7:46 p.m.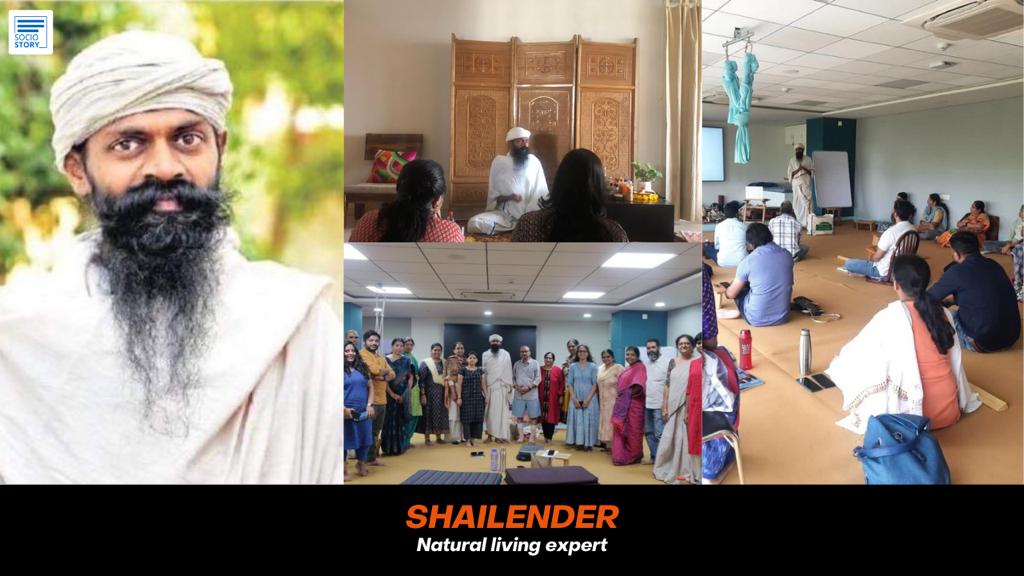 By: Reshma Jain
"The food that you eat can either be the safest and most powerful form of medicine or the slowest form of poison," goes an adage by Ann Wigmore. Most of us are aware of the fact that the food we eat is either adulterated or is treated in a way which harms human health. The present scenario demands a very careful approach to the foods we consume as our lifestyle patterns have drastically changed. Socio Story brings the story of a natural living expert and holistic health practitioner Shailender.
Based in Hyderabad, Shailender after finishing his Engineering in Computer Science, worked in IT for 5 years. Back in 2005, Shailender realised his calling towards his passion. Under the grace of his Guruji, Sadguru Sai Kumar Babaji, founder of Sai Geetha Ashram, Hyderabad, he had the opportunity to serve and stay in the ashram for 10 years.
Since childhood, unlike most of us, Shailender has led a righteous life, guided by his Guruji and his parents. He had always wished to serve the ashram and serve humanity and his wish materialized when the right time arrived. Shailender's guru was an ayurvedic doctor by profession, and according to Shailender, "His teachings were very logical and simple. I used to listen to his discourses, and imbibed many values in my life since childhood. He always gives importance to Health, Humanity and Nature. And I was blessed to get an opportunity to learn and serve under him in the ashram while I also took care of the Naturopathy centre."
Reminiscing about the days in the ashram, he said, "Though performing nature cure therapies, teaching yoga and meditation and doing healing, there were many people who did not follow practices and would come back with recurring health problems. They would again be healed by therapies and the process continued. I realised the source of the problem is the food we eat. Food habits and lifestyle changes are very important and only therapies will not work. So, I started emphasizing more on food", said 43-year-old Shailender.
Though he explored various aspects in the ashram, he got a lot of other opportunities when he returned back from the ashram. After having a deeper understanding, he started spreading his message on all aspects of life through his teachings for 7 years. "Sarvam-Mayee", inspired by the name "Dwaraka-mayee", is the name of the platform through which he works. "Sarvam Living", is the lifestyle, for one to journey their holistic wellbeing.
Shailender emphasizes on the purpose of creation and human birth, harmony in nature and how every species is interdependent to maintain that harmony. He also explains to people on how nutrition is formed and shared among all species, along with human beings. Understanding the cause and effect of any disease in simple terms and the life cycle of any disease is crucial for healing.
"Good health is not just physically, but also emotionally, socially and spiritually- the holistic aspects in one's life. I educate people on the importance of yoga, meditation, right food habits and science in cooking. I have experimented many things on fermentation based on ayurvedic concepts and made unique formulations like Biosalt, Biospices and various probiotics, nut butters, flours, seeds, legumes, etc which are rightly processed," said Shailender who emphasizes on Veganism and follows a fruit diet.
The other practices and awareness areas of Shailender for a sustainable living include opting for natural fabrics, natural colors, minimalism, gardening, implementing ethics of permaculture in one's life, and natural cleansers. He said, "Some people have adapted the above practices in their life and also started spreading this awareness in their own circle. Some have become entrepreneurs and are helping people to access the products made according to my teachings."
"The ultimate goal for us is to be blissful, which is possible only when we live in harmony. More than food, righteous living is very important", concludes the natural living expert.