Swimming is Trupti's therapy and she swims her heart out to prove herself
April 4, 2021, 8:10 p.m.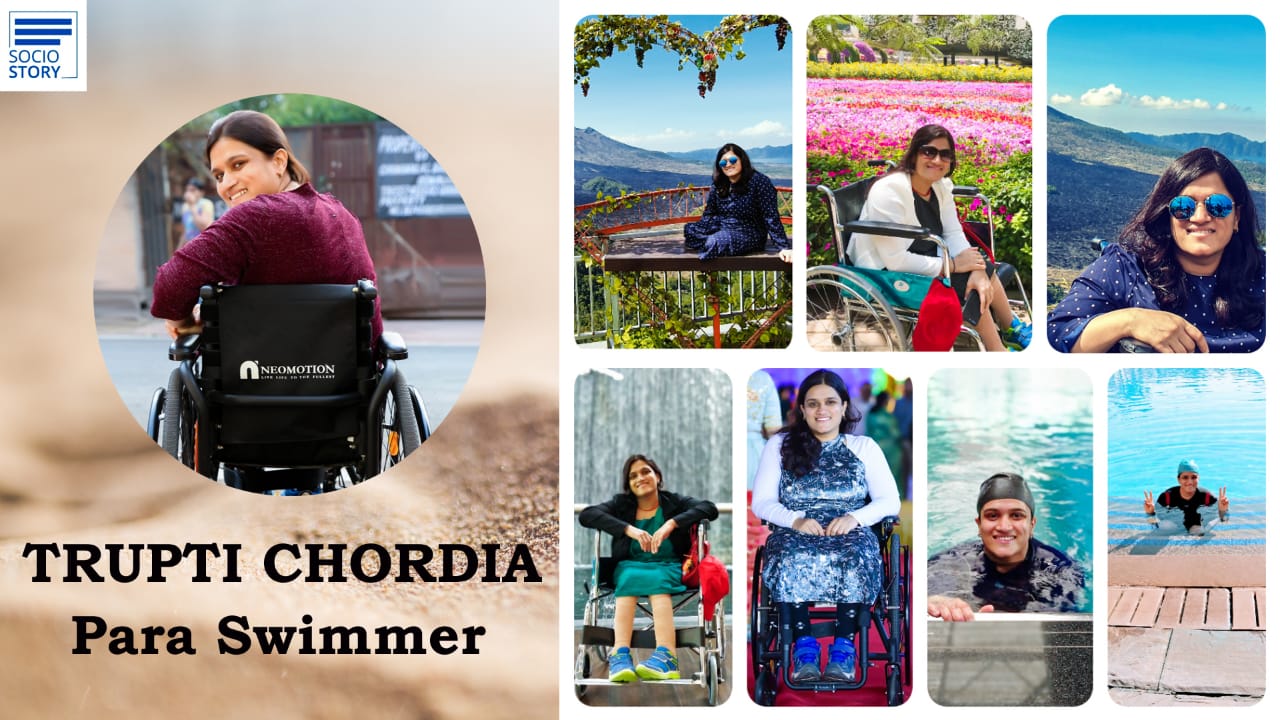 By:Reshma Jain
For Trupti Dilip Chordiya, 'The Water is her Sky'. Why? Because she chooses to 'Fly' and aims 'High'. Rhyming and confusing, right? Let's discover more on this super talented para-swimmer from Pune.
A lipoma tumour on her spinal cord left Trupti paraplegic. The tumour blocked the blood circulation towards the lower part of the body which left her lower body insensitive and weak. However, a strong-willed Trupti with the support of her family did not let disability deter her passion. Trupti enjoyed her learnings in school and was equally brilliant in extra curricular activities including sports and other adventurous activities.
Trupti's first surgery happened when she was only 13 months old. The doctor advised her to swim daily for her physical fitness and flexibility. So, she learnt the strokes of swimming at the age of 4. She has since been swimming in 3 strokes; Freestyle, Backstroke, Breaststroke. The need for swimming slowly turned into her passion over the years.
On being asked who her inspiration is, Trupti said, "My inspiration is Nicholas Vujicic who is an Australian American evangelist and motivational speaker born with tetra-amelia syndrome, a rare disorder characterized by the absence of arms and legs. His work and words always motivate me and gives me hope that if he can achieve milestones, then I along with many others like me can do it too."
"Swimming for me is like meditation. It not only calms my mind but also helps me in being fit. A few years back I met a person whose son although disabled won many Paralympic medals. It was through him that I learnt about Paralympics and he inspired me to participate in the same. I registered for the State Paralympic championship 2018 held in Kalyan, Maharashtra and participated in the swimming competition. There was hardly a month left to prepare for the championship. However, I worked hard and to my surprise, I won three Gold medals in the Backstroke, Freestyle and Breaststroke category. Now, I am aiming for the National Paralympic championship and committed to win it too," shared 34-year-old Trupti who also wishes to participate in International championships.
Trupti who believes in ability more than disability shared, "On a foreign trip with family, I realized that life is much easier for the disabled people. Accessibility is the key and almost all places were disabled-friendly. We get easy access to facilities just as other normal people. Whereas in India, there are not many facilities available for disabled people especially in terms of ramps and washrooms at public places. That was when I realised to do something for people like us so that we do not feel 'disabled' the moment we move out of our home."
Trupti has been working individually from the past four years to motivate people who are disabled but have a passion to chase their dreams. She wants to bring a change in the mindset of society and create awareness that 'Disability is not a problem but Accessibility is'. She believes that every disabled person has a right to live a dignified life and follow his/her dreams. She adds, "The only need is to give us a good environment and opportunity to flourish so that we can rise in our own way and be independent. I truly believe that we not only want a 'Digital India' but also an 'Accessible India'."
So, we (a group of people with different physical disabilities) decided to create awareness on how ramps and other facilities should be made available in cinema halls, hospitals, restaurants, government offices, schools and colleges so that every disabled person gets easy access and he/she is treated equally and not differently.
Trupti who is a graphic designer feels that a change in the mindset will bring a change in society. "We are planning to form an organisation to work for inclusivity, create awareness and provide access to all facilities by setting up ramps at all public places. We are also planning to create a website and a forum where not only problems related to disabled people would get attention but also, they would be resolved quickly. Being disabled does not mean being disqualified from having access to every aspect of life," concluded Trupti.