'The best way to cheer yourself is to try to cheer someone else up', believes Chinu Kwatra
Nov. 27, 2020, 4:35 p.m.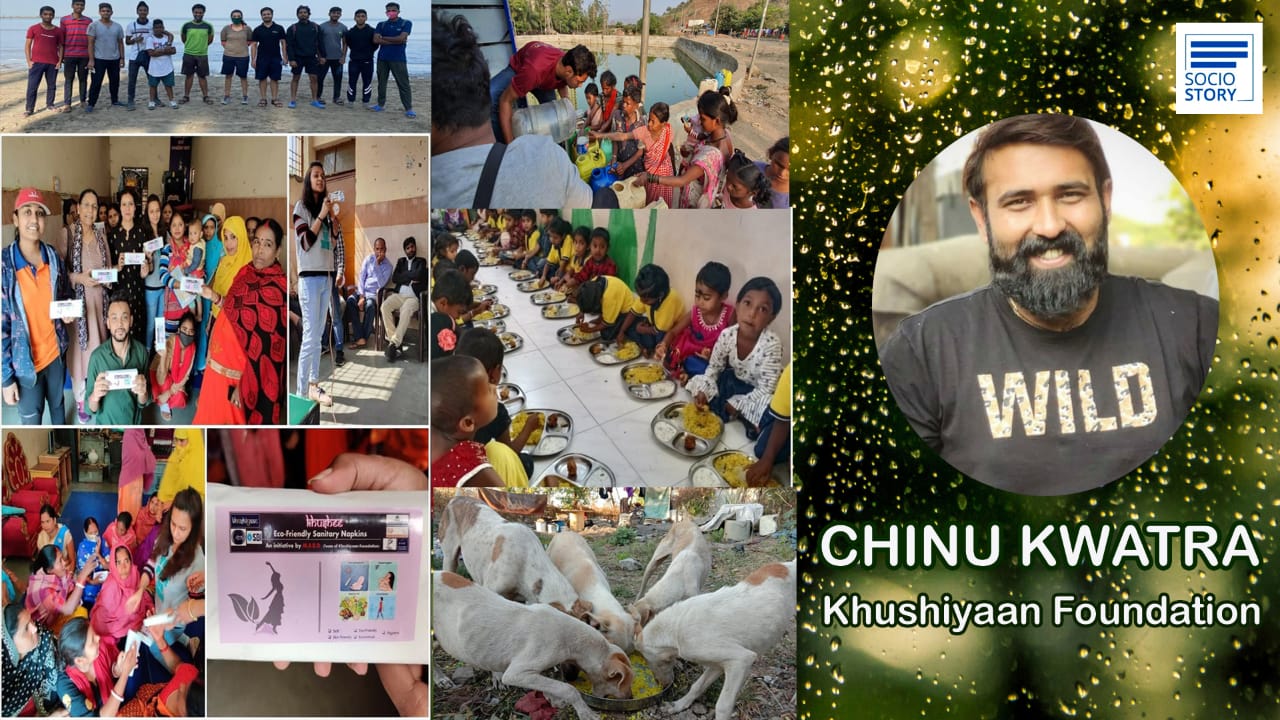 By:Reshma Jain
It is believed that the antidote to depression is 'gratitude' but for Chinu Kwatra, the antidote to fight depression was spreading love. After having adopted a school, Chinu went ahead to serve the needy and found that happiness is multiplied when it is shared with others. Socio Story brings to you the story of Chinu Kwatra, the founder of Khushiyaan Foundation based in Thane, Maharashtra.
Hailing from a small family in Thane, Chinu was in class ten when his family was undergoing a financial crisis. Unable to afford coaching for his studies, Chinu utilised his time efficiently by going to school in the morning, spending the afternoon for self-study and then working as a waiter and a delivery boy in a dhaba in the evening. The family, somehow, survived the next ten years by running their daily errands.
"Crisis can be a unique opportunity to change your path. To explore new opportunities, to help, you become the person you were meant to be," goes a saying and this holds true for this young gentleman.
Chinu pursued his higher studies but went into depression due to a lot of reasons. However, he wanted to fight and overcome depression and started looking for solutions. While pursuing his MBA, he adopted a school and started to interact with students by training them. He believed that by spreading love and happiness, there came a sense of satisfaction. He conducted basic extracurricular activities in the school and started living his dream to work for the nation.
"After having seen those kids in the school, I learnt what real happiness is. The kids who rarely had shoes to wear, had no luxury of having a pencil set or books were happier than the other kids. They were happy in life with whatever they had and were never selfish," shared 30-year-old Chinu.
These kids in the school inspired Chinu to launch an initiative called 'Roti Ghar'- #KillHunger initiative to provide freshly-cooked-meals daily to the malnourished kids in the age group of 3-15 years. An initiative under Khushiyaan, the mission of Roti Ghar which started in 2017 is to resolve the problem of hunger and malnourishment among one million Indian kids by 2030 by providing them one time freshly cooked meal daily. "ANANTA (a group of entrepreneurs across the globe) by Kavita Sugandh helped us transform 1,800 lives in just a matter of three years," said Chinu
Sharing his views, Chinu said, "Roti Ghar is not just a project, it's an emotion. We believe every child deserves wholesome food for nourishment and growth during their formative years since this has a direct impact on their performance and well-being as an adult." "We have been providing freshly cooked meals through our self-community kitchen and have been serving more than 1,800 kids daily in Mumbai, Bangalore, Hyderabad, Odisha, Delhi. Another initiative is 'Roti Ghar Animals' - Serving meals to 500 stray dogs daily. We have also installed bird feeders with water bowls in different locations," explained Chinu by adding that the impact is already visible among hundreds at the grassroot level with happier and healthier kids who have developed physical strength and cognitive abilities.
The second project of Khushiyaan foundation is called 'Beach Warriors'- a #JalKiSafai program to combat marine pollution by regularly cleaning beaches and water-bodies. The team has been conducting clean-ups and awareness programmes from the past three years. Stating that the team cleans around nine beaches in Mumbai every weekend, Chinu, stated, "Team Beach Warriors have been spearheading Dadar beach clean-up for more than a year. This year, 700+ tonnes of garbage was collected and responsibly dumped. Inspired by the overwhelming response and the impact created, Team Beach Warriors has started Worli Beach clean-up, Juhu Koliwada Beach clean-up, Malad Erangal Beach clean-up & Bandra Chimba Beach clean-up along with Dadar Beach clean-up." "Our team was qualified for Limca Book of Records for conducting India's First 24 hours clean-up at Worli village in 2018. The initiative was also appreciated by Amitabh Bachchan for clearing up 1,000+ tonnes of garbage," added Chinu who wanted to get into the Armed Forces.
The third project under Khushiyaan is 'Menstruation- Right to discuss'- #AsliMard which is a campaign to mainstream the talks associated with periods and sexual hygiene of women. Furthermore, thousands of in-house produced biodegradable sanitary pads are distributed free of cost to women across India.
Talking about the projects, Chinu said that an interconnected-approach has been developed towards the society and planet by conceptualizing a 360-degree framework to resolve the challenges that have been affecting us. "Be it the problem of hunger, gender inequality, pollution, or access to basic education to all, programs have been created under the guidance of esteemed social entrepreneurs, academicians, and policymakers to cut through the real pain point and provide solutions accordingly," stated Chinu adding that Khushiyaan foundation has an active presence in Mumbai, Delhi, Hyderabad, Odisha, and Bengaluru.
As an organization, Khushiyaan foundation is focused on spreading happiness through food, education and organising clean-ups. The beaches are clean and breathing, kids are eating well and educating themselves, ladies are openly talking about menstruation and using sanitary napkins, animals are getting pampered and so on. "Such impact that gives people inner happiness is what we work for. The simple mission and vision of the organization is to spread Happiness," shared Chinu, stating that the projects are focused on various SDGs of the UN.
Speaking on the future plans, Chinu said that they aim to scale up the projects on which they are already working. They also plan to start their old age home / shelter home for the needy. "Before March 2021, we will be starting a project internationally and we are in talks with a few volunteers from Nepal, Sri Lanka and Bangladesh to take up the projects," concluded Chinu with the message 'Insaan Bano (Be a Human)- There is a lot of scope'.
Important : If you are making an impact in the world, Please send us your story at : manoj@sociostory.in and we will try to cover you.