The first person with disability to top civils, IAS officer Ira Singhal has since been working for an inclusive society
March 3, 2021, 4:52 p.m.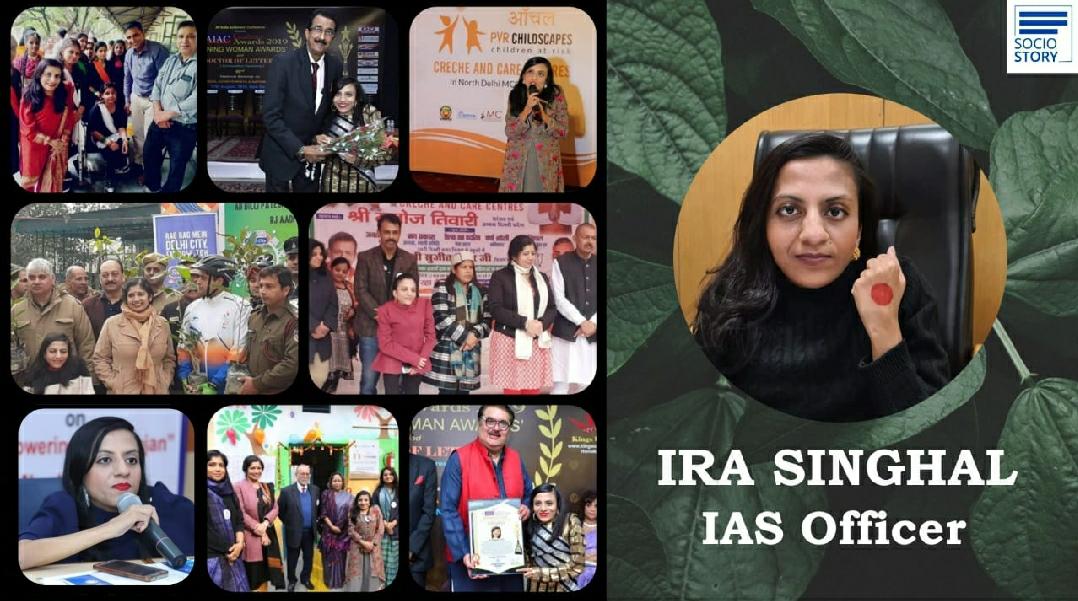 By:Reshma Jain
"If you focus on your abilities, the world will see your capabilities and if you focus on your disabilities, the world will see your inabilities," stated Ira Singhal, the first person with disability to top the prestigious Civil Services Examination, 2014. International Women's Day is fast approaching and one inspiring story that I could relate to the IWD theme was the story of Singhal. With the IWD theme being 'Choose to challenge', Socio Story brings to you a story of not one but multiple challenges faced by this young IAS woman officer.
Hailing from Meerut, Singhal was born to Rajendra Singhal, an engineer and Anita Singhal, an insurance advisor. Singhal was born with Scoliosis, a sideway curvature of the spine which disrupted her limb movement. Singhal and her parents did not let her disability deter her education and dreams. A brilliant student, Singhal completed her schooling from the Army Public School. She continued to pursue her further studies and had received B.E. and MBA degrees from two of the top institutions of the country.
Singhal had worked as a Strategy Manager for Cadbury India Limited. While she enjoyed working in the corporate sector, she wanted to work for the society and hence decided to change her career path. Hence, she started to prepare for the civil service examinations. Before her selection as an IAS officer in 2015, she was rejected thrice by the government as an IRS officer in the same exam despite clearing it, due to her disability. She decided to fight the rejection in the Central Administrative Tribunal and won after a battle of three years. While waiting for her joining as an IRS officer, she gave the exam again and got selected as an IAS officer. Singhal who had handled around seven profiles in North Delhi Municipal Corporation, said, "I thought that such discrimination only happens in the private sector, until my own experience changed the perception completely. I took a stand and fought for it."
Presently working as the Joint Director at Department of Social Welfare and at the Department of Women and Child Development, Government of Delhi, Singhal who won the President's Gold Medal for topping the IAS Training has come a long way and is now a source of inspiration to the entire nation.
She rescued around 340 child and bonded labourers and restored them to their families, within 1 year in her first posting as SDM (Sub-Divisional Magistrate), Alipur in North Delhi district. She is also the first person to give a job to a transgender person full-time employment in a government office.
In North MCD, she had continued to work with women and children. Through the means of CSR funding, she has set up a unique project where a 12-hour crèche-cum-day-care facility has been provided inside government schools, giving educational, nutritional and medical interventions free of cost for children in age groups 0-12 years, belonging to poor backgrounds. The project has been appreciated by the Prime Minister's office and is being considered for extension to the rest of the country by the Ministry of Women and Child Development.
Singhal had also set up an in-house free mental health and stress counselling centre for approx. 58,000 staff, first-of-its-kind in any government department. In order to make all the 700 schools under her jurisdiction into inclusive schools, she had started training all 7,500 teachers in North MCD Schools regarding the aspects pertaining to education of CWSN and also regarding Transgender children.
During COVID-19, she was the first person in the country to get sanitization through drones, besides also arranging massive relief efforts through NGO and CSR support for poor communities. Besides these, she has also increased the commercial revenues of her departments by more than 30% annually, from the mere 4-5% they had been increasing for the past many years.
Singhal has been a speaker on wide ranging issues like education, disability, gender issues, skill development, career counselling etc. at more than 500 international and national conferences, Industry forums, universities, colleges and other top institutions of the country including IIMs & IITs. She has been working towards various social causes including empowerment of persons with disabilities, empowerment and promotion of transgender community, women empowerment, prevention of child labour and child marriages, prevention of illegal conversion of green lands, promoting green energy, skill development, promotion of mental health and promotion of Khadi and indigenous fabrics.
Speaking on the recent orders by the Delhi government on adequate welfare measures for the transgender persons (separate toilets at all govt offices for trans), 37-year-old Singhal said, "The trans community is often neglected from the mainstream society as they are ostracized after birth, not accepted in schools and colleges and are not given job opportunities. They cannot live a life of dignity, hence I always thought of ways to improve their situation. The day people from the trans community were employed at my office, it made me feel complete. Since then, I had a lot of plans to ensure they lead a normal life just like any of us."
Singhal who bagged India Today's Woman of the Year award in 2015 is the Brand Ambassador for Department of Disability, Ministry of Social Justice and Empowerment, Government of India. She is also a brand ambassador for the Ministry of Women and Child Development, Niti Ayog and is on the National panel for Accessible Elections, Election Commission of India.
Singhal who holds a record in the Limca Book of Records, concluded, "Make your plans, work hard for it and fulfil your dreams. Do not wait for others to validate your potential but prove yourself always."
Important : If you are making an impact in the world, Please send us your story at : manoj@sociostory.in and we will try to cover you.