The journey of a Chaiwala to a Padma Shri Chaiwala
June 7, 2020, 3:23 p.m.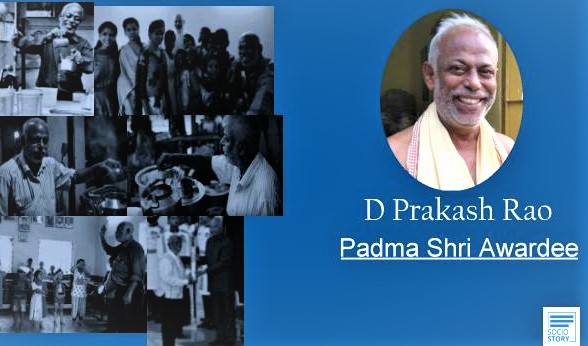 By: Reshma Jain
From a Chaiwala to a Padma Shri awardee, 62-year-old Devarapalli Prakash Rao from Cuttack shares his interesting life journey during a conversation with Socio Story. Prakash Rao, now popularly known as Padma Shri chaiwala was recognised for his social work. Prakash Rao has not only been providing affordable education to the poor children but has also ensured that the slum dwellers have access to nutritious food. This social work of his was recognised by Prime Minister Narendra Modi during his visit to Odisha last year and was conferred with Padma Shri, India's fourth highest civilian award.
Being the eldest of the siblings, Prakash Rao was six years old when he started supporting his family by helping his father who was a roadside tea seller in Cuttack. Running the tea stall was a primary job and because of a few other reasons, he could not complete his secondary education. Unfortunately, it was at the age of 17 when paraplegia struck him.
Prakash Rao was partially paralysed and had suffered from sensory loss due to paraplegia leading to a tumour which was detected in his spinal cord. He was in dire need of blood, but none of his family members were eligible to donate. Unfortunately, blood was not easily available during those days and the serious condition of Rao became a matter of life and death.
In what he calls as a miracle, Rao says, "I still do not know who that angel was who gave me a new lease of life by donating one unit of blood. This was the turning point of my life and when I started recovering after spending six months at the government hospital, all that I thought was to contribute to society as much as I can. Since then, I have never looked back and till now, I have donated blood around 218 times and have donated platelets around 17 times."
It was around 19 years back when this Samaritan started teaching children in one of the two rooms of his thatched house in Cuttack. Not only did he educate them but also gave them free mid-day meals as most of the children came from the slum areas of the district. On being asked how he managed financially, Rao happily says that for every cup of tea sold at his stall, half the amount goes towards education and health of slum kids.
"I spend half of my monthly income for food and education of the children who belong to the slums. I felt the need of education when I saw these children becoming drug addicts and were resorting to robbery and crimes. It took a lot of efforts to convince the parents and help them to realise the importance of education."
Recollecting the setting up of his school 'Asha O Ashwasana', Rao added, "As the number of children in his school increased, the space was not sufficient for all of them. So there was a small garbage dump in the nearby area which we converted into a school for catering to children's education. At present, there are more than 100 children who attend school from 10 am to 1 pm. There are a few who come to my school only to eat food. All the children are served 'Dalma' (a mix of vegetables and lentils) which is prepared by me."
Although Rao dreamt of becoming a Doctor or a footballer, Rao expressed, "I do not regret for not having achieved my goals. The recognition that I have received for my service is more than enough. The happiest day of my life was on May 26, 2018 when the PM met me and said 'Mein tumhare baare mein sab janta hoon' (I know everything about you)."
Rao is now a tea seller, an educationist and a receptionist at the same government hospital (where he underwent his treatment) helping and guiding the people according to their needs. "Donation of blood, time, money and energy is the best service to mankind," said Prakash Rao who has received numerous awards and recognitions for his service. "Indeed Service to Humanity is Service to God," and what better example than Padma Shri chaaiwala from India.
Important : If you are making an impact in the world, Please send us your story at : manoj@sociostory.in and we will try to cover you.