"The life of transgender's is characterized by pain, atrocities, discrimination, stigma, state of being ostracized" opines transgender rights activist Laxmi Narayan Tripathi
Jan. 24, 2021, 8:21 p.m.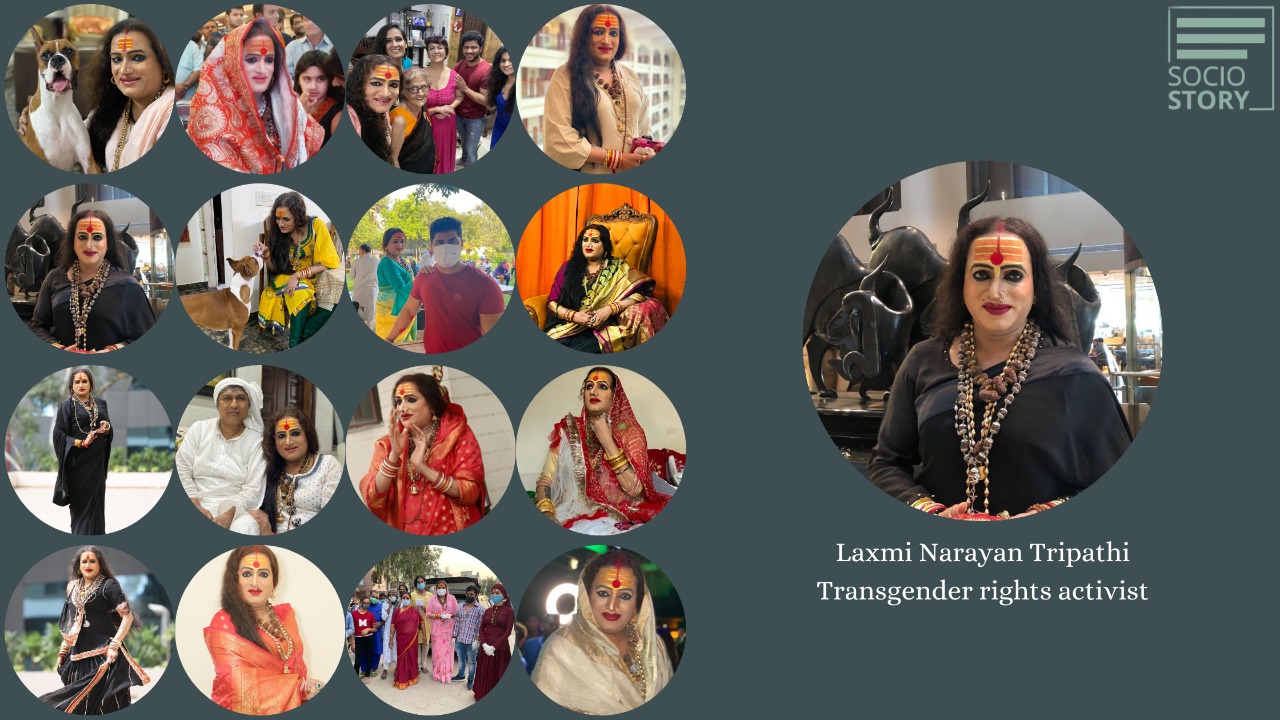 By:Reshma Jain
"A gender-equal society would be one where the word 'gender' does not exist: where everyone can be themselves," stated transgender rights activist Laxmi Narayan Tripathi by adding that 'Gender, is after all, just Gender'.
Socio Story presents the inspiring story of Laxmi who was the first trans person to represent Asia Pacific at a UN task meeting in 2008 and represented the region again at the 20th International AIDS conference in Melbourne. The journey of Laxmi sets an example because she has not only carved a niche for the transgender community but also has shattered the stigma surrounding the community as a whole.
Laxmi who was assigned male at birth was born into an orthodox Brahmin family in Thane, Maharashtra. After completing her schooling from Thane, she acquired an Arts degree and a Postgraduate degree in Bharatanatyam. She further served on the boards of several NGOs which were into LGBT activist work. She works with numerous NGOs including the Astitva Trust and the Asia Pacific Transgender Network to promote the equality of transgender individuals. Laxmi was one of the several petitioners in the Supreme Court's landmark judgement recognising the 'third gender'.
Stating that most of the people from the trans community have a similar kind of journey characterised by pain, atrocities, discrimination, stigma, state of being ostracised, Laxmi expressed that this thin lining is what ties all of them together to become a strong community. While mainstream society considers the community as a transparent object, they do not consider the bitter side of the story.
During a conversation with Socio Story, Laxmi, the Acharya of Mahamandaleshwar of Kinnar Akhada, said that she was very lucky when compared to the others in the community. "Unlike others, my family stood as a strong support system. I had access to food, shelter and other facilities. While others are thrown out of the house and are forced to sell their body for a morsel of food, I consider myself fortunate enough to be brought up in a family that supported me."
"Although 'patriarchy' tried to rule my life, I always denied it. Yes, I was sexually abused, tortured, bullied, but I decided to identify myself as a symbol of femininity," stated Laxmi who is a choreographer and a motivational speaker.
On being asked what needs to be done to accept the trans community, Laxmi who was a contestant on the popular reality show called Big Boss in 2011, said that a trans person needs to be considered as a 'human' and not a 'hypocrite'. She further said that there is a need to inculcate values and the meaning of gender, transgender, etc, in the education system.
She also said that most of the people do not know much about the 'transmen' community. "Boys who are assigned the gender of females at birth but identify themselves as male are usually caged at home. They are raped, abused and there are even cases of honour killing. There is a need to accept them the way they are and let them live a life of dignity and respect," stated Laxmi who is the author of two books; 'Me Hijra, Me Laxmi' and 'Red lipstick: the men in my life', which narrates her struggles before and after her transformation.
Speaking further, Laxmi who is a member of the core committee set up by the Ministry of Social Justice and Empowerment for Transgender Rights and Upliftment, highlighted that the sex work of transwomen has been forced by the 'society'. She said, "No one would like to sell their body, provided they are given the dignity and respect that each person on this planet deserves. From education, job, medical facilities to approaching the police/lawyer, it is always a challenge for us. If they are employed and respected like others, there is no need to do what they have been doing. The policies, safety measures, HR policies and law enforcements need to be in place for inclusion."
Around 40 years down the lane, people were apprehensive about the word 'transgender'. However, Laxmi said, "I am happy that we have progressed in terms of understanding the third gender. At least now, the people, the government and the other stakeholders are discussing the welfare of the community. There will soon be a welfare board for the transgenders in various states of the country and we also hope to have a transgender card for our identification," stated Laxmi by adding that she is glad to see the seeds sown by her flourishing into a fruitful tree.
Her efforts helped the first Transgender team to scale a Himalayan peak (Friendship peak) last year. She concluded by saying that this initiative was taken to prove to the world that gender cannot determine how much you can succeed. Hence, people from the transgender community had embarked on a journey to create a world record in the history of the trans community.
Important : If you are making an impact in the world, Please send us your story at : manoj@sociostory.in and we will try to cover you.