'The Ramayana School'- Morals before Maths and Character before Coding
April 21, 2021, 9:02 p.m.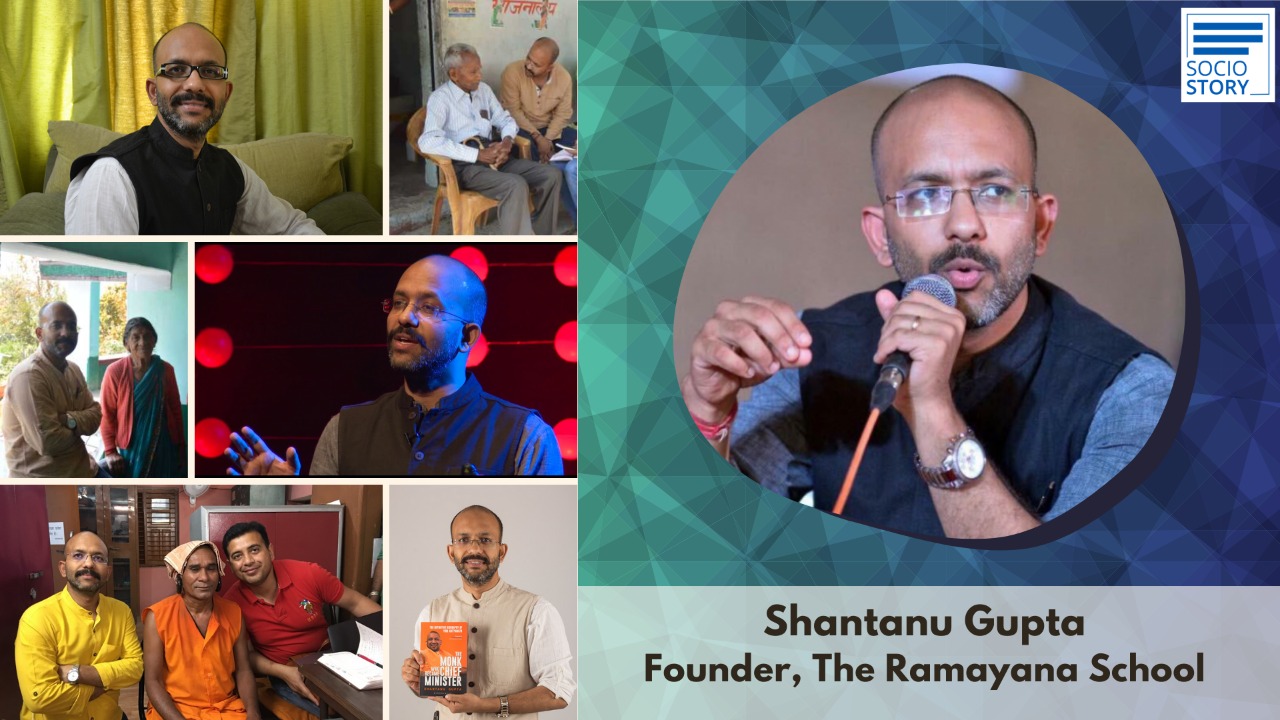 By:Reshma Jain
This year, Rama Navami falls on April 21 and the festival is celebrated to commemorate the birth of Lord Ram. Every character and every development in the mythological Hindu cult Ramayana teaches us valuable life lessons. Unfortunately, due to rapid evolution, there are very few children who are taught about this epic.
In the 14 years of exile, King Rama teaches us many leadership lessons and life lessons. He lost his kingdom; his wife was abducted and he almost lost his life during the war in Lanka. Even after such grave challenges he never left the path of goodness, he never left the path of honesty and he never left his values. And in the end, Rama emerged as a winner. Ramayana has many leadership lessons packed in it which we need to unpack.
Since it is important that children inherit the good lessons in life, Indian author Shantanu Gupta founded the 'Ramayana school'- to provide a platform for students to engage in Ramayana from a logical perspective and to give them a better learning experience.
Speaking on the need for such schools, Gupta who is a TV panelist shared, "Life is much more complex and mere classroom education will not serve the purpose. The subjects taught in school will definitely improve cognition and academically, a student might perform well. However, there is a lot more that a child needs to understand to lead a good life. The stories from Ramayana provide an ethical framework to make choices, importantly informed choices. Also, through such epics, one can imbibe values and improve critical thinking which cannot be done through subjects."
"India is a country of real heroes and children must be taught about their endurance, courage, loyalty, abilities and values. Unfortunately, the glory of Indian civilisation is being diminished and the need of the hour is bringing back the lost cultural glory- the true knowledge of Indian civilisation," added Gupta who has represented India in many international conferences on economy and policy, in Germany, Malaysia and Srilanka.
"My idea is to present the ancient abundant knowledge through modern techniques. We organise quizzes, puzzles, Olympiads, etc to engage the children in learning from the Indian heroes. We also run the Ramayana series which includes lessons for parenting, corporate life, etc," said Gupta, one of the curators for Kumbh and Ayodhya art festivals.
Having explained on the Ramayana school the discussion further proceeded on what made Gupta realise the need to revive the lost glory of India. Gupta shared that after working in Information Technology and Business Consulting, over many years in India, Cyprus, Switzerland, Israel and Hungary, he heard his calling and left his corporate career for the social sector. When Gupta was in his early thirties, he had decided to take a plunge into the social sector and Gupta feels that life has been rewarding since then.
After working for a couple of years, Shantanu did his Post Graduate Certificate in Business Management from Xavier's Labour Research Institute (XLRI), Jamshedpur. To enrich his knowledge in the social and political themes, in the year 2008, Gupta pursued his Masters in Governance and Development in the Institute of Development Studies (IDS), University of Sussex, United Kingdom.
While working in the corporate sector, Gupta always put his best foot forward both in terms of his work and social service. "I enjoyed doing voluntary work with local organisations as I was always aligned to contribute for the betterment of the marginalised communities," reminisced Gupta. A political analyst, Gupta had worked for a renowned think tank, Center for Civil Society (CCS) and had also worked in the hinterlands of Bundelkhand with UNICEF in Uttar Pradesh. "Life in Bundelkhand was very different from what life was in the cities. Lifestyle saw a paradigm shift yet it was an enriching experience," recalled 42-year-old Gupta.
Gupta, in 2014, founded a youth-based organization YUVA (Youth United Volunteer Action) Foundation which is working with youth, on spreading awareness among youth, on policy, politics and social issues. He has also led large-scale remedial education interventions with Naandi Foundation in Andhra Pradesh, Maharashtra & New Delhi. Gupta's Yuva foundation was the youth engagement and training partner for MUDRA e-Rickshaw program, attended by Prime Minister Narendra Modi, under which thousands of cycle rickshaw pullers were upgraded to battery run rickshaws through Mudra loans.
Shantanu strongly feels that sports are an amazing medium to bring people together and empower them. While compiling PM Narendra Modi's #ManKiBaat radio sessions in the form of a book, he got to know about the FIFA under-17 football world cup being hosted by India in 2017. He got motivated by PM's calling to take football to every town, every village and every street. Gupta played one of the leading roles in organizing a football match, between Parliamentarians lead by Minister Babul Supriyo & MP Manoj Tiwari vs Bollywood Eleven lead by Abhishek Bachchan and Ranvir Kapoor, to promote FIFA under-17 football world cup.
A writer by passion, Gupta has authored four books – Education Policy in India – Voice, Choice and Incentives (CCS), Compilation of Prime Minister's Mann Ki Baat (Kapot Books) and Uttar Pradesh, Vikas Ki Pratiksha Mein (Bloomsbury) and The Monk Who Became Chief Minister (Bloomsbury). "Most of us wish to leave a mark in society before we leave this planet. For me, writing is a body of knowledge and I consider it as a legacy which can be passed to the generations to come," concluded Gupta, a TEDx speaker.