The trio who believe in the power of music and theatre to create a social impact
July 26, 2020, 4:21 p.m.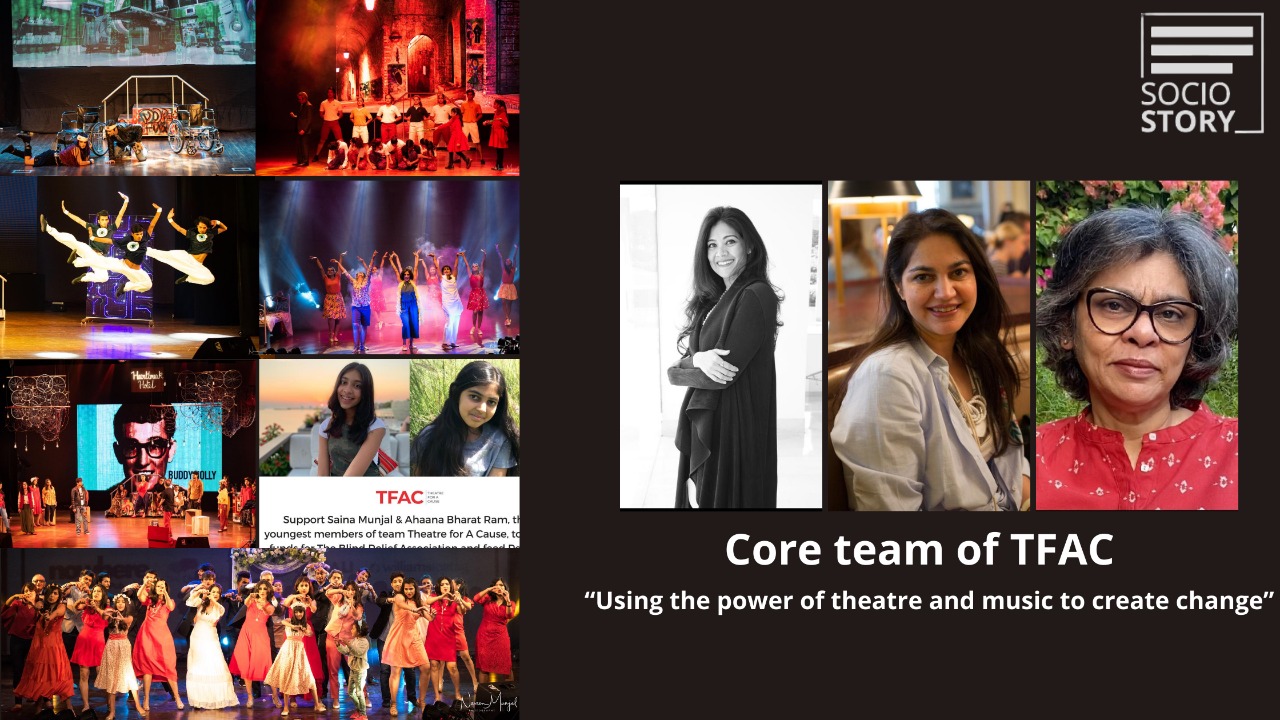 By:Reshma Jain
"Theatre is a mirror, a sharp reflection of society", goes a saying. And to reflect it, a group of like-minded individuals, aim to entertain and educate the audience about various social causes. They are committed to help the less fortunate through the performance of high-quality musical theatre while upholding the highest standards of integrity. This group has been working on ground and have brought a significant change in the lives of people.
Socio Story brings the journey of Theatre For A Cause (TFAC), a not-for-profit organization which believes in the power of music and theatre. It comprises a diverse pool of artists who perform and produce musicals to create a social impact by raising funds for NGOs.
TFAC's core team comprises three women: Vandana Munjal (entrepreneur and actor), Radhika Bharat Ram (educationist, philanthropist and singer) and Ritu R Chandra (director and producer). The actors and singers in the team are a mix of professionals and amateurs. Their plays are all musicals, with live singing, choreography and a gripping storyline.
The team has been significant in contributing to the society during the lockdown by reaching out to the underprivileged and the needy people. Let's read on the impact they have made. The team said that they continued doing what they always do, working with their art to help raise funds and create awareness on various societal needs.
Speaking to Socio Story, Vandana Munjal who is an entrepreneur and actor, said, "In April, we started an online challenge called TFAC - Sing for a Cause to help raise funds for The Blind Relief Association, Delhi who is using the campus kitchen to hygienically cook meals and Uday Foundation who is distributing them to the homeless affected by the lockdown in Delhi. We had 270 participants from 6 continents, including countries such as Australia, Puerto Rico, Panama, Colombia, USA, Kenya, Sweden, Thailand, India amongst many others. We received 230 songs in 14 days and gave meals to 4,600 homeless people."
"This was followed by a collaboration with The Blind Relief Association who decided to start doorstep delivery of ration kits to lower income PwD's whose disability prevents them from leaving their homes and navigating queues. We started another online challenge. To participate in the challenge people had to do is Sing, Act, Dance or recite a song from any musical. For every video they posted, TFAC gave a ration to feed a family of 4 for 1 month through the help of our donors. Through this with the help of The Blind Relief Association, we were able to provide ration for 165 families thus enabling food for 59,400 meals for people with disabilities," added Vandana.
In addition, like all artists, TFAC is also continuously working on their art to improve skills for they can stage, very soon, their next musical which is an adaptation of Mamma Mia, based on music from the pop group, ABBA. In the meantime, they are creatively using technology to work on other initiatives to connect people through music and the arts in order to raise funds and spread positivity.
Ahaana Bharat Ram and Saina Munjal, students of the Shri Ram School decided to help TFAC to raise funds for The Blind Relief Association to feed People with Disabilities during the Covid-19 pandemic.
They started a fundraiser on the platform, Milaap. They made several videos to spread their message on social media. The duo were able to raise Rs 5,85,000 that benefited 575 people with disabilities. Around 2,875 kgs Atta, 1,725 kgs Dal, 575 kgs sugar, 575 L cooking oil, spices, salt and other items were procured by the Blind Relief Association to feed 2,300 members of their families.
The reach includes not only the visually impaired but also those with other physical and mental challenges. One of the primary efforts involved doorstep delivery of ration kits to lower income PWD's whose disability prevents them from leaving their homes and navigating queues.
A few of the past events and causes by TFAC include; Musical staged for Azad Foundation, Musical Production for CAPED (Cancer Awareness, Prevention and Early Detection) and J.P.M Senior Secondary School for the Blind where KHUSHI-EK-EHSAAS, a musical play was performed by visually impaired children.