The Trio who joined hands to uplift the underprivileged through education
Oct. 3, 2020, 2:17 p.m.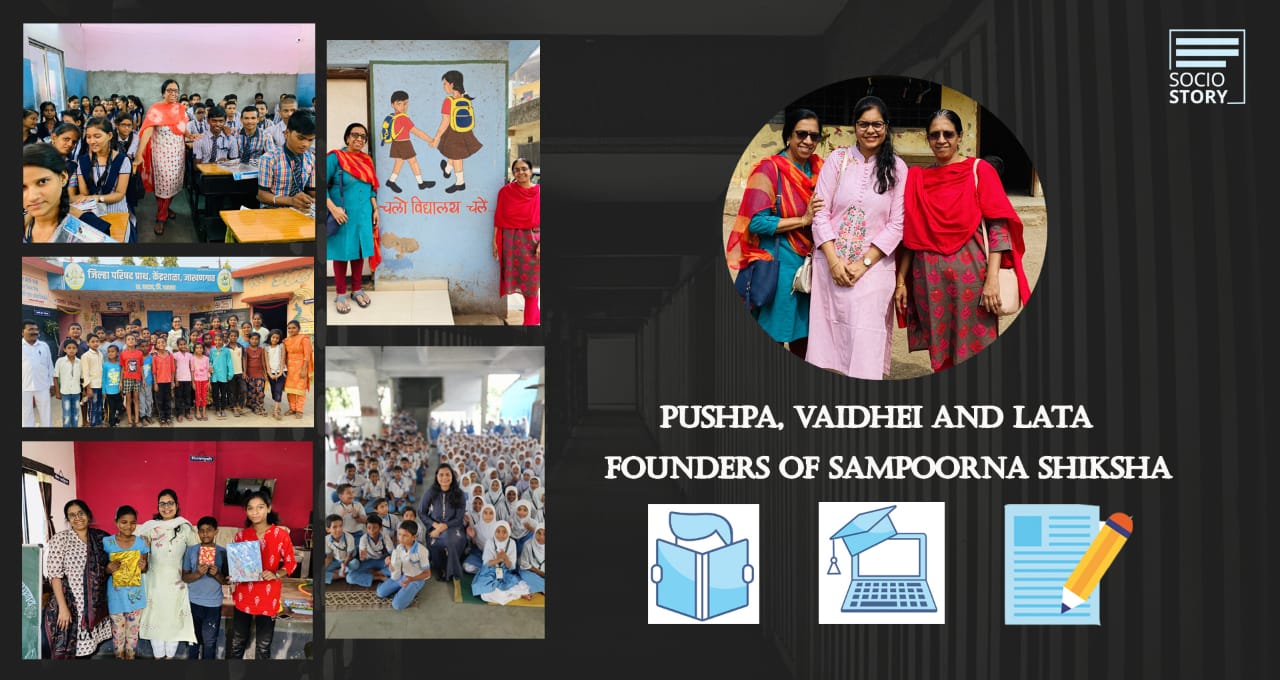 By: Reshma Jain
When K Venkatraman, popularly known as the 'Pencil Man of UAE' was organising stationery collection drives for supplying them to various schools in India, he learnt that the schools required passionate teachers. This is where the light was kindled and volunteers passionate to teach joined hands together.
Lata Srinivasan and Pushpa Subramanian, the twin educators who used to teach and guide the class X students of SIES Veda Pathshala, and also various other needy children in their neighbourhood, opened their wings and took more students under their shelter. Vaidhei Pagaria, a young energetic person driven by the passion to teach, enrolled herself in E-Vidya loka for teaching underprivileged children. In her term, she understood the needs of the children in backward areas and their enthusiasm to learn. Taking this experience, the three, hailing from Navi Mumbai, Maharashtra, joined hands and formed Sampoorna Shiksha, an initiative of Pagaria Welfare Foundation, having its office at Belapur. This was nurtured and promoted by their mentor, K Venkatraman who is a Guinness book record holder for the largest collection of stationery for charity in one day.
The main aim of this organisation is to promote education, skill development, and various other activities for the upliftment of the children and adults alike in the less privileged regions of the country.
With holistic education being their USP, all the initiatives by Sampoorna Shiksha are provided at free of cost. They not only provide formal education with open schooling options, but also provide skills for all-round development along with many volunteering projects.
Online courses like basic computer and Internet workshop, digital marketing, etc have gained good momentum during this pandemic. One of the ongoing projects of Sampoorna Shiksha includes; National Institute of Open school (NIOS) for coaching and mentoring class 10 and 12 students.
Another project called English On Call (EOC), an initiative for teaching 'how to speak English with confidence' was launched recently. "It's a volunteer driven project free of cost on one to one on audio call basis. Since this project does not need a smartphone, we have been successful to reach the interior parts of India. We have volunteers from all over India and abroad volunteering for an hour per week to help someone speak with more confidence. Currently we have 1,000 volunteers mentoring more than 1,000 students all over India," stated Vaidhei who is a Chartered Accountant by profession.
E-Mitra is another initiative to collect and donate e- equipment like mobile, tablets, PC, laptop, Bluetooth speaker etc to schools and community centres in rural areas. E- Vidya has partnered with E-vidyaloka and has 70 volunteers from India and overseas to teach students online on skype to zilla parishad schools for class 5-8 with subjects including English, Maths and Science.
Throwing light on Kahani4All initiative, Vaidehi, added, "This Daan Utsav, we are launching Kahani4all project where volunteers of any age group shall share with us any story as audio, video formats specially in regional languages and we shall be creating a free digital library on YouTube so that everyone can access, use, share and learn."
On being asked what makes them happy as a team, the founders said that it is the happiness that they see on the faces of the destitute. Sharing a few experiences, Vaidehi, said, "The students of class X of Pragati Wheels school, New Delhi did not have a teacher to teach science subjects and their exams were around the corner. Sampoorna Shiksha educators with their skill and guidance extended a helping hand and sailed them through. Our exam-oriented teaching methods helped the students to pass out in flying colours and helped them to get admissions in good colleges."
"Dayal, a 14-year-old runaway child from a remand home was picked up from a railway station by a well- wisher, and is being looked after by Sondhara Gurkul, Dongri. We at Sampoorna Shiksha joined hands with them to mentor, tutor and guide him to get minimum education and skills to lead a normal life," added Vaidehi.
A few of the future plans of this organisation include:
To provide education through NIOS to 1000+ students for class 10 and 12 by the end of 2021.
To provide E-learning kits to all the schools in the Uttarkashi-Gangotri belt which have no internet facilities and to the schools in all remote areas in India.
To harness and equip children with skills for self-development in remote areas through various projects.
To train 1000+ students in music, art and dance in Natya Swaram project.
To adopt schools in rural and backward areas and support them with all methods of self-sustainability in education.
"There is nothing more satisfying in life than the joy of giving education," concluded the founders.
Important : If you are making an impact in the world, Please send us your story at : manoj@sociostory.in and we will try to cover you.