This Engineer from a Small Town is on a Mission to Promote Entrepreneurship in India !
March 20, 2020, 6:03 p.m.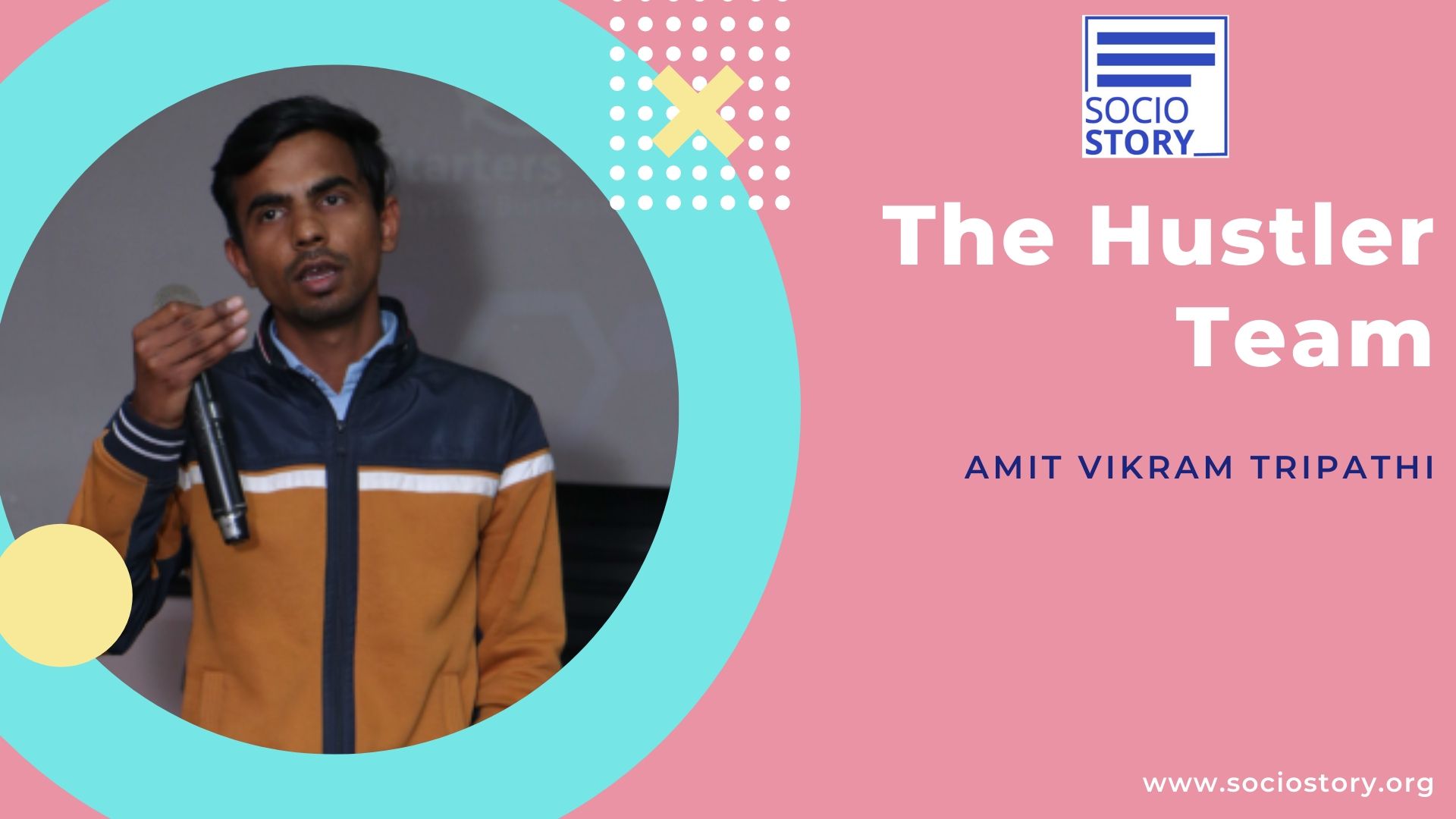 Entrepreneurship isn't a key term that is only confined to the struggle and challenges faced by an individual person, but it is also a parameter that reflects growth of the country by addition to the National Income. There is no doubt that entrepreneurs are changing the standard of living and the way we survive and work in India. Keeping this thought into perspective, Amit Vikram Tripathi who hails from a tier three city called Balrampur after experiencing the exact problem faced by many student of a small town/village during their education and further start-up of their career - came up with his organization "The Hustler Team" which is constantly spreading awareness about entrepreneurship in India from the grass roots level. Team Socio Story in a candid interaction with the techie unfolds all you need to know about how The Hustler Team is acting as a building block for entrepreneurship in India. Read on...
By: Harshima Sharma

"People from small towns often neglect their dreams. No education ever focuses on developing business skills. 'Indian education system needs reform. Entrepreneurship education will be a strong action towards it" said Amit. He is in the final year of engineering from a college in Greater Noida. After coming to Delhi he was introduced to a completely different world of different cultures. Unlike everyone who could only see the lights and glitters of a city, Amit at a very young age recognized the
growth and potential of metro cities. Telling us about the journey, Amit told the story behind The Hustler Team. "Initially I started with blogging and represented as campus ambassador of various start-ups during my college days. I started organizing events that gave me good exposure to marketing, sales, and the acumen it takes to organize events. During this time-frame, a lot of ideas emerged and I kept jotting them in the form of notes. After attending a workshop at IIT Kharagpur, I was able to understand the exact meaning of the start-up ecosystem, investment, and stakeholder. From here we came up with the idea of a start-up community that will help to pool a vast network.
The Hustler Team aims to connect with the key players of the start-up ecosystem by various mediums such as workshops, meet-ups, summits, etc. The real game started when Amit organized an event "Start-up Summit Gurgaon" in the year 2018 and got a whopping response of twenty plus mentors and investors. His efforts were appreciated by many. In October 2019, he conducted another Start-up Summit in Gurugram which was sponsored by ICICI Bank, this too was a successful event. His efforts are helping those who face challenges in any business. His efforts have been appreciated by the Delhi Government who recently invited him to give an interaction session with school students. His team wants to help students of Tier 2 and Tier 3 cities in setting up their own business by bringing them into the mainstream start-up ecosystem. "There are a lot of problems starting from ideas, to team building, product manufacturing to selling and at times funding is another challenge when you think of starting a business. What I found is a lack of vision and passion as a hindrance to start a business. Even though we had faced a lot of problems during the initial phase of our start-up, we got stuck to the core and kept moving forward
while impacting the lives of several students".
Amit Vikram Tripathi established The Hustler Team in the year 2018 as a not for profit venture with two of his classmates, Akash Kumar – who looks after management in the organization and Guatam Mishra who tackles all the technology-related work. The trio has been on a mission since then to help the youth grow and run their businesses for the betterment of the nation along with a vision to become a renowned start-up community in the world. They are impacting the lives of students in the direction of teaching them 'source of income is through business and polished vocational skills.' Talking about his initiative of starting entrepreneurship education sessions at schools and what changes it will make for the students, "it is very important to talk about start-ups and entrepreneurs to the students. We believe real-life stories and interaction with real entrepreneurs will not only inspire the students to start up their own business but also help them to network with experienced people at the very initial stage of their education. Instead of only teaching profit and loss in formulae, if we talk of real profit and loss of business – students will be able to learn it easily. We all know that a mind between 10-11 years is full of creative ideas but at the same time mind is a bag of confusion. We can nourish these ideas and help students to turn in ventures through entrepreneurship education."