To stand as a symbol of hope and change, transgender rights activist Rudrani Chettri created India's first LGBT modelling agency
Feb. 7, 2021, 9:46 p.m.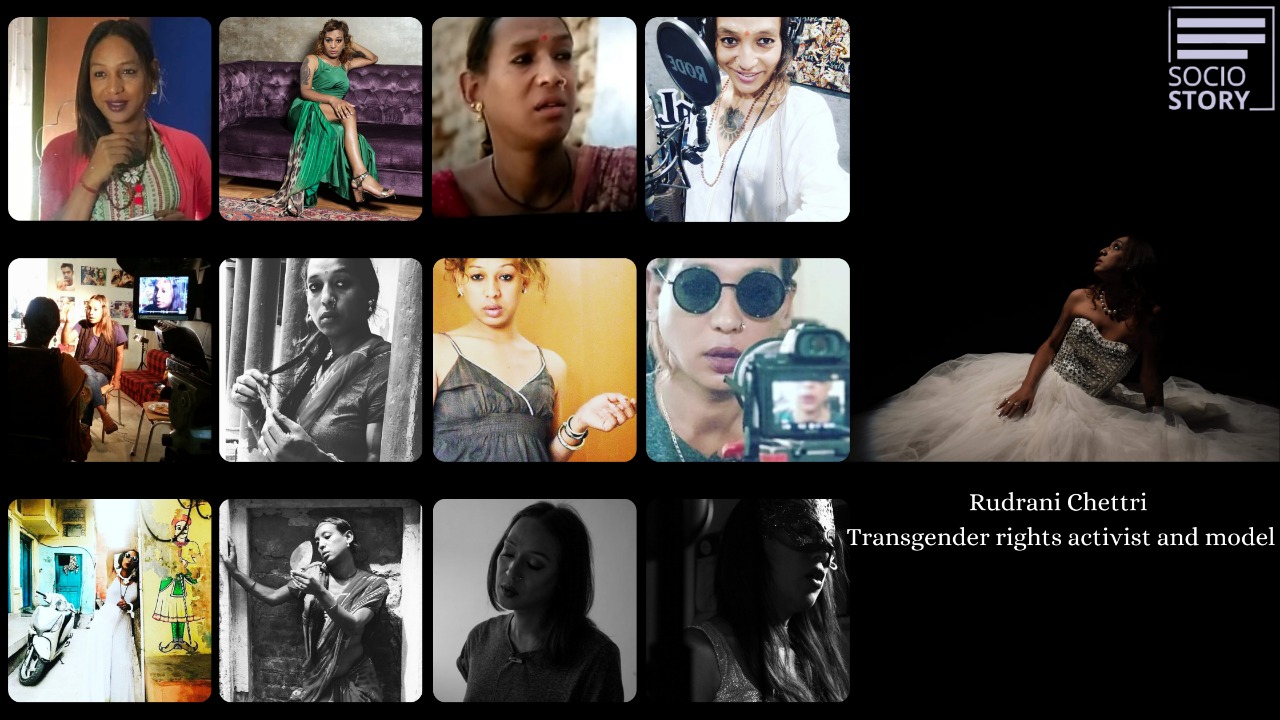 By:Reshma Jain
In 2014, Rudrani Chettri, a transgender rights activist and model was beaten up by a police constable in Shimla because she objected and resisted the police constable when he tried to molest her. Rudrani, along with her friends were on a vacation on the eve of New year, when the incident happened. Being a victim of physical violence, Rudrani filed a case in the local police station. However, instead of registering an FIR to investigate the incident, a general complaint was registered.
In 2013, when Rudrani visited a shopping mall in Delhi, she was barred and denied by the security guard. On enquiring why they did not let her enter, she was told that 'hijras' are not allowed in the mall. Rudrani, then filed a complaint with the police station but to no avail.
When Rudrani used public transport, people used to mock her and often used to pass comments. She felt ashamed, embarrassed, out of place with no hint what to do. She only dreamt of a life that can be lived with dignity and respect.
These are a few examples which explain how people belonging to the transgender community are treated, ostracized and victimized. 42-year-old Rudrani Chettri shares the rest of her journey with Socio Story.
Like any other child, Rudrani was a happy going kid until school. She was happy because she did not understand about gender, sexuality and more over what the world thinks if you attach the 'trans identity' label to yourself. However, life after school was very challenging as it was during adolescence when one understood about their sexual identity and a lot more.
As Rudrani grew up, she felt caged in her body. Although she was assigned 'male' at birth, she always behaved or rather liked to do what most of the girls would love to do. There used to be situations when Rudrani felt she is the only person in the world who feels like that and this thought disturbed her day and night. "I never felt like a boy or a male. Everything was feminine about me," she said.
To escape from such thoughts, Rudrani started watching a lot of Hindi movies and that was when she realized that attending college would mean ragging, bullying and what not. So, attending college was more than a nightmare for Rudrani. However, she did not let this deter her education and she graduated from Delhi University with a bachelor's degree in Arts through correspondence. "The atmosphere in my school was secure. However, the atmosphere in college would definitely be different. This stopped me from going to college as I had the fear of being mocked at, judged and discriminated against," shared Rudrani.
However, unlike the others, Rudrani always had the support of her mother. Although her father often questioned her 'weird behavior' and why she did not behave like a 'man', her mother accepted Rudrani the way she was. "Although my mother hailed from a tribal community and was illiterate, there was a silent kind of acceptance. She never made me feel uncomfortable and never questioned my identity. I was lucky enough to get her kind and sensible support while I grew up in the family," reminisced Rudrani hoping that the 'educated' and 'literate' people accept trans the way they have been created by God.
Recalling one of the incidents, Rudrani said, "My mother threw a party and she had asked me to invite my friends. I was hesitant as I was worried about what people would think about my friends who were from the LGBT community. My mother asked me not to worry and instead told me to invite them as she believed that after all, they are human beings too."
Rudrani said that the feeling of rejection was always from the 'elite' or so called the modern and civilized world. From social stigma to conditioning their behavior, the mainstream society has been responsible for it. Having transitioned in 2008, Rudrani believed that if one is educated and gets a decent job, they need not be dependent on anyone. Rudrani started working with an MNC, however she could not continue because of a lot of reasons.
In 2005, Rudrani started a community-based organization called 'Mitr Trust' with a mission to spread awareness on prevention of HIV/AIDS and at the same time to sensitize the LGBT community on their rights.
In 2015, she was instrumental in setting up 'Bold'- India's first transgender modelling agency. "The moment someone hears the word trans, they think of sex workers, begging on streets or some other menial work. However, one must understand that this is the only thing that is served on our plate. What else do we do when we are shunned by society? So, to prove this notion wrong and stand as a symbol for change, I started this modelling agency to provide a platform to the LGBT community. I want transgenders to get respectable and mainstream work in fashion, film, TV and media," said Rudrani by concluding that the need of the hour is to urge stakeholders to formulate policies on trans welfare and protection.
Important : If you are making an impact in the world, Please send us your story at : manoj@sociostory.in and we will try to cover you.