Transforming scrap to sustainable products to support farmers
Nov. 11, 2020, 4:34 p.m.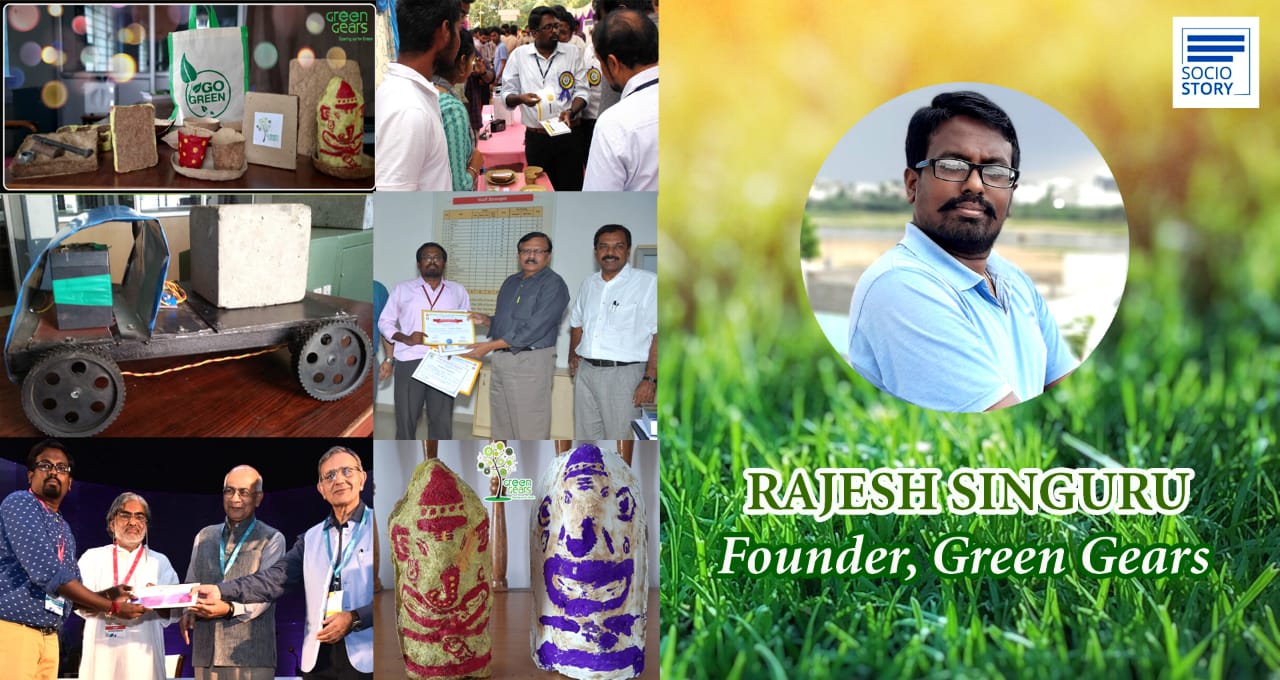 By:Reshma Jain
The practice of stubble burning has contributed to the massive spike in the pollution levels. If we look into the causes of stubble burning, the problem arises mainly due to the use of mechanised harvesting which leaves several inches of stubble in the fields and removal of this stubble is necessary for growing the next crop. So, burning these agro-residues is easy for the farmers to get rid of it. Open stubble/agro-residue burning emits large amounts of toxic pollutants in the atmosphere which contain harmful gases like methane (CH4), Carbon Monoxide (CO), Volatile organic compound (VOC) and carcinogenic polycyclic aromatic hydrocarbons.
After the release of these gases in the atmosphere, these pollutants disperse in the surroundings, they may undergo a physical and chemical transformation and eventually adversely affect human health by causing a thick blanket of smog. Burning rice husk on the ground destroys the nutrients in the soil, making it less fertile.
In an effort to find a solution to this problem, the team at Green Gears led by Singuru Rajesh came up with an innovative idea. The idea is to transform agro-residue into marketing products for replacement of single-use plastics, reducing crop burning in farms, empowering the financial status of farmers with a right deal for residue, employment to farmers by constructing plants in farm fields.
The team developed an idea to collect farm residue from farmers and convert them into raw material for urban industries that make eco-friendly products such as pulp, paper, biodegradable eco- tableware (plates, cups, spoons, bowls etc), eco-friendly idols, eco-boards, package supporting materials, residue manure blocks etc. Green Gears believes that through income generation to farmers from agro-waste, the practice of stubble burning can be minimised. With more than one year of execution of this project, the team received the Nav Bharat Nirman Award from the Ministry of Science and Technology, Government of India.
This was just one of the brilliant ideas by team Green Gears. Before we present the other innovative ideas, here is something you need to know about Green Gears. 'Green Gears- gearing up for green' was started in 2015 with a mission to provide sustainable innovative solutions for social problems as well as to village farmers with sustainable technology. Rajesh, Assistant Professor at Department of Mechanical Raghu Engineering College, Visakhapatnam, AP, puts it this way; "The soul of India lives in villages and it's farmers. We need more and more sustainable, green technologies and innovations for enhancing their income and productivity. Green Gears works for those who work in acres."
Hailing from a farmer's family, Rajesh understood the hurdles, income source, and the conventional technologies of farmers. This made him think of innovative ideas to help the farmers. Below are the different projects that Green gears has designed for converting a village into a sustainable village and to help the needy.
Design and development of multi-purpose prosthetic bore well system- an invincible arm to help children who get stuck in open borewell hole (due to untoward incidents)
A cost-effective desalination plant using a solar chimney with recycled aluminium can collector to convert the salt water to decreased pH water. This project received the Young Scientist Conference (YSC) Award in IISF-2018 from the Government of India.
Sahaya Setu: Grocery and medicines carrying robots in Covid-19 zones to help the Covid warriors, doctors and nurses in red zones.
Rain sensor capsule for farmers during unseasonal rains at post harvesting time to help farmers in saving the crops that dried out from sudden and unseasonal rains.
Water carrying robot for remote village people to help the remote area villagers who walk a long distance to bring water. This Robot can help many women who bring water from long distances.
"This year for Ganesh Chaturthi, we came up with a new green product called 'Green Gears Ganesha' made from the agro-residues that were burnt by farmers. If we immerse these idols in water, it breaks down and creates food for the aquatic animals and also becomes home for algae. If we keep this in soil, it becomes manure and makes the land fertile within two weeks. These are made by farmers and they can get an income source by selling these products during no crop time," stated Rajesh who has completed his PG Diploma in Energy and Environmental Management, Andhra Pradesh Productivity Council 2018-19.
Sharing on the future plans, Rajesh, said, "We are planning to start a co-operative society unit (social entrepreneurs for green economy for sustainable villages) in collaboration with farmers of North-East Districts of Andhra State to produce products with agro-residues. We are also planning to sell these products all over India."
"As Gandhiji had said that the future of India lies in villages. and farmers are the backbone of our country, there is a need to do something for them. New innovations, ideas, industries and young scientists should work to uplift farmers in India," concluded Rajesh who received an appreciation from Prof. MS Swaminathan, Father of Indian Green Revolution.
Feathers to his cap:
Awarded Young Scientist in Young Scientist Conference (YSC) in Indian International Science Festival (IISF-2018) by the Ministry of Science and Technology, Government of India held at Lucknow in 2018.
Awarded third prize in Faculty Assessment Program in International Go-kart Championship (IGKC2018), RKDF University, Bhopal, Madhya Pradesh.
Awarded Best Paper Award in International Conference on Advancements in Aero and Mechanical Manufacturing (ICAAMM-16) held at Hyderabad in 2016.
Received Silver Leaf Certificate in International Conference on Emerging Technologies in Mechanical Sciences (ICEMS-2015) held at Hyderabad.
Important : If you are making an impact in the world, Please send us your story at : manoj@sociostory.in and we will try to cover you.