Transforming villages for a developed India, Dr Heera Lal envisions through his initiative called 'Model Gaon'
Jan. 7, 2022, 5:31 p.m.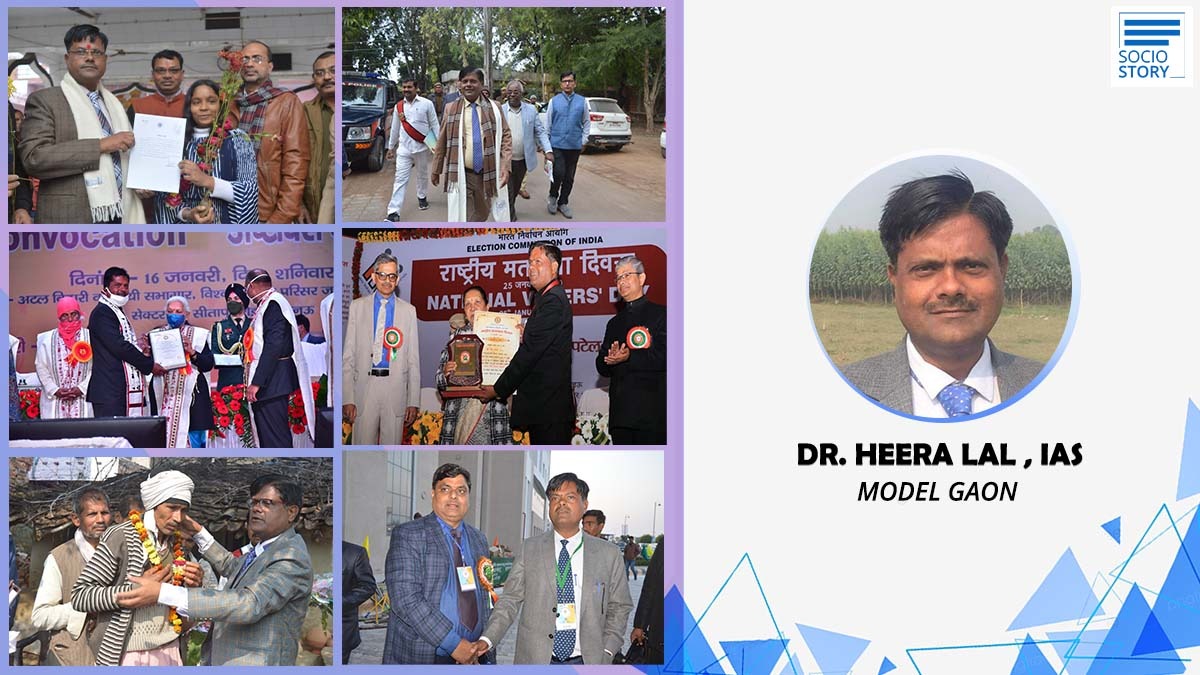 By:Reshma Jain
It has been said that the soul of India lives in its villages and the need of the hour is to have 'Smart Villages'. In an effort to maintain the sanctity of villages as well as to implement an approach to develop and modernise them, Dr Heera Lal, an IAS officer initiated an interesting concept called as 'Model Gaon' where 'Gaon' stands for Villages. Lal strongly believed that by transforming villages into 'Model Gaon', the dream to see India as a developed nation can be accomplished.
So how did it all begin? Dr Heera Lal- the then District Magistrate of Banda, U.P, conceptualised and implemented many inclusive development initiatives. His programmes like organising learning tours for rural entrepreneurs proved revolutionary. A team of village heads (Gram Pradhans) were sent to 'Ralegan-Siddhi' (model village of Shri Anna Hazare) and 'Hivade Bazar' village (Padam Shri Popat Rao's model village) to acquire practical know-how from the work done by the changemakers. Through this tour, agricultural and village management administrative knowledge of villagers increased.
These initiatives proved beneficial for the district of Banda. Farmers' income, agri-production, knowledge and attitude of villagers slowly witnessed a gradual growth. Similarly, local villagers were imparted knowledge about government programs in 'Vikas Bhawan' and 'Mandi' on a systematic and regular basis. This enhanced administration, while people connected and were empowered in believing that 'knowledge is power'.
"Inspired by the idea of Gram Swaraj of Mahatma Gandhi and Providing Urban Amenities to Rural Areas (PURA) of late president of India Dr Abdul Kalam, 'Model Gaon' is an amalgamation of technology, people, traditions, skills, and entrepreneurial spirit, aimed at achieving inclusive and sustainable development of villages that is financially viable, socially equitable and eco-friendly," shares Dr Lal.
The Founding Visionary who believes in bottom-up approach further adds, "If people participate, it can lead to a huge transformation as the power to mobilise resources becomes easier. This is where real development begins when initiatives for the welfare of people begin by people themselves. This tried, tested and proven holistic model of development needs to be replicated in other parts of India, to make the whole country prosperous. Through this initiative, we aspire to transform each village of India into a Model Gaon. While we are engaging villagers across 25 states of India, we are also screening more than 50 gram panchayats to include them in the project."
Throwing some light on the start-up innovations, Dr Lal said that in an age when start-ups are fast becoming an urban phenomenon, they are striving to take start up-innovation to the grassroots in rural India. To enrich and develop villagers and villages, there is a need to deploy start up-innovations to find optimal and efficient solutions to complex problems. "Agriculture is the lifeline of Indian villages and any innovation here could present significant growth potential. Industrialization of agriculture is a phenomenal opportunity. To convert 'agri' of village into 'agri-business' and to change the mindset of villagers, we are committed to take start up-innovations to villages," opines Dr Lal.
Another initiative of this social venture is called 'Village Manifesto' which is a medium to establish an agenda of development in villages. This will guide villagers to work for their own and their village's development. This will help in building consensus on a common development goal for the entire village. Dr Lal shared that to achieve their goal, they envision:
To involve villagers in defining local issues of development by means of a village manifesto, which will help in setting an agenda for development in villages.
To empower rural communities by identifying and developing socially active changemakers, who will lead the transformation of their villages into Model Gaon.
To enable industrialization of agriculture in villages by transforming conventional agriculture into agricultural-business through assisted formation and operation of farmer producer companies (FPC/FPO/Group Farming).
In his concluding remarks, the IAS officer said, "We will be expanding our initiative to different parts of the country to enrich India and Indians. To improve Gaon- Government- Governance with villagers' participation is our strategy. And we would do it with the power of technology. The power of people by their participation in addition to the technology power can solve this problem of governance as it is complex and complicated.
Important : If you are making an impact in the world, Please send us your story at : manoj@sociostory.in and we will try to cover you.