Understanding the plight of farmers in the country, Dipankar Das has designed innovative models to ease their burden
Dec. 17, 2020, 6:06 p.m.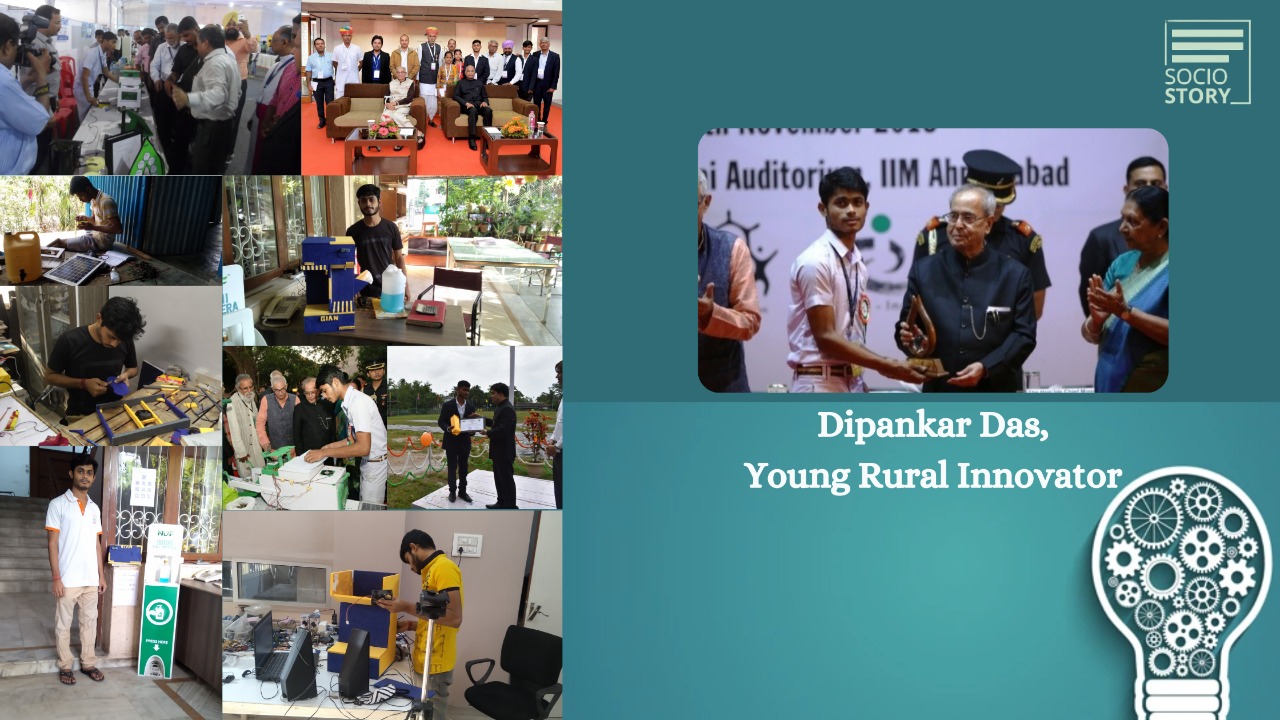 By:Reshma Jain
A solar pulse thresher for efficiently threshing pulses and grains, a low-cost pot carrier to ease the burden on women, a hand-operated blower for the traditional stoves (chulhas), a load carrying device to distribute load from head to shoulders, a manual multiple crop cleaner to simplify the process of cleaning and so on. What comes to mind when you read this?
Something to do with farming-related tasks, right? Yes, you have made a right guess but there is something more fascinating to these ideas. The above-mentioned devices are the brainchild of a brilliant boy named Dipankar Das from Andaman and Nicobar Islands which have helped in reducing the hardships faced by the farmers. The interesting part is that all these useful innovations have been created out of waste material/scrap.
Before we read more about his amazing ideas that brought him laurels, let us take a look at his background. Born to parents who are sharecroppers, there were times when Das had to fend for himself. "I worked in food stalls, people's houses, did odd jobs to fund my education. I also used to work with my parents in the early hours of the day before attending school. From a very young age, I learnt to manage time efficiently," said Das who hails from Diglipur.
"Whenever I used to see discarded toys or other stationery items, it urged me to make the best out of waste. Since childhood, I have been exploring and experimenting with discarded or broken items to make something useful out of it. When I was five years old, I made toys out of mud and sold them. When I was 12, I created a paddy thresher. Hence, innovation has been innate and I am happy to have come a long way in realising my penchant in creating new methods which serve as a solution to everyday problems," added the young serial innovator.
When Das observed his parents facing a lot of struggle while they toiled as daily wagers on fields, he wanted to devise a few methods that would ease the burden of his parents. For instance, the task of husk threshing was difficult not only because it left bruises on the skin but also led to respiratory problems due to the dust. When Das turned 17, he experimented on a few innovative and useful techniques.
One of them was a solar pulse thresher, a machine which is useful in threshing pulses and grains like black gram, green gram, etc without the use of electricity. This idea of Das not only reduced time and effort but also helped in reducing the cost of the threshing process.
"This innovation is very close to my heart as this model was awarded Dr APJ Abdul Kalam IGNITE Awards – 2015 by the former President of India, Pranab Mukherjee. The innovative model was nominated for the ASEAN – India Grassroots Innovation Competition held at Jakarta, Indonesia on 20-29th September 2018 where I represented India and won the second prize. A few solar threshers have been distributed to the farmers in my district. I want the other farmers to use this model, the testing and approval for which is in the pipeline," stated Das who is now pursuing his Mechanical Engineering in LJ Polytechnic, Ahmedabad.
Another interesting innovation by Das is a low-cost water carrier. Das used to see his Mother and the other women of the community carry water on their heads or on their waist. Within no time, Das used his creativity and came up with a pot carrier which eased the burden on the women. He also made a wheeled trolley which made the work easier.
For the children, Das has developed an interactive panel to enable them to learn new letters and words associated with it. This idea was implemented to action in a bid to make learning interactive which eventually increases the joy and willingness to learn. A few of his other works include a low-cost paddy dryer, a color-coded thermometer, a device to collect mahua flowers from the ground, a machine for differentiating artificially and naturally ripened fruits, multiple harvesters, etc.
There is more to Das's story. While most of us were confined to our home during the pandemic and were trying to unleash a few creative methods, Dipankar is not to be left behind. He tried his hand on a few innovative methods like automatic hand sanitizer with voice and automatic solar hand wash.
With the support of Gujarat Grassroots Innovation Augmentation (GIAN), Das plans to come up with more innovative methods which shall help the Indian farmers in the long run. "I am working on a few modifications for the existing models so that it can be launched in the market," said Das who gives seminars and encourages the student community to concentrate in the field of Innovation and sensitises them on the government sponsored schemes for innovation from the school level.
Stating that he is penning a book on Innovations, Das said, "I wish to come up with more economical and innovative solutions to solve various issues of society. I want to see my parents happy and to excel in my field."
"I am learning coding, machine learning and to produce smartphone applications so that I can integrate the two sciences. My dream is to open small innovation centers across the country which will serve as a platform for the students, parents and senior citizens to explore new innovative ideas and sensitise the young generation through seminars on latest innovations," concluded the talented boy who plans to introduce a novel method to curb stubble burning, a major cause towards environment pollution.
Important : If you are making an impact in the world, Please send us your story at : manoj@sociostory.in and we will try to cover you.