Unleashing the power of knowledge, ANK India seeks to achieve a better tomorrow through the medium of education
Dec. 23, 2020, 11:21 p.m.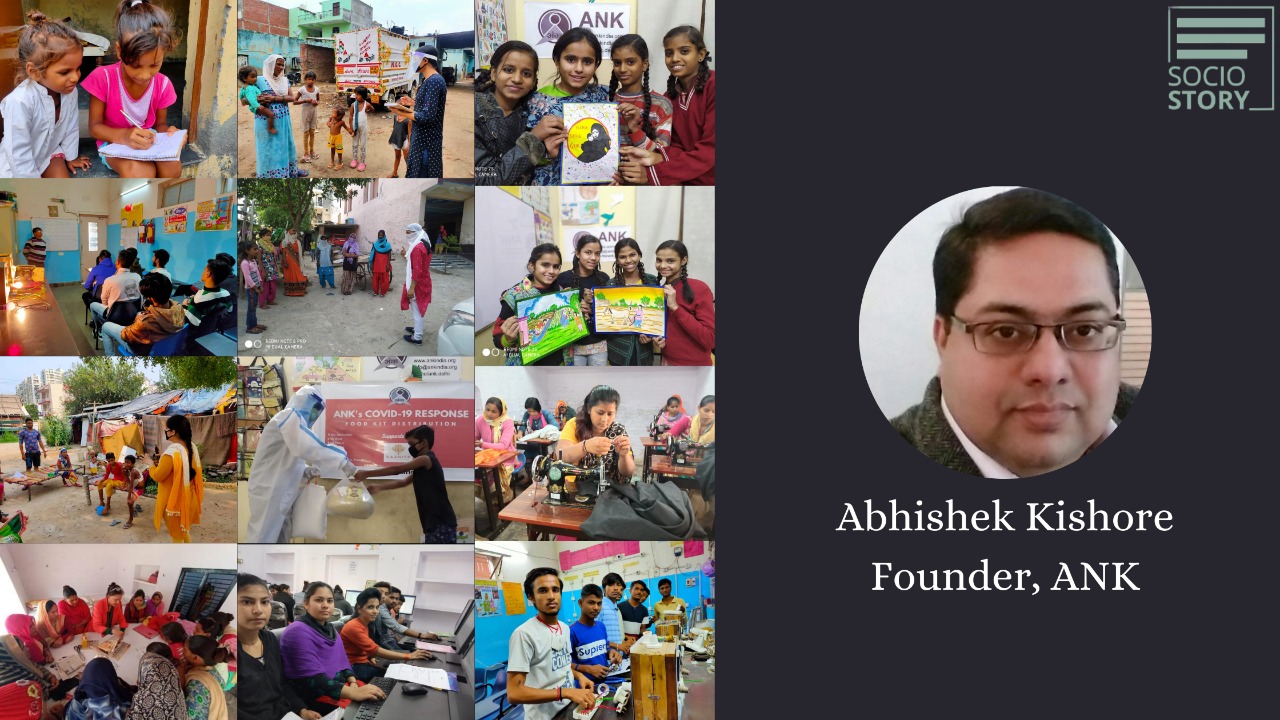 By:Reshma Jain
Life was not easy for Soumya since her childhood. Being the eldest girl child of the family, she was expected to take care of her younger siblings while her parents went out to work. It was in 2016 when 12-year-old Soumya was brought to Maidan Garhi from her hometown (Bihar), due to an unbearable financial crisis. Her parents decided to migrate to Delhi with a hope of getting work there, but in the new city, life took a turn for Soumya. Due to migration from one state to another, one of Soumya's dreams of pursuing formal education was broken down. She was forced to stop her schooling.
Now Soumya had accepted her life the way it was going and had convinced herself that she would not be able to go to school due to the financial condition of her family. But whenever she met children who were going to school, she wished for the day when she would also be able to go to school.
Her wish came true when one of ANK's educators, during a community mobilization, counselled Soumya and her parents and enrolled her at their learning centre. In class five, she stood first. Today, Soumya is one of the brightest students at ANK's learning centre and an all-rounder in co-curricular activities. Soumya is working hard and looking forward to accomplishing her dream of being a prominent shooter.
They say if you make the world better for kids, you make it better for everyone. With this in mind, ANK (meaning 'digit' in english), a non-profit organisation was set up in 2004. ANK was established by like-minded people to provide education to the underprivileged children, to build better livelihood opportunities for the rural and underprivileged urban youth, to enrich quality health services for adolescent girls and women.
The thought process behind ANK is that quality education is the only medium that can improve the living standards of the poor people. ANK believes that education is the only weapon to fight poverty and truly empower the children who will be the face of India tomorrow.
Within 4-5 years, ANK started gaining recognition and that was when Abhishek Kishore, Founder of ANK decided that it was time to make this a professionally managed organisation. They expanded their programs to include livelihood and skill development for youth, sports training for the children, as well as quality health services for women and girls.
Starting with providing education to underprivileged kids in a small area to expanding their centres across Delhi NCR. Kishore said, "Our main idea behind the establishment of this organization was and still is a vision where no child remains deprived of education, goes to school and is provided with proper healthcare and shelter. Our idea is to work as a catalyst in bringing sustainable change in the lives of underprivileged children, youth and women, with a life-cycle approach of development, to enable the civil society across the world to engage proactively in the change process," stated Kishore (43 years) adding that their work was recognised and awarded the "Best NGO Contribution to Education of Underprivileged Children in Delhi NCR" from UN Ambassador and Bollywood Actress Dia Mirza last year.
Sharing that the areas they started working were in the outskirts of the cities where people never saw light of education, Kishore added, "90% of these people come from abusive, illiterate and uncivilized backgrounds. Hence, it requires a lot of effort to nurture them with values and morals in the first place. Our team in the field teach them from the basics and the dedication bears colour when we see the development in them. Across all our centres, we have proper infrastructure that is required for children to get proper education. We have the scheduled castes, tribes, backward castes, minorities and other social groups among the beneficiaries we work for."
"Our future plan is to reach out to more and more numbers of beneficiaries so that we can witness a considerable change among the people living in the marginalised areas. We look forward to working in the interiors and getting into places where they are still lacking behind in terms of education and awareness, so that they can live a life with respect, identity and dignity as equal citizens of the country."
The impact that has been created through the various projects over the years are:
More than 15,000 underprivileged children have benefited through learning programs conducted by ANK.
More than 4,500 youth have been provided with vocational training and 83% have achieved placements in different companies.
Around 3,750 underprivileged families have been benefited through health care programs.
Important : If you are making an impact in the world, Please send us your story at : manoj@sociostory.in and we will try to cover you.