Unlocking the potential of social entrepreneurs, ACT aims at bringing about a positive impact
Sept. 20, 2022, 2:50 p.m.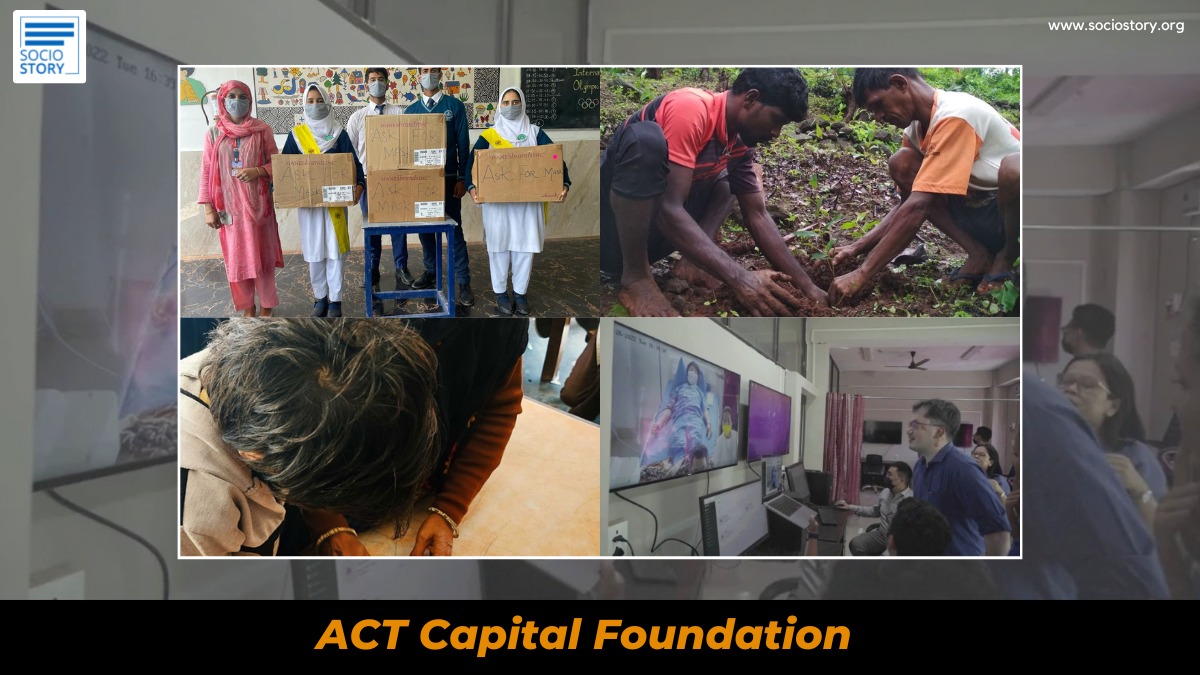 By: Reshma Jain
In 2020, as the COVID-19 pandemic wreaked havoc on lives and livelihoods, India grappled with the worst humanitarian crisis the world had ever seen. That's when a group of people, from different walks of life, decided to come together and support the public healthcare system in managing the crisis in every possible way.
That was when ACT was born as Action Covid Taskforce – a collective of venture capitalists, tech entrepreneurs and social impact leaders who pooled their strengths to raise funds and deploy resources wherever needed. Actioning prevention protocols, providing oxygen concentrators, pioneering tele-ICU services, driving vaccinations & enabling mental health counselling – they stopped at nothing to deliver whatever the country critically needed during the COVID 1st and 2nd waves.
As more individuals joined the collective as donors, volunteers, advisors, partners and full-time employees – moving mountains by sheer force of will and the desire to serve – the idea of channeling the momentum towards other critical areas of focus began to germinate.
It has become infinitely clear to ACT that social entrepreneurship has the potential of unlocking social impact at scale - that founders who build successful businesses can also build the foundations for a better world and leaders who create great shareholder value also have the empathy to create greater shared value.
But given how complex social issues are, there was also a growing realization of the fact that such problems cannot be tackled in isolation; it needs collective action from an entire cast of characters - social entrepreneurs, foundations, start-up founders, donors, NGOs, and policy makers alike. And so, they have channelled their inherent bias for action and evolved to become a non-profit venture philanthropy platform - one that actively focuses on bringing such stakeholders together and leverages their resources & expertise towards the common goal.
Alankrita, Director, Brand and Communications, ACT, said, "At our core, we're a philanthropic grant maker - our grants are given as seed capital to incubate and accelerate capital efficient innovations that have demonstrated ability to address identified social need gaps at scale. The idea is to support social entrepreneurs who are pioneering high-quality solutions to social problems that are relevant, accessible and affordable." She added,"In addition to providing funding, we work with our grantees on their strategy as well as operations and help them harness the strength of the ACT collective to access the best-in-class business mentorship the industry has to offer."
Sharing insights on the 4 verticals, Alankrita shared that ACT For Education, ACT For Health, ACT For Environment & ACT For Women are the current focus of the team.
ACT For Education: It aims to enable the bottom three quartiles of India's population to learn at home by harnessing the power of affordable, accessible and high-quality edtech interventions. Aakanksha Gulati, Director, ACT Grants, says that if we're clear that the purpose of our education system is to create individuals who can navigate the challenges and complexities of today's world, then we need to double down on 21st century skills that help our youth focus on:
1. developing self: we need to create learners who have strong critical thinking, problem solving skills, grit and an ability to reflect and learn constantly 2. working with others: our youth need to be able to collaborate and communicate with a diverse set of individuals and teams 3. navigating the world: we need to develop a sense of compassion and care, and enable our future generations to work collectively to address our most complex issues as a society,
ACT For Health: It aims to improve access to quality and affordable healthcare in the areas of primary care, diabetes, cancer, tuberculosis and mental health by supporting digital/MedTech innovations in these spaces. Neetha Joy, Director, ACT For Health, opines, "ACT Healthcare believes in the power of private innovations and start-ups to create impact with a force multiplier effect in public health environments. We enable startups to achieve this with funding, mentorship and partnership with relevant stakeholders. We have prioritised Cancer, TB, mental wellness and Diabetes as focus areas among disease verticals and are also funding platform solutions in telemedicine, capacity building and payment innovations.
ACT For Environment: It aims to catalyse climate action through innovations to achieve net zero carbon emissions, water security and land rejuvenation.
"We believe that an entrepreneurial mindset has the power to solve societal problems at scale and that technology and innovation can drive sustainable social change. And so, we treat each grant as an investment in India's future and thus, focus on ensuring that it yields a return by enabling our portfolio orgs meaningfully shift life outcomes," shared Alankrita.
Speaking further on the impact created, the team shared that ACT For Education grantee Rocket Learning has been on the Forbes 30 Under 30 list as well as the Bloomberg New Economy Catalyst list & bagged the Arnhold Rainer Fellowship to scale their edtech solution and help more children across India bridge the learning gap. ACT For Health grantee iWill has won the Commonwealth Digital Health award for its affordable, evidence-based mental health platform that has deeply impacted the lives of the economically disadvantaged.
When it comes to economic participation of women; India ranks at the bottom. According to the 2022 World Economic Forum Gender Gap Index, India globally ranks in the bottom 5 on women's economic participation and opportunity. Increasing women's labour force participation and gender equity could add $700+ billion to India's GDP by 2025.
ACT For Women, is just gearing up to support women's workforce participation & drive best practices on gender inclusivity that are vital to economic growth & prosperity. In partnership with Circle In (an organisation under The Convergence Foundation), a State Of The Sector Report on women's employment across levels in the start-up ecosystem will be initiated to understand enablers & disablers as well as emerging best practices which can be adopted industry wide. This report will be released on 8th March, 2023 and pave the way for piloting & supporting innovative interventions that can help women enter and remain in the workforce.
"And we're passionate about creating collaborative programs, like Mission Brighter Bharat or Tech Advisors for Social Change, that can strengthen, scale and accelerate the impact created by our grantees as well as the sector at large," concluded Alankrita.