Upcycling waste plastic using Charkha and handloom with a tinge of creativity
July 8, 2021, 9:12 p.m.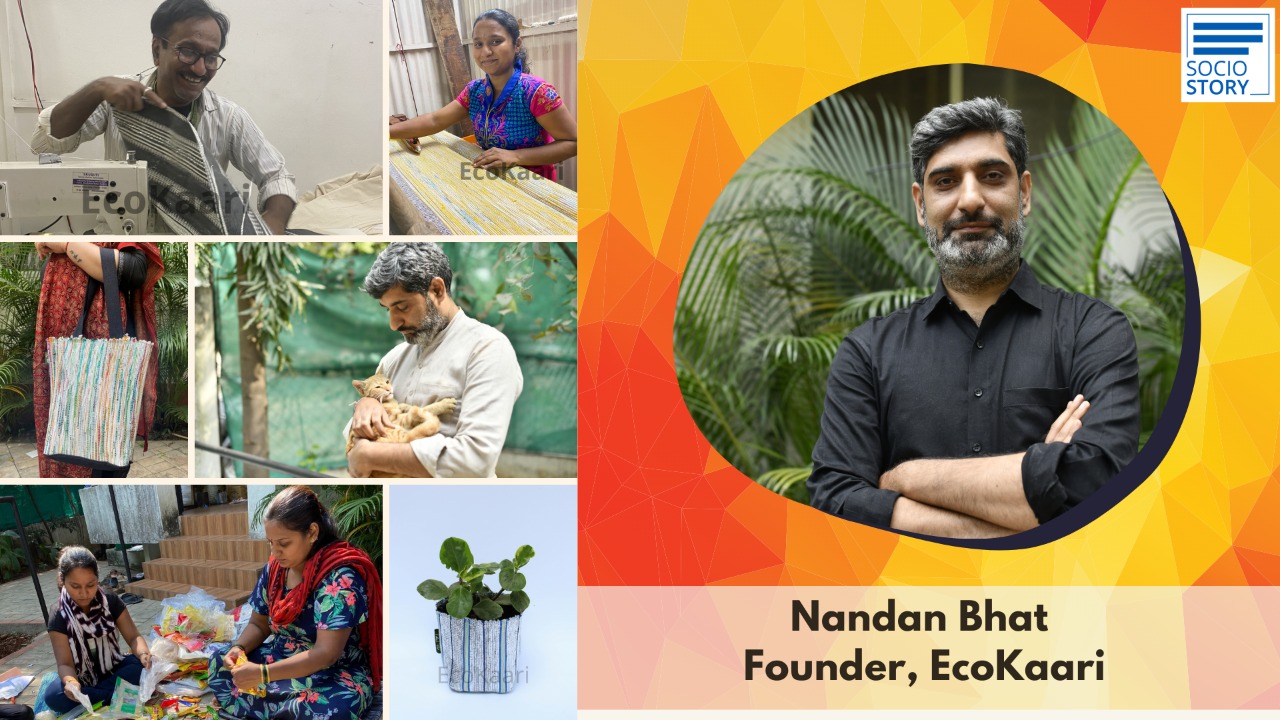 By:Reshma Jain
When Nandan Bhat's family arrived in Jammu, they had no place to go. It was that period of time when there was an insurgency in Kashmir which uprooted the lives of many. Hailing from Baramulla in Kashmir, Bhat's family migrated to Jammu due to the insurgency. His family was on the road for some days taking shelter under a tree in Jammu before they got one room in a nearby school.
After that, the government arranged migrant camps in different places, and Bhat's family (comprising 11 people) got one tent in Purkhoo migrant camp. Survival was difficult as they had lost their business of growing and selling apples in their orchids. Since earning was meagre, every single thing/commodity was utilized wisely. Everyone in the family started to reuse a lot of things as well as upcycle a few things. From clothes to school books, everything was passed on from one kid to another. Bhat was around 10-years-old then and little did he know that his observation on 'Reuse' and 'Upcycle' would lead to the formation of a social enterprise.
After his primary education from Jammu, Bhat shifted to Maharashtra for his higher education. After completing his education, he worked for a decade in various corporations before he started his entrepreneurial journey. Being an avid trekker, Nandan was disheartened to notice single-use plastic wrappers dumped by citizens and tourists on the wayside which spoiled the scenic beauty. "Waste pickers pick up plastic bottles that they sell for some money. Wrappers earn them nothing due to their weight-volume ratio. So, I thought, let's do something about such plastic which no one recycles," shared 40-year-old Bhat.
This thought led to the founding of EcoKaari which upcycles discarded non-biodegradable and difficult-to-recycle plastic bags, grocery bags, multi-layered wrappers of cookies, chips, gifts wrappers, old audio, and video cassette tapes. Speaking on the process of upcycling these waste products, Bhat said, "The waste plastic is first segregated, washed, sanitized, and then sun-dried naturally. After this, they segregate the plastic into different colours and then it is manually cut with just a pair of scissors. Then it is rolled on a Charkha (spindle) and woven on a Handloom. EcoKaari then designs, stitches, and checks the quality manually. EcoKaari's Upcycled-Handcrafted fabrics are used to make daily utility items such as handbags and fashion accessories, home décor, school, and office products."
The handloom industry, which was India's pride, is losing its battle to power looms as they can produce high volumes at a fraction of the cost. The revival of the Indian heritage of making fabrics using charkha and handlooms doesn't use any energy source, thus creating livelihood opportunities for individuals from rural areas. "At present, we are supporting 15 artisans who belong to a humble background. With EcoKaari's support, our artisans are financially independent and support either their education or family or both. We are also creating alternative earning channels for waste pickers by purchasing waste plastic from them, which gets them nothing compared to other high selling waste such as bottles, cardboard boxes, etc," further added Bhat.
Stating that the impact is measured by the number of plastic bags that are upcycled and by the number of livelihoods they have been able to generate, Bhat said that they have now diverted 15 lakh plastic bags from going into waste streams and have created 22 livelihoods. Currently, the team at EcoKaari are upcycling the waste plastic using an age-old craft of charkha and handloom. They are also in the process of R&D of incorporating tyre tubes and other materials into sustainable uses.
As per statistics, around 9.4 million tonnes of plastic are generated annually in India, and 100 million marine animals die each year, globally, as a result of plastic pollution. "We, as an organization, are focusing on creating a large number of livelihoods by replicating our project in some other cities across India. By creating a large pool of artisans, we can address upcycling waste in large numbers also," concluded Bhat who is an innovator.
Through small changes in our lives, we can conserve and protect the environment for a better world for ourselves, our family, our community, and all living things now and forever.
Composting of wet waste.
When going shopping, make it a habit to carry your eco-bags.
Switch to eco-friendly alternatives like bamboo toothbrushes, steel cleaners, shampoo bars etc
Join as many tree planting trips, beaches or rivers and street cleaning activities as you can.
If possible, try carpooling to work and errands. Reduce emissions from cars by walking or cycling. Use public transport when you can, for everyday travel.
Biodegradable/organic cleaners for home and office
Waste segregation is crucial. Have three bins at home/office; wet, dry and hazardous.
Carry your water bottles, cutlery, utensils while stepping out of the home. Especially during restaurant trips (takeaways).