Vrooming her way from Italy to India to fight stereotypes
Oct. 17, 2022, 12:58 p.m.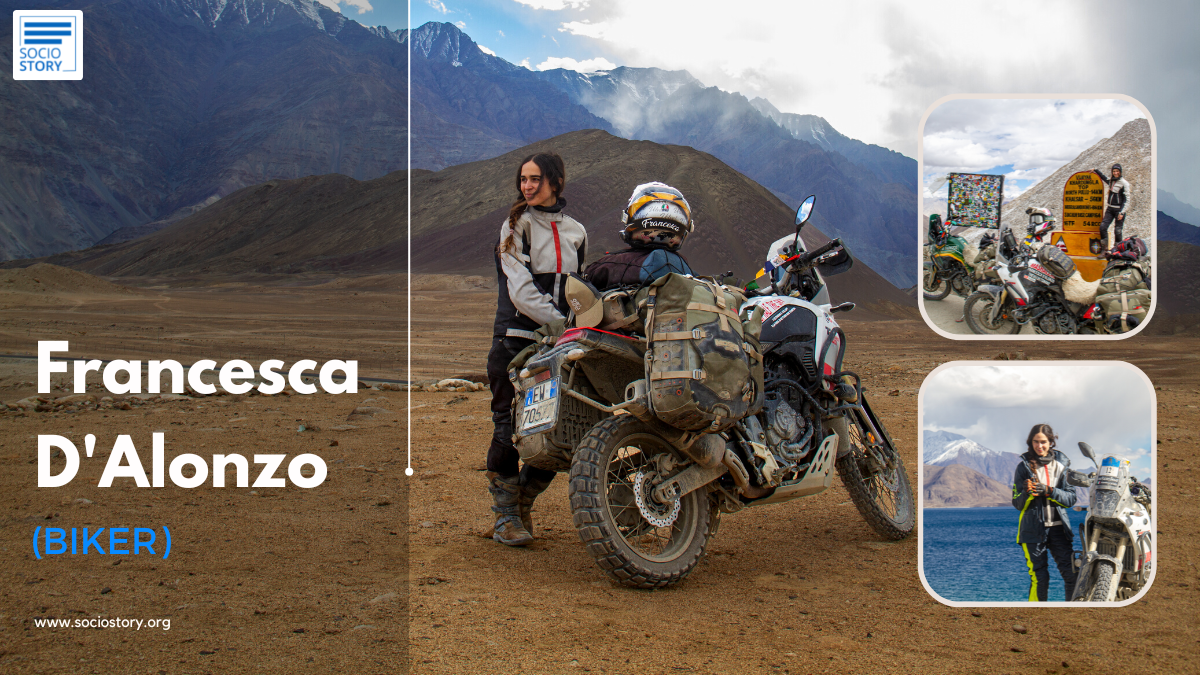 By: Reshma Jain
An offroad trip from Italy to the deserts of Iran and the peaks of Himalaya in India, vrooming on her Yamaha Ténéré 700, covering a distance of approx. 17,000 km, I was thrilled by her courage and adventure. 34-year-old biker Francesca D'Alonzo's in a conversation with Socio Story shares her journey during her visit to India. A journey following partly the TET (Trans Euro Trail) and largely on untrodden roads and off the common routes.
"I grew up without having ridden a motorcycle. 'It is not a girl thing,' my family said. However, nothing could deter my passion. The first time I rode a motorbike, I said to myself, 'with these two wheels I will go far'. I got my license later and I decided to build a professional future around it which would involve the travel dimension that I love," said the young biker who is a serial experimenter in skydiving, canyoning, surfing, paragliding, and downhill skiing.
Francesca saw how few places were reserved for women on two wheels when she started making plans to travel by motorcycle. This was especially true in Italy. "I then reflected, 'Okay, I want a change.' I'm going to take action on my own!", she said. She began a project about women in a society where large motorcycles are still seen as belonging to men. In fact, women are more often connected with scooters than off-road and enduro motorbikes in Italy and India. She sent Yamaha Motor Italy her projects, and they loved them and made her their ambassador.
Having worked one year in London as financial analyst, Francesca grew up studying ballet and modern dance, performing in European theatres. She backpacked to Southeast Asia alone and hitchhiked in Europe. Francesca is currently in the process of pursuing a second degree in Psychology, the first being in Law in Bologna, Italy.
The world of motorcycling, like so many other sectors, is still dominated by the male gender. She strongly wishes to fight against stereotypes, build a culture that goes beyond appearance and gender. She wants to offer varied perspectives to look at things, encourage and inspire people to step out of their comfort zone and pursue their dreams. The motorbike is the medium she has chosen to tell the story of how there is no gender that can stand in the way of such passion and care for what is important and what makes us happy to do it.
"The dimension of travel, in my view, is not only about the discovery of places, cultures, and stories but also a self-discovery, challenge and testing, letting go of what is not needed, and looking with curiosity at the road ahead. The idea of overlanding from Italy, through the Balkans, Turkey, Iran, and Pakistan, crossing the border, and reaching India was a big dream come true," she said.
She further said, "My idea of India was a complex, colourful mosaic of diverse cultures, gastronomy, minorities, ancient traditions, rich artistic heritage, and breath-taking landscapes. I love and I'm fascinated by the complexity of the world, and I was sure that India, with its extraordinary diversity scattered over an immense territory, would enrich me."
The motorcycle is the medium she chose to tell the story of how women's empowerment can be extraordinarily helped by learning to ride a motorcycle. And this is precisely why we need more stories of women protagonists in the world of two wheels; whether we are talking about racing, long-distance travel or the daily drive.
Aside from being the symbol of freedom, motorcycling also makes you stronger as a person because it requires commitment, dealing with and overcoming your fears, it helps build self-confidence, opens you up to a world of previously unexplored possibilities, and in doing so, you are having the time of your life!
"I particularly love the stories of those women who dreamed big and followed their uniqueness. These are the stories that help girls imagine that they can become something other than what has always been told to them as possible. Isn't this hope that propels us forward after all? And hope to me is the possibility of change," stated the young adventurer.
She also added that riding a motorbike is like living every meter of the journey and this sensation of being inside the world around me with its smell, perfume, meetings, and views transforms what represents for a lot of people an unpleasing (and it is sometimes indeed!) type of traveling to one of the most sensational ones. "I always thought that the spirit of traveling by motorbike is no pain no gain. And the gain is always immense," she said, adding that her stories are helpful for many men, no matter their age, who are sharing the same fears, dreams, desires, and family obligations sometimes, as women.
In her concluding lines, Francesca said, "Practice and be passionate about a sport, it will teach you not to be afraid of falls. It will sow the seeds of discipline, commitment, sacrifice and perseverance. Sports make you strong, healthy, and self-aware, constantly evolving. Play sports, fall, take time to assimilate the blow and try again. And so do for every project that is close to your heart. It is our responsibility to create the life that makes us happy."
"We probably all doubt our skills, our strength, our intellect, occasionally. Sometimes, the gap between where we are and where we want to be, seems too wide. So, we don't take the next natural step. But there's no other way to progress than to take the next step. Whether it's a small one or a giant leap forward, just take that step. 'When you take a step, we all move'. Well, that step you take may be powerful not only for you but for many more," she said.