'Walk on Wheels'- An initiative to bring out the 'ability' in 'disability'.
Dec. 3, 2020, 5:33 p.m.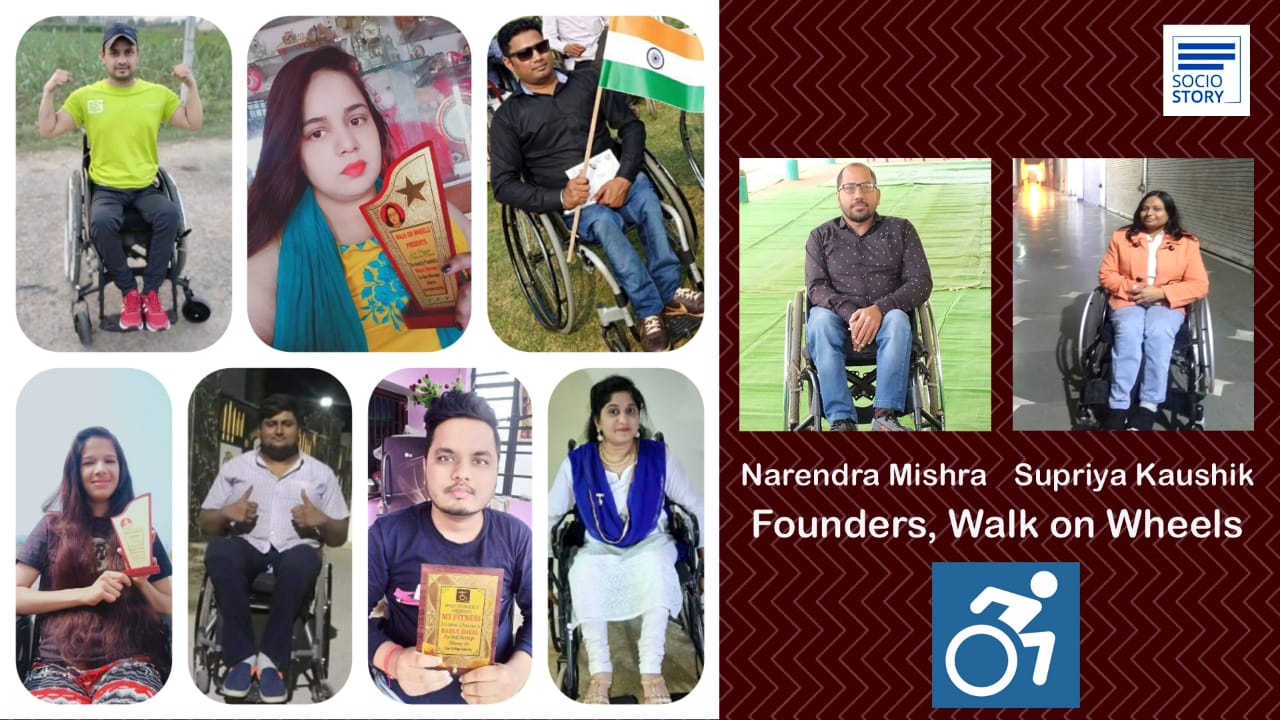 By:Reshma Jain
While most of us remained locked at our homes, reeling under the crisis forced upon by the pandemic, the ones who tested positive for Covid were recommended to isolate, quarantine themselves and boost their immunity. However, there were a few others who were 'isolated'- not in terms of Covid but in terms of life, 'quarantined' for months together and hardly anyone to check after their 'immunity'. Well, 'the few others' here imply 'the disabled people'- a section of people often neglected.
When I heard about a few instances on the way the disabled people were being treated, I was deeply saddened. Not because they are helpless but because it is, we who do not see their 'ability' in disability. In a bid to spread a message that disability is just a matter of perception, Socio Story brings to you an inspiring story of 'Walk on Wheels' (WOW) as December 3 marks the 'International day of persons with disabilities'. The day aims to promote an understanding of disability issues and mobilize support for the dignity, rights and well-being of persons with disabilities.
Walk on Wheels was founded by the duo Supriya Kaushik and Narendra Mishra who believed in themselves and did not let disability deter their grit and determination. Bound by wheelchair from a young age, Kaushik said that the lockdown had not only made their daily life miserable but also led to panic, anxiety, fear and depression. "Although all of us were locked at home, the impact was higher among people with disabilities. With no outdoor activities, the stress levels gradually increased and we felt trapped. I felt a void and there was a need to fill it by taking a step forward," shared Kaushik who hails from Delhi.
In a bid to bring in a ray of hope amidst all the negativity around, Walk on Wheels which was founded in March started to organise virtual events to engage disabled people in some kind of activities.
A 'virtual marathon' was conducted in July and more than 100 wheelchair users joined the initiative. PWDs (Persons with Disabilities) from different parts of India including Jammu & Kashmir, Delhi, Jharkhand participated in the marathon. "Taking all preventive measures, the participants were asked to share screenshots of their activity and videos comprising their run data. The response was huge and seeing the happiness on their faces was a satisfying experience," said Mishra who was attacked by polio and was left paralysed when he was a few months old.
"After the successful launch of virtual marathon, it motivated us to take up other initiatives. 'Ek Pegam Desh ke naam' was organised on the occasion of Independence Day this year. We encouraged participants (including the ones who are visually impaired) to give their message for the Nation. More than 200 participants gave in their entries and winners were awarded by WOW," added Mishra (37 years) who is now a government school teacher based in Chhattisgarh.
"The third activity called 'My Fitness' was organised by WOW recently. Physically challenged people were called upon to share their fitness tips. Among the entries, there were a few who sent videos on wheelchair push-ups, gym exercises, zumba, swimming etc", shared Kaushik who was left paralysed after a spinal cord injury when she was 17-years-old.
Stating that the duo wishes to work on developing physical and mental health of PWDs, Kaushik, said, "Disability is not the issue, inaccessibility is! When I go to a restaurant, a shopping mall or to any other public spaces, I see my friends entering and having access to all spaces. But for people like us, the pain of being disabled is felt. If public places and other spaces are made accessible, maybe we can also lead our life normally without being dependent on others."
Sharing one of her own experiences, Kaushik said that she felt awkward when she visited a restaurant and was lifted by four people to access the first floor. "Although they helped me by lifting my wheelchair, I felt awkward. So, I requested the authorities through a feedback form to arrange for a ramp and to my surprise, during my next visit, I was able to access the restaurant. Yes, all by my own," smiled and said Kaushik.
Kaushik and Mishra opine that it is individual responsibility to bring to the notice of the concerned authorities when there is inaccessibility. Although a few places are now wheelchair-friendly, there is a need to make other spaces too. "Whenever you go and find that the place is not accessible, make a small video of that place and escalate it to the concerned," added the duo concluding that they are planning to tie up with few companies which can provide job to differently-abled.
Important : If you are making an impact in the world, Please send us your story at : manoj@sociostory.in and we will try to cover you.