'Waste is not just waste, it is a potential resource', believes Aruna Sekhar who is working on waste management
Jan. 12, 2022, 5:38 p.m.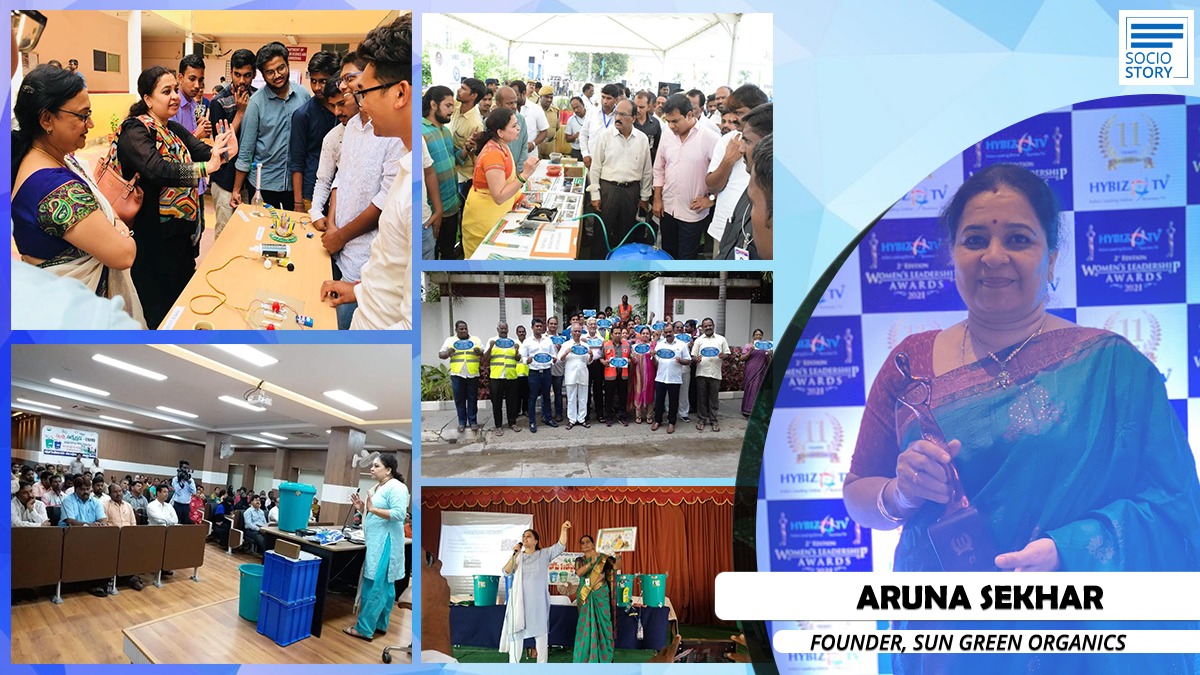 By:Reshma Jain
Did you know that a whopping 62 million tonnes of garbage is produced every year by India's urban population of 429 million citizens? Don't we think that waste management is an important element of environmental protection? Our callous behaviour in the management of waste has led to the pollution of the atmosphere, soil, water and the list goes on. Moreover, this irresponsible attitude of ours has led to severe health issues as well an ecological imbalance.
Disturbed by the plight of the environment, Aruna Sekhar, a social activist took the lead with an aim to spread awareness and create a greener and cleaner planet. So how did it all begin? In a conversation with Socio Story, Aruna based in Hyderabad said that she has been passionate about plants, environment and nature since her childhood. However, until her education and the years that followed, she could not contribute much due to the other commitments. But when she decided to do something for herself, she chased her passion and took the opportunity to connect with it again while tackling the current issues of waste management and segregation.
Back in 2006, Aruna was approached by a Waste Management Company to be their channel partner for the state. She was instantly taken by the idea of source segregation and treatment of organic waste to generate compost. She visited their plant, learnt about the technology involved and started her work by approaching people in various sectors. "The response to the idea was great, however no one came forward to implement the same. I had my breakthrough after two years of continuous visits. I installed the first machine in Wipro, the start of this wonderful journey," shared Aruna.
Aruna who has a PG in Computer applications from NIIT further said, "In 2012, I established 'Sun Green Organics' with the vision of spreading awareness and creating a greener planet. The name itself represents SUN and GREEN, the two sources of life for this planet. I later diversified my work to cover different levels such as home, community, and large-scale composting. I provide solutions for corporations as a business, while parallelly creating awareness and volunteering at various programs."
The Swachh Bharat initiative by the Government of India provided a much-needed boost in the impact journey of Aruna's initiatives. She was recognized by local municipalities and the government, which encouraged her to keep going. As part of Swachh Bharat, she worked with GHMC, specifically in educating the GHMC staff, commissioners, and sanitary staff about source segregation and home composting. Her volunteering efforts were key in making home composting popular and widespread across Telangana and Andhra Pradesh. She has interacted with people from various walks of life across the urban and rural regions and provided demonstrations to convey the method and benefits of composting. Aruna has conducted more than 1500 sessions all over the states of Telangana and AP, in educational institutions, government bodies, anganwadis, for MEMPA self-help groups, corporates, and residents.
Sharing the impact that has been brought through her work, Aruna who is happy to contribute towards development, shared, "Today, lakhs of households, residential colonies, and corporates are converting waste to manure. We are then connecting with farmers to encourage the use of this manure, creating a sustainable cycle. The real reward has been the response and appreciation from the people. They have adopted these methodologies of economical and easy composting."
Every effort counts in such causes. While Aruna has been making sincere attempts at creating sustainability, a marked impact can only be seen when every single citizen participates and enforces a change. It is the responsibility of every person living and breathing on this planet to think twice about their actions. The government can further help by bringing in policy changes to motivate action.
Composting can be started by using any bin or container already available. We need love for the planet, 2 bins, and some dry leaves to convert the organic waste to manure. For large-scale composting, we can start with digging pits or making use of different technologies such as organic waste converters, shredders, and biogas waste to energy.
This journey has just started, shared Aruna. There is still more ground to cover, more people to educate and this beautiful planet to save. I look forward to working with the government and putting together standard protocols for the implementation of source segregation.
"My journey has taught me that waste is not just waste, it is a potential resource. I urge today's youth to take one action a day to contribute to the betterment of mother Earth. There are huge opportunities in the field for those looking to make careers: organic waste to energy, inorganic waste recycling, e-waste recycling. It is all a matter of the right motive and the intent to take action that counts," concluded the environment enthusiast.