'WE HUB'- an exclusive incubator to support and foster women entrepreneurs
Aug. 27, 2021, 3:04 p.m.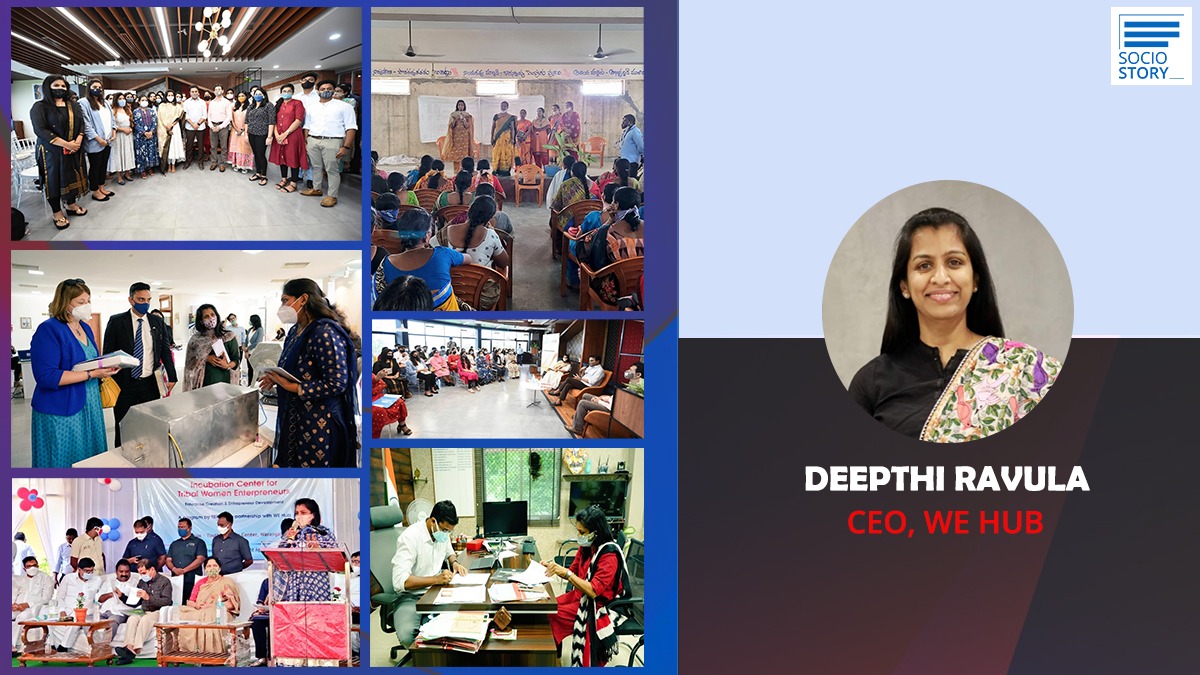 By:Reshma Jain
The pandemic has not only impacted industries and business but also created a havoc in the start-up ecosystem. As per data, nearly 20% of women-owned businesses have been wiped out. In such difficult times, WE Hub (Women Entrepreneurs Hub), being an exclusive incubator for women entrepreneurs focused on ensuring that their start-ups sustain.
WE Hub was in the forefront to guide the start-ups incubated with them on much needed organizational management and financial remodelling. Around 12 new virtual programs and an incubation centre for Tribal entrepreneurs was launched. The team at WE Hub further assisted the start-ups during the second wave of the pandemic by giving them access to market, finance and information relevant to their business development. Apart from this, a helpline was launched for women entrepreneurs, to help them with counselling or any other support needed on self-care and business continuity.
WE Hub is the first-of-its-kind and only state-run platform for women entrepreneurs by the Government of Telangana. WE Hub supports women entrepreneurs with innovative ideas, solutions and entities focusing on emerging areas in technology and allied sectors. It also supports under-explored/unexplored sectors, such as FMCG, retail, e-commerce, including the service sector. The mandate and goal of WE Hub are to eliminate financial and societal barriers for women and help them succeed in their enterprises.
Women entrepreneurs have navigated various obstacles such as structural and social barriers. In spite of many hurdles, women entrepreneurs have always managed to carve out space for themselves within India's business sector and as contributors to the economy. Stating that WE Hub has been executing its vision for enabling and empowering women entrepreneurs, Deepthi Ravula, CEO of WE Hub, stated, "From the time of inception to present date, we have 57 partners on-board, raised 55 crores of funding, and incubated 342 women-led start-ups, to build a culture of innovation and create impact in the ecosystem. Recently, 47 women entrepreneurs graduated from 4 cohorts of preincubation, incubation and acceleration programs. The graduated start-ups included sectors like Healthtech, Oceantech, Infratech, EdTech, Manufacturing etc."
Women in emerging and developing economies possess the ideas and ambition necessary to succeed as entrepreneurs but are inhibited by a variety of barriers. Furthermore, their economic independence may be hampered by lack of access to business skills, technology, and network connections, in addition to lack of finance.
However, Deepthi who is an Electronics Engineer by profession and passion, explained, "Mentoring can help women-owned businesses by providing tips, guidance, and advice necessary to start and sustain a business. Mentoring enables entrepreneurs to access business skills, technology and networks that fit their business growth. Having a mentor gives women access to sounding boards and wider networks."
For instance, Fashion designer Shikha Verma Thuetheja (Founder of Studio Uniform start-up) is steadily making a mark on the entrepreneurial world by designing ethnic wear, formal office wear, metro rail uniforms, and medical apparel. Nagpur-based Shikha started her second office in Hyderabad and hoping for guidance on expansion plans, she got incubated at WE Hub in 2020. But the pandemic pushed her Studio S label to make a transition to medical clothing, to survive. WE Hub supported them in pivoting their business model and transforming it to meet the changing market needs as a result of COVID-19. The company had made masks, PPE kits, personalised doctors' scrub suits, PPE coveralls, disposable surgical gowns, face shields and gloves. Showing resilience and adapting to a changing world helped Shikha sail through tough times. Through WE Hub, she was felicitated for collaborating with self-help groups and ensuring tailors earned their daily wages even during lockdown.
"We launched an incubation centre in Warangal for Tribal Entrepreneurs and expanded our team in Ramagundam (tier-2 town). We have travelled over 15,000 kms in Telangana, digitally enabling 1,250 women across the state in less than 2 months. The goal is to help 500 women enterprises in grounding, scaling and work towards creating sustainable enterprises," shared Deepthi who joined the Government of Telangana as a Joint Director for Electronics in 2016, and has been appointed as CEO of WE Hub since inception in 2017.
She further added, "Our support to rural entrepreneurs has focused on changes made in business models including releasing new products or services, digital sales, and delivery channels, as well as reorienting supply chains, sales, and marketing."
As a Founding CEO of WE Hub, Deepthi has created the vision, mission and strategy which has seen WE Hub grow from working with 26 entrepreneurs in 2018 to incubating 189 Start-ups from 16 Cities in India and today provides support for over 3,427 women entrepreneurs. She has been working towards creating a work environment that is gender blind and to construct economic enablement as a tool for empowerment.
"In the coming months, we are planning to start our international start-up exchange programs, build a stronger Venture Capital (VC) ecosystem so more women entrepreneurs can benefit from access to funding. Due to building this very conducive ecosystem, women entrepreneurs across sectors can have greater access to funding, technical support and mentoring along with increased opportunities for growth domestically and to international markets. We see ourselves moving into policy advising and strategic consulting to any entity which needs our support," concluded Deepthi.