Wheeling in Digital Literacy, the trio embark on a journey to crowdfund a project for rural children
Sept. 22, 2021, 4:32 p.m.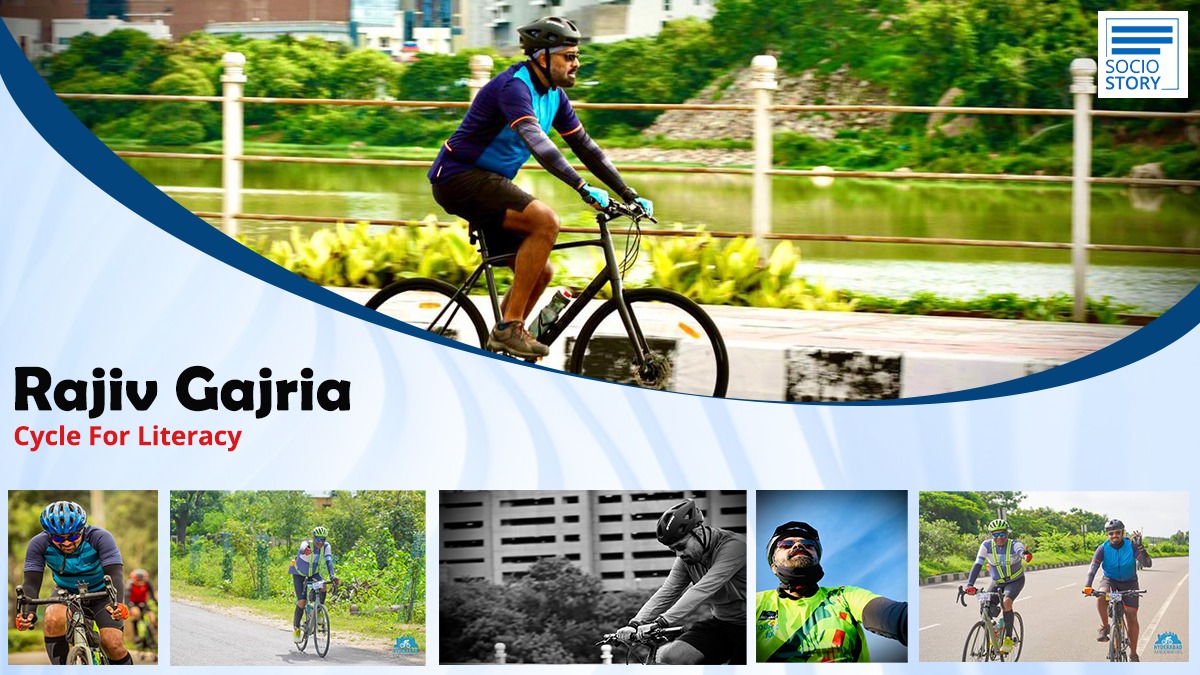 By:Reshma Jain
Three cyclists- 6 days- 600 km- 6,500 metres elevation- Coimbatore to Kochi and Wheeling in Digital Literacy, here is the story of Rajiv Gajria, Hari Verma and Sanjeet Srivastava while they interact with Socio Story enroute Kerala. Sporting on a trek hybrid bike and interacting during a break at Thekkady, Rajiv shared that cycling was one of the getaway during the lockdowns. After having covered almost 8,000 km in the last 12 months, Rajiv along with his friends wanted to embark on a ride with purpose.
During their regular rides in and around Hyderabad, the cycling enthusiasts observed the children in rural areas and how they were deprived of education due to the restrictions imposed in wake of the pandemic. Although most of the kids were enthusiastic to learn new things and had high aspirations, they lacked access to resources and it was difficult to keep up with learning. That was when Rajiv realised that there is a need to fill this gap and with no second thought, the trio embarked on a ride to promote digital literacy among the underprivileged children.
Rajiv along with his friends and the India Literacy Project (ILP) supporters have teamed up with ILP to crowdfund a project. As per the plan, they have been traveling an arduous path traversing mountains and forests, covering a distance of 600 km with a cumulative elevation gain of 6,500 metres from Coimbatore to Kochi.
The project 'Wheeling in Digital Literacy' aims to transform the lives of marginalized students by enabling them to be digitally literate. These students are enrolled in govt. schools in Telangana with limited access to computers and technology. In this age of technology and a labour market filled with jobs requiring extensive knowledge of software, these students are at a great disadvantage.
After their schooling years, they struggle to get a job requiring functional knowledge of computers, and increasingly almost all jobs in the coming years will require working with computers. The classes planned by ILP will remedy the situation by including concepts such as basic programming, productivity tools, video editing, data entry and analysis etc.
The cost per child for the computer classes is ₹4000 and the campaign aims to raise ₹7.5 lakhs or more to organize classes for 180 or more students. "We are half-way through by covering a distance of 250 km and 4,500 metres elevation. The journey that began on September 19 and will continue till September 25. We first plan to cater to the needs of the children in Shankarpalli mandal and then depending on the revenue, the other areas shall be considered," said Rajiv who works in the IT industry.
Stating that cycling has always been an interest but it became a passion during the Covid lockdowns, 44-year-old Rajiv who commutes to his office on a cycle, said, "With no traffic or pollution and great weather, it was one of the best ways to explore my city- Hyderabad. With 7,700 km behind me in the last 12 months, I was prepared to venture out to test my endurance. This is a 600 km ride from Coimbatore to Kochi crossing mountains, forests, valleys, backwaters and much more. Tying this to a worthy cause will make it all the more special. I've been supporting ILP for over 10 years and have been an advocate of the great work they do to promote literacy for children in India."