Wheels of Fortune and Wings of Freedom, NeoMotion helps the disabled to become independent
Sept. 21, 2022, 4:04 p.m.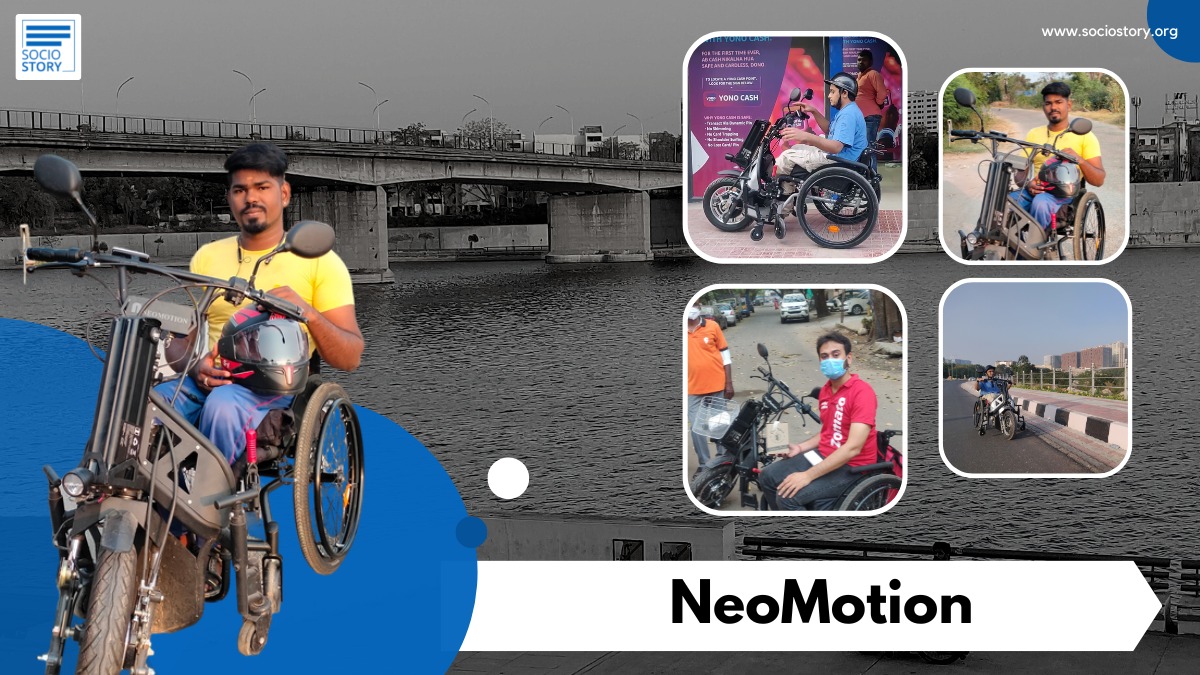 By: Reshma Jain
Hailing from Thrissur in Kerala, Salim PA had injured his spinal cord while working at a construction site, making him paralyzed from the waist down. However, life cannot stop and he had to look out for other options to earn his livelihood. Salim now sells Lottery tickets using the 'NeoBolt' and is able to meet his friends and socialize on a regular basis. "The NeoBolt has helped me dream bigger", he says.
Hailing from Mumbai in Maharashtra, Niranjan Jadhav lost both his legs in a train accident. However, neither did it deter his spirit nor did he lose his confidence. While using the 'NeoFly', he is currently working as an Executive in a Milk Cooperative and lives with his mother in Goregaon, Mumbai. "Apart from comfort, the NeoFly has reduced my daily conveyance expenditures to a negligible amount," he says.
These are just a few examples of many from the creations of a few young entrepreneurs who believed in the ability of the disabled and to make them independent. The idea translated into NeoMotion Assistive Solutions Pvt Ltd which is an IIT Madras incubated start-up and creates life transformative products for the physically challenged and the elderly.
NeoFly is a personalized wheelchair designed for good health, energy efficiency, compactness, and style. While NeoBolt is an add-on to convert NeoFly into a safe roadworthy vehicle to enable wheelchair users to go out, explore life, get educated, and employed. The customized rugged vehicle can cruise at 25 km an hour. It takes 4 hours to charge and rides 25 km on a single charge.
Wheelchair users want to live a normal life - A sound education, a job and a happy family. But because of challenges in mobility, they are unable to do so. A NeoFly & NeoBolt has filled the existing gaps and has helped build a sense of independence and productivity.
"When we met 200+ wheelchair users in 2015, it prompted us to work in this sector. The industry required indigenous solutions so that wheelchair users could live a life of dignity and purpose. Many users told us that they want to work and not be dependent on others. When so many people tell you the same thing, it is bound to motivate you to take an initiative," shared Siddarth Daga, co-founder of NeoMotion.
He also said that like-minded people can do wonders if their energy and potential is channelised for a greater purpose. The others in the team are; Dr Sujatha Srinivasan, Co-Founder and Adviser, a Professor in the Department of Mechanical Engineering at IIT Madras and has been working in the assistive devices space for over 25 years now, in industry and as an academic researcher. Swostik Sourav Dash, Co-Founder and CEO, graduated in 2013 from IIT Madras to join ITC Ltd. The Design, Engineering & New Products is led by Ashish Mohan Sharma (B.Tech, M.Tech - IIT Madras).
Speaking further, Daga who is a M Tech grad from IIT Madras said, "NeoMotion has impacted the lives of around 2000+ users across 32 states & UTs in India since its inception in 2016. NeoMotion has also executed CSR Projects with organizations like SBI Cards, TATA Boeing Aerospace Limited, L&T Technology Services, to provide NeoMotion products to the physically challenged and people from lower economic backgrounds.
While setting up production and market awareness were few of the challenges faced, Daga shared that their products are made with a 1. User-Centric design - understanding what the user wants and design accordingly 2. NeoFly - Custom made according to measurements, for great comfort, fitting and ergonomics 3. NeoBolt - Go anywhere, anytime, independently.
Accessible infrastructure is the need of the hour and the role of start-ups in accessibility for all would be to inculcate accessibility at design stage itself. It should become a part of the design framework, rather than making changes later so that every person can have independent last-mile access.
"The future plan is to impact 1 Lakh lives from 2025, design 15+ Products for the physically challenged and to promote Make-in-India to the world. True to the tagline of NeoMotion- 'Live Life to the Fullest', we wish to see an Atmanirbhar Bharat. Have patience and grit - stick to what you believe in, support is available, results will come," concluded Daga.