WHEN GODS DESCEND ON EARTH- COVID19 Heroes
April 27, 2020, 4:38 p.m.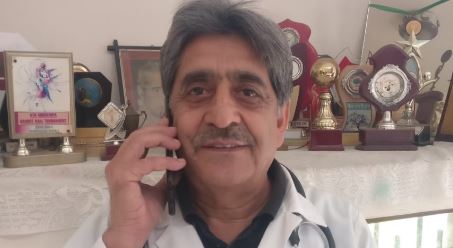 The COVID crisis is a testing time for people across the world. Despite the grave danger it presents, some noble people are committed to volunteer their skill, time and effort towards saving lives. They assure people that there is hope and positivity ahead. They relentlessly work at the ground level to help those in need.
Dr. Shashi Puri is one such frontline social changemaker of Punjab. While working directly with patients during this critical COVID crisis, Dr. Puri has gone beyond his professional service. In his own words, "It is unethical at this time of crisis to charge any patient for medical assistance or counselling; it is the time for us, as doctors, to serve humanity and society. In my professional career of over 40 years, I have never charged a patient for medical assistance or counselling." His commitment to his profession and to his own self motivates him to put his own life at stake in order to serve humanity.
The district of Hoshiarpur is one among many other places in India that comprises nearby villages. These villages are the places where the marginalised sections of society, for instance, the farmers, informal workers, and specially, the migrants from other states, have been the most deeply affected by the crisis. Because of the strict lockdown, they are unable to return to their native homes; The most vulnerable are the old people. Many of them were already patients of Dr. Shashi Puri, hence he is keenly aware of the hardships that have escalated for them.
Keeping all this in mind, he is extending in-person medical assistance to the poor and sick people. He has also launched a free telemedical service. He has been strongly appealing to Purhira, Gurdwara Jahura Sahib, Focal Point, Ramnagar, Peplawan SBI Bank to identify people, especially from the economically weak sections and slum clusters, and encourage them to contact him on his personal number + 91 94719 52469, or Whatsapp him, for medical advice. Patients are also encouraged to share any previous diagnosis or prescriptions to seek further medical assistance, so that any prior medical history, ongoing medicinal treatment, or any other related crucial information regarding the treatment which the patient is already undergoing, can be known prior to the medical support.
The noble-hearted doctor is specifically encouraging those who have been adversely affected by the Covid 19 crisis, to contact him from 1100 hrs – 1400 hrs, in case of any medical help, need and urgency. He assures patients that he and his team will extend their best efforts to help them.
Anyone in need of physical assistance can come to Puri Clinic to receive free medical advice. Dr. Puri also urges people to stay home and stay safe to remain healthy.
Changemakers like Dr. Puri infuse among people the spirit to overcome any natural or social challenge that comes their way.
Such frontline doctors deserve a huge round of applause from a grateful nation. A big thank you to the white coated God!