Who says you can't follow your passion along with job, Read here how Piyush Mishra is pursuing his dreams with job
March 21, 2020, 11:47 a.m.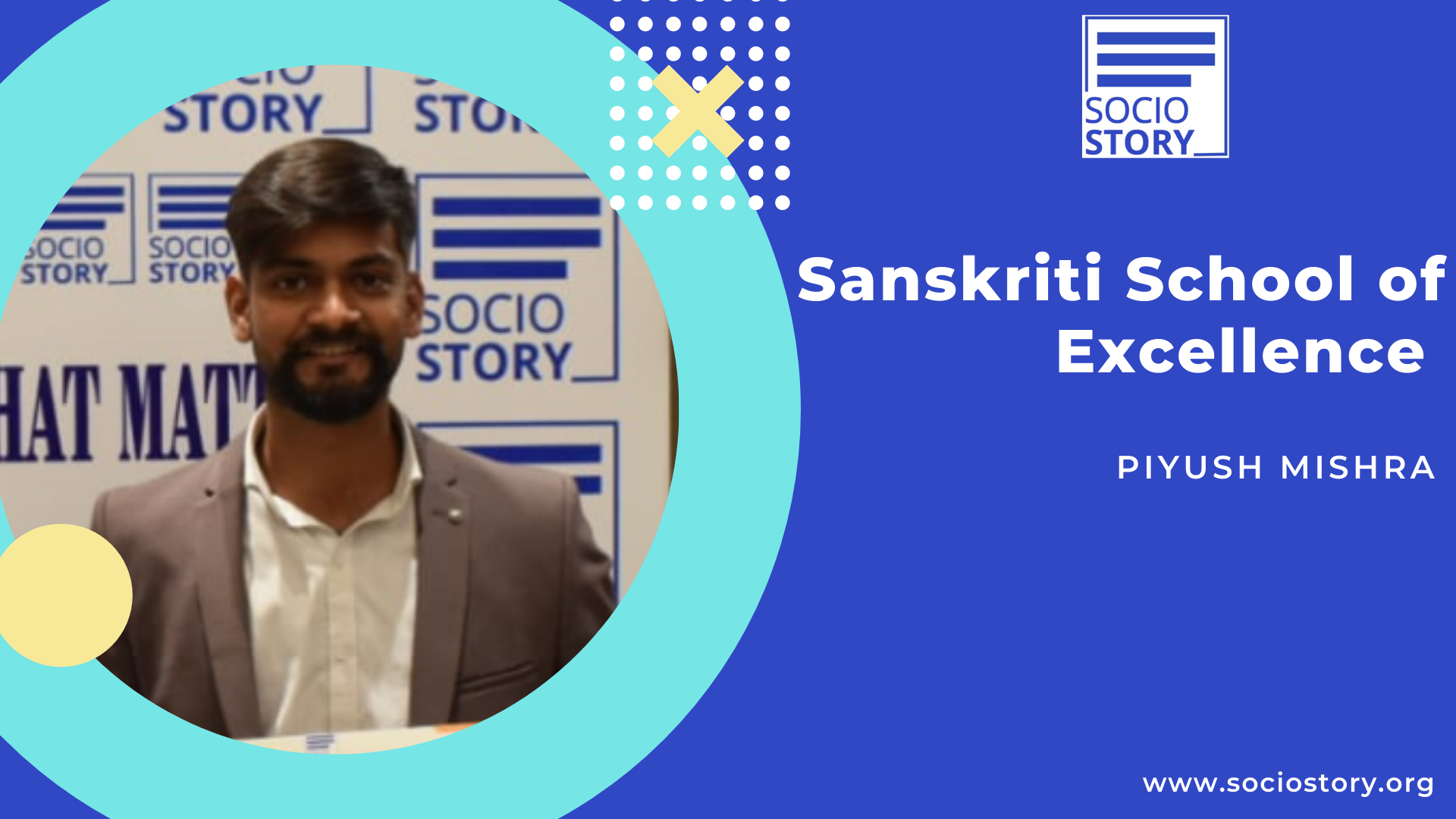 Where most people only think of doing something to provide free education for slum kids and underprivileged sections of the society there are a few who actually work for it and at the same time work for other social causes like tree plantation, blood donation camps, spreading awareness on menstrual hygiene and last but not the least keep working to excel in their respective careers. Piyush Mishra from the city of Kanpur is one such hero who has walked the talk on social development and change with elan! With many feathers in his hat, he is truly an inspiration for one and all…. read about his journey so far….
By: Priya Singh, SocioStory
Even while studying at Inderprastha Engineering College, Ghaziabad, UP Piyush Mishra used to teach underprivileged kids after his college classes were over. He firmly believes that as a nation, India can excel in a full-fledged manner only when each and every child attains education and that's why he is working at the grassroots level. He is also working as a Software Engineer and pursuing his dream.
When asked about what compelled him to help the needy, he revealed: "We started our group in 2017, when we came across multiple children who were not able to get education because of poor financial background. One day I asked a boy, if he wanted to study to which he promptly said yes and I taught him incessantly for 3 hours. Later, I discussed with my friends about taking it forward on a larger scale by bringing an education system for the students by the students. Soon, We realised that providing for these children's educational needs will require funds. On 14th August 2017, we went out on the streets, with the national flags in our hands and a resolve in our hearts to make the people aware of education. To our surprise, people were willing to chip in for this great cause. At the start of our street campaign, we were expecting to collect an amount of roughly rupees 4000/- for our school. However, the 4-hour long street marketing yielded a much bigger sum of Rs 35,000/-. On that day, we decided to make good use of it and started teaching around 10 students. Our first classroom was an open playground area and as ee were teaching one day, our chairman couldn't help but notice and upon learning about our cause, he offered to help and said: "Start utilising the classes after 5 p.m. daily,".
Soon afterwards, several children started began to attend his evening classes and in 2017, Piyush Mishra established "Sanskriti School of Excellence". It's a school of free quality education where students learn English, Mathematics, Science from teachers who always strive to bring new and exciting activities for the students' overall personality development.
Currently, Sanskriti has around 300 students across India with proper and free quality education. Regular evening classes, e -classes, dance, music, sports, life skills, newspaper reading etc. are also included in their program.
What is remarkable is that Piyush too had faced several problems during his education period but rather than ignoring the issue, he strived to find a solution. He believed that every problem is an opportunity to work and today he has built a robust team of 100 members across India pursuing this passion voluntarily. A majority of people associated with this school are Engineers, Doctors, Teachers, Journalist who, despite having a hectic work schedule, manage the time to teach the underprivileged students. Piyush and his friends also work together to teach the poor kids from ITO, Rohini, Vasundhara, Karkarduma and other such places where there's no scope for education.
"The positive energy and the smiles on the faces of my students is the biggest motivation for me. I also believe that we are not competing with any regular NGO, we are competing with illiteracy and I give an assurance to all that one day we will definitely bring the quality of education at zero cost and make a big change to the ecosystem of education," opines Piyush highlighting his vision and mission to Socio Story.
Mishra wants to take Sanskriti School across all India to make the students educated in every aspect and not just be a bookworm. He is all set to make India's first technical school where the focus is more on learning the new technologies in any field rather than going for the old and out dated curriculum. And the results are visible as the students from his school are now securing 95% and above marks and participating in various cultural, technical events organised by their schools, and government of India as well.
The founder of this school firmly believes that the future of India is not to beg on the roads but to stand out in the world and show its incredible talent. In the next five years, Piyush will be working for the education and wishes to reach each and every needy child across India and help those who are in desperate need for education.
Apart from Sanskriti School, he also heads an organization named "The Rope of Hope" that fulfils the dreams of poor and the needy children and is active for varied social causes. They have planted about 500 trees across India and have conducted several Blood Donation camps. Apart from these, Menstrual Hygiene Campaigns, Pad Yatras, Swachh Bharat Abhiyaan and Master Ji Mohalle Mein campaign are also a part of their curricular.
Through Sanskriti School of Excellence, Piyush wants to remove the major challenges in current education system that includes, poor condition of girls' education in remote places and villages, out-dated curriculum, high cost of education, pressure from parents on children for IIT, IIM and Medical, Poor condition of government schools and also the fact that remote areas are not equipped with proper resources.
We are actively looking on the education system of other countries and trying to implement the best practices. Our incredible talent would love our education strategies and this in turn will definitely impact the world with the strong message of education, signs of Piyush Mishra emphasizing on why he came up with Sanskriti School of Excellence!