With a mission to restore the 'childhood' in children, Sahyog Care has been fostering an empowered society
Jan. 28, 2021, 6:44 p.m.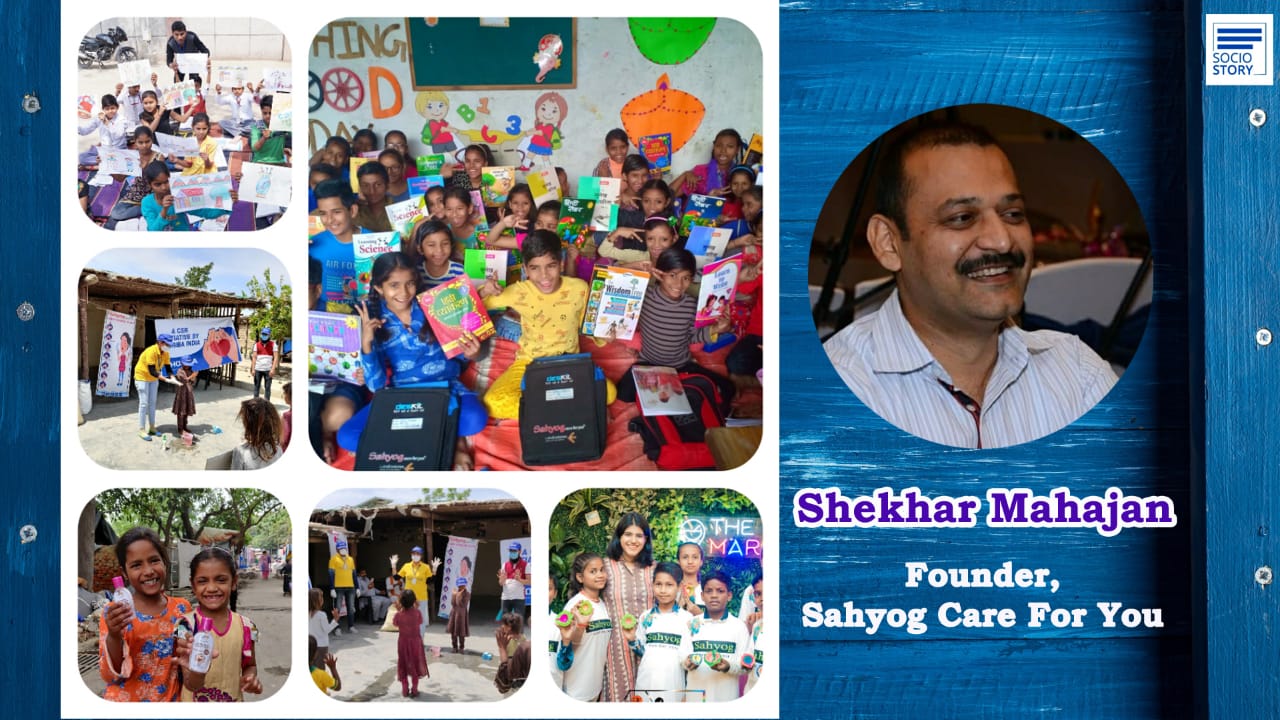 By:Reshma Jain
Around 19 years back when Shekhar Mahajan along with like-minded individuals came across the plight of children who were being exploited; they felt an urge to uplift children who were deprived of their basic rights 'to be children'. They also pondered over a thought where needy women would find employment through professional training and where old age would not drive people to beg on streets. To fulfil this dream, an idea called 'Sahyog' took birth. Mahajan tried to approach people who could help him in his projects. After a few failed attempts, he finally found a teacher who agreed to help him in starting a school. With the 'SAHYOG' (help) of the teacher and some more community members, Mahajan started the school with five children in 2001. After making a few more attempts, they were able to convince more parents to send their children to school and soon the number grew to 40 and then to hundreds.
Driven by his dream of bringing a constructive and meaningful change in society, Shekhar Mahajan conceived the idea of 'Sahyog Care for You' in the year 2002. This organisation which works for child and women development has created a niche in the social sector as well as the sustainability industry.
An MSW post-graduate, a lawyer by profession, a philanthropist by passion and a social reformer by choice, Shekhar has leveraged his education, experience and social skills to do his bit. Started in Delhi, he has strategized and implemented various programmes across India, reached nine states and together with Sahyog team, personified the values of care, diligence and empathy.
Mahajan, said, "While the purpose of the NGO being empowering the vulnerable through universal upliftment, it aims to eliminate socio-economic inequality through equal and integrated community development. Sahyog Care has made available, urban underutilized material, to far flung rural communities to address their basic needs of education, personal hygiene, sanitation, water conservation and means to livelihood and specially on child protection."
A few of the activities of Sahyog Care include:
Overall Child development- Offering remedial classes and bridge courses to underprivileged children in partnership with education departments of different states. They have also been organizing workshops on child sexual abuse. Formation of Bal Panchayat to develop leadership quality among the children who attend their classes.
Rescuing children who are victims of sexual abuse, labour and trafficking with the help of district task forces. Health and sanitation facilities are provided in association with different government authorities and states.
Providing skill based vocational training and placements to youth and women for skills in tailoring, beautician courses, electrician, computer software/ hardware, financial and digital literacy.
Educating women through Adult literacy programs and Self-help groups (SHG) through a self-sustained project in the manufacturing of low-cost sanitary napkins, lunch /Tiffin system.
Mahajan further added that Sahyog Care has been ensuring protection of children through a multi-faceted approach. These include:
Protection of children under various exploitative conditions such as trafficking, child labour and sexual abuse
Rehabilitation of rescued children and FIR against employers and traffickers
Strengthening child protection framework at the grassroots through sensitized and empowered communities
Advocacy with local governing bodies of different states to strengthen the child protection framework
Task Force Formation: A task force would be formed to rescue child labourers consisting members and representatives from, SDM, DM, Labour department, Home Guard and Local police.
"In a recent rescue operation this month, the team had rescued around 61 minors working in shoe and home appliances factories in Delhi. The team found that the children aged between 8-17 years were being exploited. The rescue was successful and with the help of the labour department, compensation to those children was paid and the necessary action has been initiated," shared Mahajan.
Sharing that Sahyog is presently teaching 3,000 children in 96 centres, 46-year-old Mahajan concluded, "My aim is to increase this number to 10,000 within the next two years and see India which is free of child labour and child abuse."
As per the 2011 Census data, more than 30 million children (between the ages of 5-18 years) are working in the country. India is host to the largest number of child labourers in the world today with Delhi, Haryana and Punjab being the Capital of Child Labour in India.
Important : If you are making an impact in the world, Please send us your story at : manoj@sociostory.in and we will try to cover you.