With a mission to save indigenous breed of Cows, Ravi Gowrinath is now setting up Desi Cow Farms
May 2, 2022, 1:02 p.m.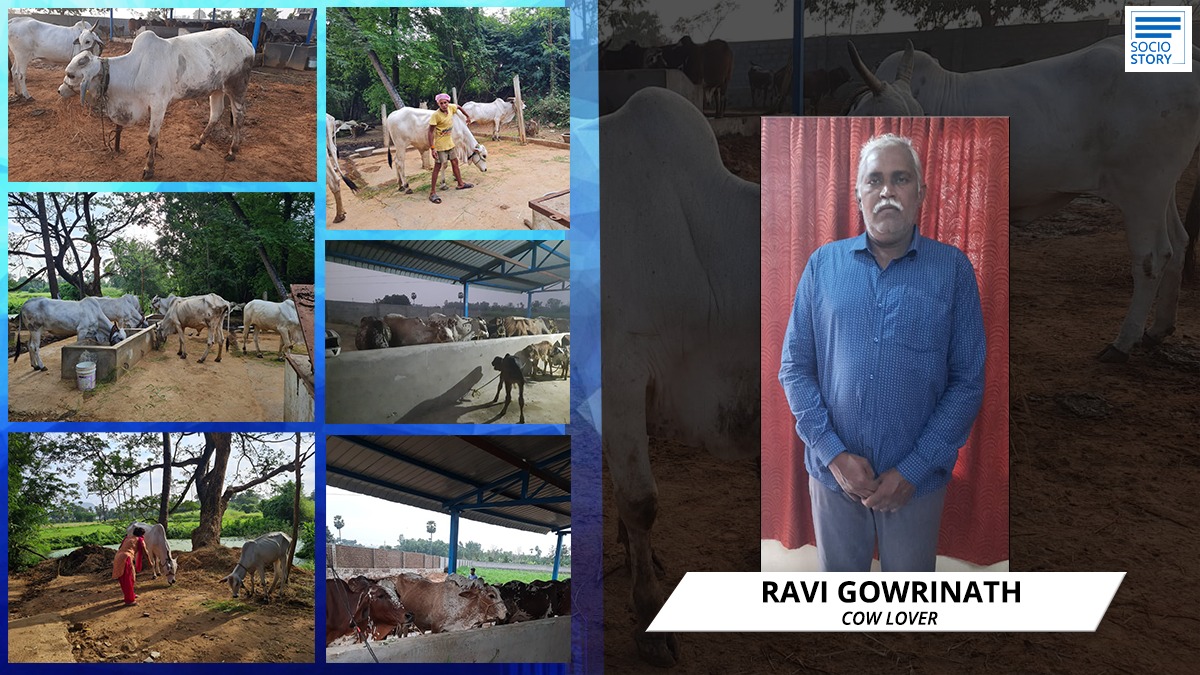 By: Reshma Jain

When I happened to visit a local farm in Peddagadi village recently in Visakhapatnam district, I happened to meet Ravi Gowrinath who loves Cows. While I entered the field, I was welcomed by the mooing of cows and the loving village folks. I was curious to know more on the indigenous breeds of cows, but before that Gowrinath added a spark to the conversation while we took a long walk enjoying the fresh breeze in the farm.
Pointing out one of his cows, he proudly said, "It has 3 lengths, 7 shorts and 9 blacks and is an Ongole breed. It won the first prize at a Cow breed competition which was held in Rajahmundry in 2016 and then again bagged a first prize at another competition in Guntur district, Andhra Pradesh in 2017. In the following years as well, my cows won various competitions held in the state."
Well, I was glad to know the fact that competitions are held to identify the best breed and are judged on the basis of their characteristics, physique, production of milk, etc. While we kept speaking about the competitions and when he mentioned about the other rare breeds of cows, I pondered over what drove him to rear cattle?
On being asked, Gowrinath said that Cows, although considered 'Sacred' in India have been neglected for quite a few years. While Indians had believed in the ancient tradition and culture of rearing cattle, Cows are now abandoned due to the rapid development and our selfish lives. When Gowrinath learnt about Cattle smuggling along the India-Bangladesh border, it disturbed him. With a mission to save cows, he started to buy the native breeds from different parts of the state. What started as a thought to save the cows became a purpose in Gowrinath's life. Around 10 years back, he bought one cow from Odisha and since then he has added more than 40 cows to his cattle. The other breed of Cows include Punganur, Gir (Gyr), Red Sindhi, Rathi, among the others. Even the cows are given green fodder which is organic in nature.
Not only does Gowrinath take care of the cows, he also provides employment opportunities to people in need. Apart from this, he also cultivates organic vegetables and fruits. Sharing his experience, Gowrinath said, "While I was reading a few books, I understood the harmful effects of pesticides and fertilisers that are used to grow crops. From the next day, I started to cultivate in my own land and today I have a variety of crops including Ridge Gourd, Lady Finger, Bottle Gourd, Beans, Snake Gourd, Brinjal, Soya, Black Gram, Red Gram, Green Gram, Cucumber, Pumpkin, Papaya, Mango and Banana."
However, Gowrinath said that he does not sell the produce but distributes it to the neighbours and friends. He further adds, "I do not rear animals for earning money. This breed is from Andhra Pradesh but it remains a neglected breed. My purpose is to develop the Ongole Breed of Cows."
49-year-old Gowrinath who hails from Gudavalli, Cherukupalli Mandal in Guntur District served in the Navy for a span of 23 years. He is presently working in INCS Visakhapatnam and runs the Meenakshi Organic Dairy Farm. He also plans to set up Organic Desi Cow Farms which will not only provide employment opportunities, but will also help in preserving the indigenous cow breeds.